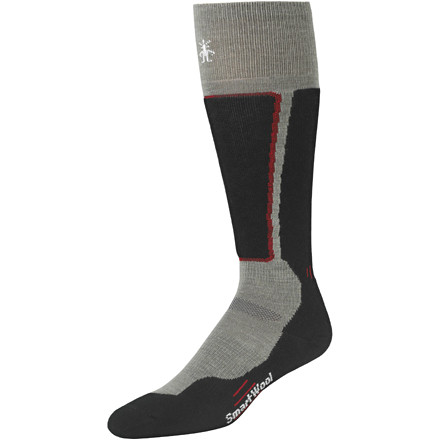 Designed specifically for riders, the SmartWool Snowboard Light Sock takes you from powder to pipe with ease. Light cushioning on the shin and back leg as well as half cushioning on the foot protect these spots when you make turns or nail landings. Elasticized arch and ankle braces mean these sleek-fitting socks won't sag in your boots. Even in tight-fitting boots, your feet will be comfortable in these lightweight socks because your toes' blood supply won't be cut off. The wool in these socks keeps feet warm, dry, and relatively stink-free.
These socks were a great fit, no sagging, and kept my feet warm and dry. Highly recommend!
This is all I ask for in a sock and it delivered. Not too elastic-y, which I had problems with on other socks, where I had to dig the elastic ribbing out of my shins at the end of the day.

These are soft, fit well and kept my feet warm and dry.

LOVE.
Feet happy in snow!!! Made snowboarding a joy this season!!! Super soft and did not start to droop down my calf.
They're super comfy and don't fall into your boot. Much better than the striped tube socks I've used in the past.
These are the "schneeziks"
Totally awesome wicking ability. They keep my feet warm and dry. Love the padding comfort they offer while pounding my feet all day long on the board.
These socks work great. They are very warm and they stay up with no fuss. Plus, real wool beats oil-based synthetics any time!
, ☃bcs_badge_alumni_label☃
These are really great socks!
These socks keep your feet warm, wick away the moisture so you do not have soggy feet after riding all day, and they seem to not get the stinko in your boots that other socks I have used riding. What can I say, love em!
These socks are a great investment. Kept my feet dry and warm. They didn't fall down all day and they are comfortable.
These socks feel great until you've been on the mountain a few hours. After that time, it starts to feel like they are made of tiny razor blades, mercilessly tearing the skin off the balls of your feet. My feet were on fire and I had to quit that day early to tend to open wounds. To their credit, my feet stayed warm and didn't stink, but the tradeoff I more than I am willing to sacrifice. I'll still wear the socks, just not up on the hill.

I have several pairs of socks from a certain Vermont-based snowboard company that have performed flawlessly. I recommend those.
I rode these at minus 12 and my toes were freezing. I'd say minus 5 max for these. Otherwise very comfy.
These socks are great! Not only do they keep your feet warm and dry, but they don't cut off circulation after wearing boots all day!
Best Socks In the World!!!
These socks are like heaven on your feet!!!
I wore these socks for 12 days. They performed marvelously. The bonus side is that they didn't stink up my house.