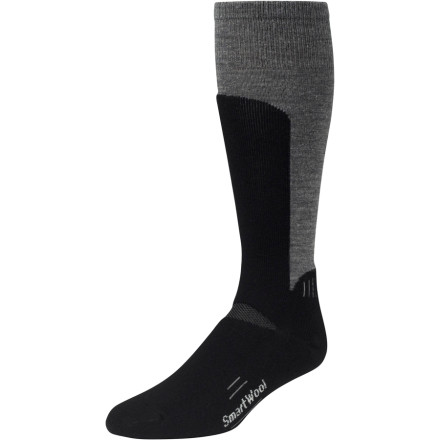 Detail Images
Remember the days when a sock was just a sock? Now socks are just as high tech as your outerwear, and honestly, our feet are thankful for it. Smartwool's Medium Ski Sock provides medium shin-cushioning to take more of the bang out of boot bang; because, really, who wants bruised shins all winter long? The Medium Ski Sock features Smartwool's Smart Fit System, which combines an elastic arch and ankle brace with an instep flex zone for unparalleled fit and comfort. Flat-loop toe seams reduce hot spots around your toes, and the over-the-calf height of this sock ensures it doesn't bunch up inside your boots. The unique blend of wool, nylon and spandex yields an elastic sock that naturally wicks sweat, staves off odor, and holds its shape for seasons to come.
Love these socks! True to the description's words that the flat-loop toe seams reduce hot spots and it truly doesn't bunch up when you ski/ride.
I have chronically cold feet (thanks to inheriting faulty circulation) and these socks solved the problem. They're comfortable, don't itch and don't feel soggy when sweated in. And they don't creep down your leg throughout the day, which is obviously very nice. These socks are more than worthy to share my ski boot with my foot.

Oh, and they also work great for any other winter activity...snowshoeing, bike commuting or just being able to walk down the street without your feet going numb in -20 degree weather.
I bought these socks and wore them in Minnesota during 0 degree weather. With these and the boots my feet did not get cold. Great Socks.
SmartWool can do no wrong
I have never owned a pair of Smartwool socks I have not been pleased with, and these are no exception. They are warm but aren't too thick. Even after a full day, they keep my feet dry from sweat, and if they happen to get wet from snow, they dry out quickly. They protect your shins and they never bunch up and fall down your legs. Primo.
Wicks sweat. Cushions my shins from full-day abuse. Feels great on the feet. Doesn't slough or fall down your leg. A+
Perfect balance of cushy, warmth and lightness. You feet get blood and stay dry and warm. It is a perfect compliment to your gear to say that you don't need to think about it, and that's what these achieve.
Absolutely the best ski socks on the planet
My feet smile whenever I put on smartwool socks, and these are no exception. I'm usually a big fan of ultra thin ski socks, especially before you've packed out your boots. These take up just a little more space in the boot, but are dense enough to not create a lot of slop. The extra padding is in all the right places, and their are no spots that bind or wrinkle causing pain. Also, they are not coarse, and therefore don't cause blisters if you're touring. I have 5 pairs of these, and never use any other ski socks.
Keeps your feet dry and warm, only complaint I have is when not wearing a ski boot they tend to fall and bunch, but other than that great sock. Be sure not to put them in the dryer!
Work great for all but the Coldest days. Used these when the temp dropped to -9 degrees Fahrenheit at the base. (I use the Light ones for most days for cruising or lapping the park.)
These are my first ski socks. Super comfortable snug fit. Feet stay dry in all conditions (skiied during artificial snow making, natural snow and rain). For days colder than 20deg I would opt for some warmer socks.
It is very good sok it is very soft even i go for a day long hunting and with a reindeer on my back its warm and keeps my feet dry
Excellent sock, even for snowboarding
I purchased 2 pair of these last season and they are excellent, even after 85 days on the slopes. I am 6'2" 230#, and have very large calves and these still fit over them to the knee and don't fall down; despite this, they also do not cut circulation. Warm, wick moisture and keep my feet dry, and always comfortable. No odor as well, at least after washing :) Best sock ever.
, ☃bcs_badge_alumni_label☃
Smartwool Ski Socks
Gotta love Smartwool! These socks are comfortable, warm, and help keep my feet blister-free compared to my last ski sock. I have bought more pairs since, and will continue to buy Smarwool Ski Socks!
It took me a while to get into the Smartwool thing, but now I am a bit of an addict. These are comfortable, wear well and keep my feet dry. It is hard for me to speak to warmth, because I use bootheaters in my alpine boots. But, I stay pretty darn warm in Tele and AT boots (again, lots of blood flow, so that could be it). In all, a no bells and whistles great sock.
i find these socks to be super comfortable, but they fit pretty bulky, and for their thickness, they don't provide any degree of outstanding heat.

they won't be on my feet during the upcoming arctic outflow, that's for sure
Nice and warm, but best of all...they come out of the dryer fine and stay above the calf! I'm a big guy (6'2" 245) with large calves and these socks go right to the pit of my knee. I highly recommend for anything from in the office as well as outdoors.
I love these socks because they are so warm without being bulky. I went hunting in them and my feet were warmer than any other year I have gone out. I recommend them to anyone who wants warm feet.
, ☃bcs_badge_alumni_label☃
my feet aprove
So I though I would try some new socks again the last time I did I found these so another change might be good right, Wrong!!! this is it for me, I ski and I love the padded front over all the sock is just right for me. Keep them out of the Dryer and they will last for a long time.
I bought two pairs of these for a 2 day trip to Mount Hood and they are great. They are very warm and not bulky. I wouldn't ski with anything else.
Great socks for a skiier. very thin, but perfect warmth and very comfortable. Size was perfect too, price was definitely right.