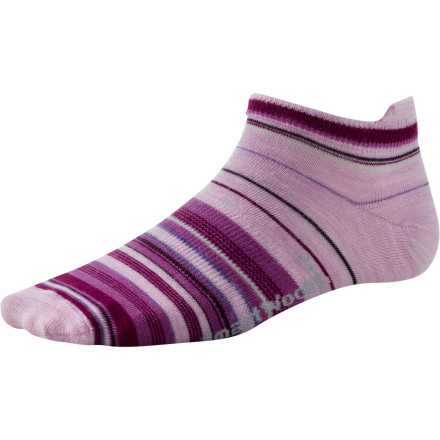 Let the SmartWool Women's Sidekick Stripe Sock be your comrade for your everyday activities. SmartWool fit system with arch and ankle support gives you the comfort you desire for everyday use, and its WOW technology puts more fabric in high-impact and high-wear areas to reduce shock and abrasion. This sweet micro sock also has the white socks in your drawer drooling, thanks to its fun colors and stripes.
What do you think about this product?
Have questions about this product?
i usually wear a S in smartwools... these were SMALL for me! i'm a 6.5 foot. i would def size up. as the other reviewer said, these socks are quite thin... i like a little more cushion.
Ya I'd recommend these to a friend!!!
These socks are thin. I bought these because I live in Houston and need to never wear my running shoes with no socks because they smell too much, and my other micros are a little tall for wearing any sort of tennis shoes with shorts or a skirt.

I like these! The special feature of these socks compared to the crap ones at Target are: they have a small cuff for the achilles heel area, and a special elastic band around the arch of the foot. I think it helps them keep their shape and not turn into stretched out Target crappy socks. Also of course the merino wool.

I like smartwool and even though it's a guilty pleasure, will keep buying these socks. Just wished they would last forever! My other smartwools last about 2 years of good wear before my toenail starts wearing a hole. Stupid toenail.