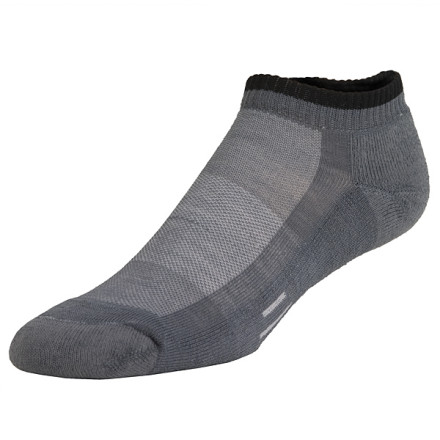 Detail Images
Whether you're jogging around the park or training for a marathon, The SmartWool Running Light Micro Sock will keep your feet comfortable and blister-free. The signature SmartFit design features a contour zone that flexes with your foot muscles, eliminating bunching and restrictive tightness. Knitted arch and ankle braces provide support for the weaker parts of your foot. You won't even notice the flat-knit toe seams 'cause they won't chafe after miles of ground pounding.
Best running sock I've used. No blisters and wicks sweat away from feet. Never pulled them off soggy with sweat after a 1/2 marathon run.
I use to think all socks were the same... that is until I tried smartwool socks. These running light micro socks are PERFECT! It's an awesome feeling when you put them on because it fits like a glove and feels WAY different than normal socks. When wet, they dry fast and they keep my feet from getting sweaty. GREAT product, I bought 3 pairs of dark and light colors. EVERY smartwool product I have purchased has been THE best. Great buy for sure!
These socks are warm in the cold and let your feet breathe in the heat. Extremely well padded and comfortable whether you're running 10 miles or walking in the city with friends.
i am so in love with these socks, I have already gone out to get 5 more pairs and a few pairs for friends to share the wealth...i hate wool...LOVE smartwool!
I just wore these socks on a short walk to test them out. Good thing I wasn't on a long hike...they slipped down into my shoe about a thousand times. It's best to get this type of sock a little taller.
These are really nice socks. They are really comfortable in many different environments.
Running Light Micro Rocks!
In my 13+ years of running, I've always worn running socks with a "tech fabric" like Coolmax, but I gave these socks a try while running the Houston Half Marathon last weekend and they did not disappoint. My feet suffered no blisters and felt great the entire 13.1 miles! I'll definitely be buying more of them and wearing them in all of my long distance runs!
Awesome socks. Wore them for 4 days straight in backcountry. Good buy.