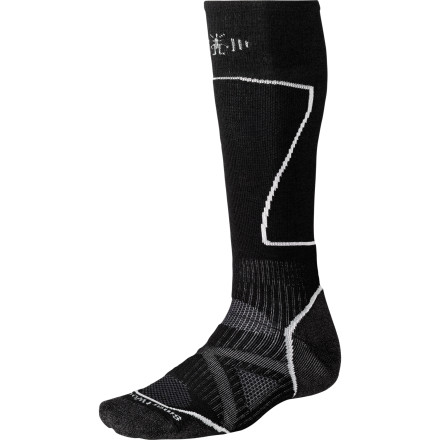 Videos
Protect your toes from the bitter cold temperatures when you pull on the soft and smooth PhD Ski Medium Sock. This SmartWool sock features midweight merino wool, supportive elastic construction, and cushioning at the shin and forefoot. Gone are the days of frostbite and shin bang; now it's time to enjoy winter again.
Merino wool material insulates, breathes, and is naturally resistant to the bacteria that cause odors
Nylon and elastane synthetic fibers help this sock dry quick and give it some flexible stretch
4-Degree Fit features an ankle band, upper instep band, lower instep band, and arch band for support
WOW Technology uses two layers of wool (Wool on Wool) for extra cushioning at the heel and forefoot
Mesh panels allow sweat and hot air to move away from your foot
Tough n warm
Familiarity:

I've used it several times

Fit:

True to size
Great sock for a great price. I've had great luck with smartwool,, it takes a lot to wear through a pair of their socks. They are fitted and keep your feet toasty without excess bunched up sock in the boot.
Heavy Walker
Familiarity:

I've put it through the wringer

Fit:

True to size
I'm 6-1, 200 lb, and I walk an average of 50 miles per week at our 32 acre, 655,000 sq ft campus. And I also have bone spurs on my heels, so a comfortable shoe with orthopedic inserts and high performance cushioned socks is a must for me.

These socks are all I use. The cushioning support they provide around my calf's, and the way they keep my feet dry and comfortable result in 30% less fatigue at the end of my work day.

Oh, and one more thing.. The price on this site is far and away the cheapest I have found on the Internet. Excellent sock. And a great buy. Highly recommend.
Great sock!
Familiarity:

I've put it through the wringer
Love this sock, very warm. A little too warm for the spring-like conditions we have had this season in the Wasatch. Very comfortable. True to size. all around great sock. I spend about 60+ on the hill each season and I love this sock.
Comfortable, warm, and fits well
Familiarity:

I've used it several times

Fit:

True to size
I've been on several backcountry tours with these socks and have been perfectly comfortable and warm.
PhD Ski Medium Socks
Gender:

Male

Familiarity:

I've used it once or twice and have initial impressions

Fit:

True to size
Got this sock in a L for my 11eeee feet. Seem to be a bit stretchier and a wee bit larger, maybe a half a size, than the PhD Snowboard Medium weight socks. The extra padding in the shin area kept my shins and thus my feet warmer when I walked or moved around a lot, something that might come in handy for other uses than skiing. i.e. hiking, hunting, trudging through deep snow etc. I do wish they made snowboard and ski socks with a heavyweight cushion, but am satisfied with these for what they are.
great socks
Familiarity:

I've put it through the wringer

Fit:

True to size
they feel great. love them!
It still blows me away that ski socks cost so much. If pairs are going to cost $26, I at least want something that will last and be comfortable. Of the brand's I've tried, SmartWool is the brand I trust for that. I have thinner socks from them and picked these up to compliment them on colder days.
No more cold feet
Familiarity:

I've put it through the wringer

Fit:

True to size
These socks work very well, great fit, they do not loosen up and get saggy after a full days use (nor do they stink)
Changed the way I Ski
Familiarity:

I've put it through the wringer

Fit:

True to size
Like most people, I used to not think so much about the socks I wore for skiing. I would just go into my sock drawer and find the thickest wool socks I could find. At the end of the day however, my feet would be cold from sweat and moisture. Not to mention my feet would smell awful. The PHD sock however changed the way I ski. The thinner construction of the sock allows for a better feel of my boots on my shin making me feel more in control. In addition, the extra cushioning around the shin area provides just the support you need to prevent shin bang. The socks regulate temperature and moisture perfectly. Sweat and moisture sry quickly leaving my feet happy and smelling peachy at the end of an epic day eating up Utah's powda chowda.
low volume foot size 8
Familiarity:

I've put it through the wringer

Fit:

True to size
This is the sock. BEST in my drawer.

i love these socks!

I don't loose one. and have a miss matched.

this is the go to.

i have a very low volume foot and these keep them warm. I feel i have good contact with the boot and they have held up well. compression for my size 8 foot is great with the M size. I love this sock
My go-to sock...
Familiarity:

I've put it through the wringer
The medium weight cushion is perfect for everyday riding, never get too warm or too cold. Comfortable, just make sure when you wash them, let them air dry. I'm on my third pair of these in a few seasons... they hold up, but could be slightly more durable.
No More Searching for the Ultimate Socks
Familiarity:

I've put it through the wringer

Fit:

True to size
I was skeptical about paying $25 for a pair of socks compared to what you can buy "wool" socks or Synthetic Socks for at the Outlets from top top manufacturers. No more, after taking the plunge and buying two pairs of the Smartwool socks I am completely sold and will buy a few more pairs, not only for Skiing, but for other activities as well. Last year I Skied with some Outlet Socks from the top athletic wear manufacturers and got my shin skinned and blistered. I got to the point I was taping up my shins - and losing all the hair in the process - and it was uncomfortable going for more than two days straight. This year I decided to try the Smartwool Phd Medium Ski and my advice is to run, click, do whatever to get these before you Ski again. The socks are the ultimate, they provide unprecedented support and cushioning where you need it, they wick sweat away, they retain elasticity - especially for a large calf person like me -, they do not retain odor - at least I only used them two days in a row max -, and they appear very durable.



I don't know if it is the Merino Wool, but they have done something in the process that give these socks all the features of synthetics and maintain the warmth and feel of wool. I am totally happy with these socks and the only drawback is that the colors are limited. You may have to consider the other options - Light, Racer, etc if you want more options. I have heard that Wigwam and Point6 are also creditable alternatives, but it may be a while before I try those.
I'm a fan
Familiarity:

I've put it through the wringer

Fit:

True to size
I've put many miles on these socks, whether it be skiing, landscaping, running around town hitting the bars, hiking to climbing routes, running around town hitting the bars, operating machinery after running around town hitting the bars, and these socks have held up fantastically. For overall function, I feel these are better suited for me as a general use winter sock. They are honestly a little too big for a performance-fit ski boot (try the Ski Racer sock: http://www.backcountry.com/smartwool-phd-ski-racer-sock?ti=U2VhcmNoIFJlc3VsdHM6c2tpIHJhY2VyOjE6Mjpza2kgcmFjZXI)

While compared to what your grandparents gave you as stocking stuffers, these are low profile, thin fitting socks, I did still find I got much better circulation and overall warmth out of a lightweight sock in comparison to these. If your boots are a lighter looser fitting, which one might term a "comfort fit", these would be great for you.



While I have determined these to be true to size (I went with the Large and I wear a 10 in street shoes and running around the bars shoes, and I don't think I should have gone with anything smaller or large), these socks did seem to bunch up in places around my toes and ankle, which made them feel a bit sloppy at times.



Aside from that, I was pleased.
No more cold toes
Familiarity:

I gave it as a gift but have feedback to share

Fit:

True to size
Gave these as a gift to my husband who is always getting shin bang and has horrible circulation in his feet. These socks have helped SO much with the extra padding in the shins and the toes. LOVE SmartWool!
SmartWool or bust
Familiarity:

I've used it several times

Fit:

True to size
I can't believe how good smartwool is. It really makes a massive difference. These socks are nicer than my other SmartWool socks I picked up at sports authority, but I wish they had extra padding in the shin area like my other socks. I'm not sure what the white line is even there for. There is no difference in material.
nice
Familiarity:

I've used it several times

Fit:

True to size
really warm and well cushioned! work great in stiff boots to keep your feet as comfortable as they can be.
Too thick for me, but well made and warm
Familiarity:

I've used it several times
These are definitely on the thicker end of the "medium" spectrum but well made for sure. Just not for me
Nothing beats merino
Familiarity:

I've used it several times

Fit:

True to size
These are the perfect socks for a cold ski day. I wore them up at Snowbird a few days ago. It was -10 up top and my toes felt fine. They got cold after a couple hours, but hey, it was a cold one.

These socks are thick, snug, and comfy. Allowing you to have a perfect day on the mountain, without having to stop at the lodge every couple runs. I got the silver, and the colors and design are awesome!

They fit true to size, just follow the sizing chart on this page and you should be good to go.
Best Socks Around
Familiarity:

I've put it through the wringer

Fit:

True to size
Hands down the best ski socks around!