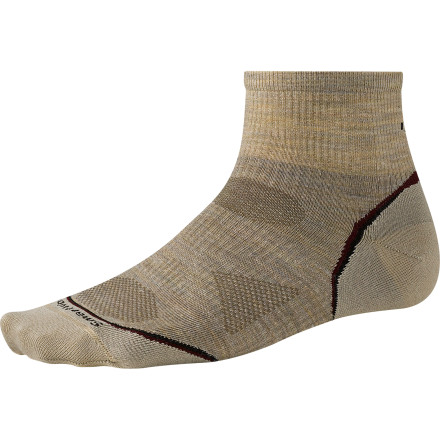 Videos
Pull on the incredibly thin SmartWool PhD Outdoor Ultra Light Mini Sock before you lace up your hiking shoe, waterproof backpacking boot, or sneaker, and you won't suffer from a clammy, sweaty, stinky sock later in the afternoon.

Blended composition maximizes the benefits of each material while minimizing fabric drawbacks
Soft merino wool breathes well, helps regulate body temperature, and is naturally odor resistant
Nylon components dry quickly, breathe well, and add extra durability
4Degree Elite Fit system employs ankle, instep, and arch elastic bands for a snug fit, support, and circulation
ReliaWool tech on the bottom of the sock combines high-density impact zones along the ball and heel for long-lasting protection
Mesh zones allow heat and moisture to escape quickly to promote faster drying to reduce swamp foot
Virtually seamless toe construction limits irritation and chafing
Durability straight up sucks
Familiarity:

I've used it several times

Fit:

True to size
After wearing a pair twice (once in dress shoes all day, and once in cleats playing ultimate frisbee for a couple of hours) there's already a hole in the toe area big enough to fit my pinky through. I keep my toenails deathly short to avoid holes in my socks and I couldn't believe what I saw when I went to put them on a third time. The toebox on these are WAYYY too thin. If all you plan to do is walk in them they might last a bit longer.



If it weren't for the thin toebox these would have been the perfect socks. They fit like a glove and don't slide down.
Perfect uniform work sock
Familiarity:

I've put it through the wringer

Fit:

True to size
I am a firefighter and wear these with my uniform shoes summer and winter. They have never failed me. I get about one year to one and a half of use before I need to replace them.
Happy Feet
Familiarity:

I've used it several times

Fit:

True to size
I tried out a pair of these for summer hiking, and absolutely love them. They cling to my feet without restricting, and stay in place up and down the hills.



I liked the first pair so much I picked up two more pairs while Backcountry still had them at a great price.
Classic Smart Wool
Familiarity:

I've put it through the wringer

Fit:

True to size
These socks are great. I wear them all the time. Keep my feet dry and comfortable through a number of different activities. They have stood up through many washes and even the dryer on medium heat. I plan on buying more.
Great Socks
Familiarity:

I've put it through the wringer

Fit:

True to size
Love these socks. They breath very well and make warm weather hiking a pleasure. No more heavy wet, sweaty socks. I wear them for everyday activities too.
Lightweight & low profile - also awesome
Familiarity:

I've put it through the wringer

Fit:

True to size
I love Smartwool socks. Durable, provide great performance, and look great too. I always find myself at this place when the seasons are transitioning from snow to sun where I have no appropriate apparel for my feet. You know, it's the time when it's too warm for your big winter socks but not quite warm enough to bust out the Chaco's. Because of my track record with Smartwool and the vast amounts of pleasure I receive from wearing them, I grabbed a couple pairs of these and put them on. It's been a great couple of weeks as my feet have gotten to know these socks very intimately. The construction on these socks are very low profile so no bulky heel or toe, but just enough padding to keep your dogs from barking at the end of the day. I'm going to be sad when this spring weather lets up and I have to say goodbye to these socks for a while so my feet can experience the freedom only a flip-flop can provide.
Cotton-no-more
Familiarity:

I've put it through the wringer

Fit:

Runs large
These are the first socks I've bought in 5 years. My last smartwool's lasted that long. Kind of unbelievable looking back. I haven't owned cotton socks in 10 years--yuck!



Everyone thinks I'm a bit weird when I prostletize them about the merits of fitted, merino wool socks, and at $10+/pair, I can understand people's initial worry. But only the uninitiated. Every single person I have ever bought these for as gifts, ended up going on and buying several more for themselves.



If you haven't worn smartwool socks before, you can only understand once you put them on. They're very snug and fitted, without cutting off any circulation or anything. They don't shift around at all on your feet when you spend an entire day hiking, and keep you much cooler and dryer than cotton.



I'm a size 8.5US street shoe, and buy the S/M size--they're perfect. Just make sure to hang dry them people--no dryers or fabric softeners!



These will be my first pair of SW's since they came out with this "PHD" line, but so far I have no reason to think that they'll be any different than my last 10 pairs.
Sock it to me baby!
Familiarity:

I've put it through the wringer

Fit:

True to size
SmartWool PhD Outdoor Ultralight Mini Sock is the sock of choice for my spring and summer outdoor activitidads... From hiking to trail runs, to strollin down the block headed to the b-ball court in a wrapped in a sick pair of Reebok Pumps, for a pickup game. Bottom line? Keeps the dogs dry and smellin good, blister free, and comfey!
These are great.
Familiarity:

I've used it several times

Fit:

True to size
Great socks - very comfortable, fit well, snug, padded. I bought several smartwool of different heights and thicknesses and all are great
Favorite socks
Familiarity:

I've put it through the wringer

Fit:

True to size
These are the best socks I've put on my feet. Super comfortable, lightweight enough for day to day and not get too hot, durable, and they keep your feet dry! I won't go back to cotton again, and even synthetics seem far inferior after using these for a while. I got the Espresso color on sale, which is pretty ugly, but whatever, they aren't white and they aren't visible. I wear them with jeans most of the time anyways, or running, so not a big deal. Overall, fantastic socks, will be buying more, especially when they go on sale
How can you beat a sock that keeps your feet from getting sweaty and smelly. They are soft and comfortable. They don't fall down. They are perfect!
Kept my feet blister free
Normally any downhill walking I do I end up with lots of blisters, but this kept me blister free. Therefor I am very pleased with these socks. They also keep pretty cool, and dry very quickly.
Happy Feet, Yo
Familiarity:

I've put it through the wringer

Fit:

True to size
These socks are great. They make me feet feel happy, and I smile to myself as I run through my neighborhood. People think I'm smiling at them, but they just don't realize I'm smiling because of these little bags of ecstasy that cling to my feet. Get some.
Nice light low profile socks. Seem to have the typical smartwool feel. I will be interested in how they hold up for long wear...
These are just awesome socks. Perfect cushioning and right amount of coverage. Wear them for everything.
These socks are awesome. They fit well and they stay comfortable! I used them for any occasion, not just hiking.
These socks are wonderful took to Afghanistan over the winter and worked wonders feet never got overheated and stayed fresh for the entire time