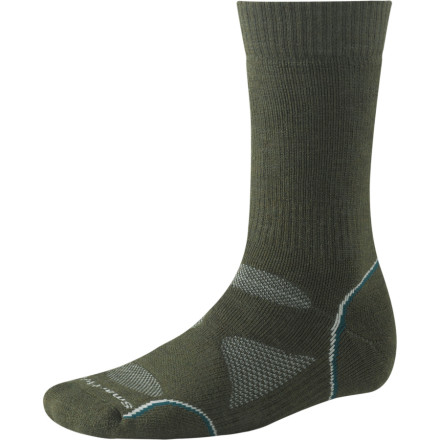 Community Images
The Smartwool PhD Outdoor Mid Crew Socks aren't about slapping a 'My socks were on the honor role' bumper-sticker on the back of your car. Not that you won't want to brag about the Wool-to-Wool technology that cushions your heels and forefeet for shock-absorption on the trail, and the upper mesh zones that cool your dogs on the ascent. Since smart socks hardly want to smell like a football locker room, Smartwool made these with odor-blocking wool. The cuff height and midweight wool work well when you carry heavy loads for backpacking trips.
I wear these socks mainly in the late fall/winter and they do the trick. They are warm and they wick well when my feet get too sweaty. I tend to switch between these and the PhD light crew depending on the weather and my activity level. Keeps the odor away too! (No sock will be odor free if you don't let them air out; pulling the liners from your boots/shoes helps!)
So I just bought these and decided to test them out on Longs Peak, CO over the weekend. I personally like my sock thinner than most in winter conditions and these were the right weight. They fit great, I am a size 10 shoe and 10.5 Mountaineering boot. I bought size MD and LG, MD fitting better since I have small ankles. If you have a fuller foot/leg and are in-between sizes I would go for the larger one. They are not constricting around the ankle and lower calf (crew socks) and are the right length for my La Sportiva Nepal Evo's. After 6 miles up to Camp with a 35lb pack through dirt, snow and ice I had no hot spots, no rubbing and plenty of cushion. My feet stayed plenty warm (Temp ranged from 50f to 20f). The only reason I did not give it 5 stars was because they started to pill after the first day and will probably not last very long.
, ☃bcs_badge_alumni_label☃
Go to sock
I have always loved all the PhD line from Smartwool. This one follows suit just fine. Good thickness, warm, support. No bad odors after two days of wearing them. Go to sock when they are in the drawer!
The form fitting cut of this sock is great. No sliding around either. It should be noted that they are on the tighter side comparatively speaking (a small fit); hugging your feet and ankles almost like a compression sock, which over time is not that great. My legs are very slim. I got size L for a 10.5.

The fabric surface does not retain very well, after two days the surface was fluffy. Image is taken after three days of light wear, no hiking or long walks!
My feet are in love with these socks. Period. My socks used to be like John Candy's in Planes Trains and Automobiles, but these things breathe so well and feel so comfortable I never want to take them off!
Hey I am about embark on the kokoda track...
Hey I am about embark on the kokoda track 96km of up and down mountains in very high humidity. What would you recommend for a good comfortable sock
Smartwool has always worked great for me. I'd go for medium or light weights, as long as your footwear will not be slipping. Also, if your footwear doesn't breath well, consider chaining socks at lunch.
If you suffer from chronic heal blisters, as I do, these are not the cure. However, I do agree these socks are one of the best. They wick moisture away from your feet with true speed and efficiency. I have never felt uncomfortable while hiking in the summer or using them with my Keen winter boots. They fit well and are truly comfortable as an everyday sock. Good job Smartwool.
my go to backpacking socks
love these guys. extra padding in the heels and balls of your feet. compression over the top is great! i feel like i have fewer weird sore spots the next day. wick well. have never stunk near as bad as any of the cotton or synthetic socks i have ever used. great great socks!!!! i have some light ones for warmer weather. i wear these in cooler weather under my boots.
Best work/backpacking socks I know of. Smartwool has never steered me wrong.
These are the socks I live in Memorial Day to Labor Day when the trails call my name. In fact, they are the only socks I trust. No blisters, no rub - even after multiple days of use. The wool blend wears well.
these are the only socks i wear at work. my feet feel so much better with these. smartwool brand is the only sock that i have recommended to others
Comfortable, light, dries quickly. Phd model is pretty form fitting. a bit of wear at the heal. Does not hold odor. Medium or Light models are not hot up to 100 degree temperature.
would these be to much cushion for everyday...
would these be to much cushion for everyday wear? rather than the light cushion version of the same sock?
I wear both light and medium cushion in UT. It depends on what you like and how snug your shoes fit. You can't go wrong either way.
Enjoy!
Probably--I like the medium for tennis and soccer and the light for running or everyday wear under regular shoes.
Smartwool has really upped the ante on their wool socks. These are comfortable as you slide them on, provide good support and cushion, and are a delight to wear all day. The fit is as expected, on the money. Recommended!
the socks are not bad. went on a 4 mile hike and didnt have a problem at all.
I bought these socks for my Dad. He absolutely loves them! He loves them so much that my Mom has a difficult time getting him to take them off so that she can wash them. Thank goodness SmartWool socks have a natural aversion to smelling!
Best socks for me, so far....
I have been wearing these socks on and off since just before New Years both with my work boots and my hiking boots. In both cases they are warm and comfortable. I have had no problem with them bunching up or cutting into my feet like some of the much cheaper socks are prone to do. These socks are expensive but worth it.
Warm and comfortable, but I must have some smelly feet because the odor blocking didn't work.