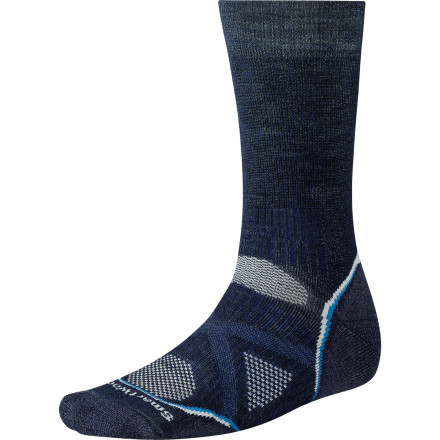 No matter what your profession, if you choose to upgrade your foot cover to the SmartWool PhD Outdoor Medium Crew Sock for cool-weather backpacking, hiking, or strolling, then consider yourself a doctor of smart decision-making.

Blended composition maximizes the benefits of each separate material while minimizing fabric drawbacks
Soft merino wool breathes well, helps regulate body temperature, and is naturally odor resistant
Nylon components dry quickly, breathe well, and add extra durability
4Degree Elite Fit system employs ankle, instep, and arch elastic bands for a snug fit, support, and circulation
ReliaWool tech on the bottom of the sock combines high-density impact zones along the ball and heel for long-lasting protection
Mesh zones allow heat and moisture to escape quickly to promote faster drying to reduce swamp foot
Virtually seamless toe construction limits irritation and chafing
This. Is. Comfort.
Familiarity:

I've used it several times

Fit:

True to size
I've bought two pair of these socks after an unsuccessful Patagonia sock purchase, and I'm really happy I abandoned my loyalty for Patagonia for this purchase. These socks are very comfortable, they keep your feet warm and dry. I've put 5+ miles in these a few times already and they've held up very well.

I also have BIG calves and these fit just fine, which is always a worry for me.
A quality sock!
Familiarity:

I've put it through the wringer

Fit:

True to size
I have been wearing SmartWool socks exclusively for years now. When I first started wearing them only the "classic" looking hiking type varieties were available. They have always been very comfortable and their durability has exceeded my expectations. The SmartWool guarantee has always made me a confident consumer. Any company that says "send them back if you're not satisfied." is worth doing business with in my book.

I was so excited when the Phd line was introduced - it gave so many more performance options. These have become my favorite sock for every activity from sitting on my butt in the office, to climbing 14ers, to 100 mile bike rides and everything in between.

Thanks for making such an amazing product, SmartWool - and thank you for standing behind your product!
These are the most comfortable socks I have ever worn
buying smartwool is a smart decision
I got these socks after I got the smartwool light crew socks which I liked but didn't have enough cushion. These keep my feet feeling awesome and fresh. They are a thicker sock so i thought they would be too hot for summer use but they do surprisingly well no mater what the temperature. I wear them when I use my hiking boots backpacking and they keep my heals from blistering on long days.
Spent a week using these camping. No complaints
Great hiking sock
Familiarity:

I've used it several times

Fit:

True to size
I normally road bike lots so i know quality socks mean so much. I love wool. I race as a cat1 on the road and i still race wool. It just works. These are fantastic socks.
Holy smoke! What a reaction!
Familiarity:

I gave it as a gift but have feedback to share

Fit:

True to size
I bought these socks for my dad. The dude is 80 years old and when I looked though his sock drawer he had, like 8 pairs of nasty, trashed socks. So I bought him a stash of socks. Holy crap, man, he loves these! And in 83 years, I'm guessing he has worn a lot more pair of socks than most people reading this review. Here's what he had to say. "These socks are so comfortable. I love the fact that they breath so well. The material over the top of the foot really breaths well. They hug my foot in a way that was only matched by that little lady who comforted me in the depths of the Korean war!" Listen to your elders. I even got excited about the sock. In my opinion its a bit heavy, even for a "medium weight" and I prefer socks that go just above the ankle. But listen to my dad, in hindsight his advice has been spot on. Oh yeah, and he wears a size 14 shoe and the XL was perfect.
Its like a sock on steroids!!
Familiarity:

I've put it through the wringer

Fit:

True to size
Very comfortable sock, while the support bands do not seem like much, I tend to notice the difference on 20+ mile day hikes between the phd and the regular crew. That little bit extra support keeps your arch from collapsing when the stabilizing muscles get tired and you're on your way back to the car. Bottom line they handle the abuse, and last a long time. Ive had the same 3 pairs for 5 years and they still look new after washing them.

Perfect gift idea for the outdoors person on your Christmas list. Although they cant eat it like all the candy you give them, this still makes a perfect stocking stuffer.





Difference from the regular hiking- For really long day hikes (covering a lot of miles) or quick hikes I prefer the Phd version of this sock. Same idea as the regular hiking sock- just with some support bands and a little thinner sock. I use the regular hiking socks for backpacking type trips. Anything where I am going to be moving at a slower pace or hiking with a bigger pack (adds a little more cushion).
Good but no awesome
Familiarity:

I've used it several times

Fit:

True to size
These indeed are cozy socks, keep you warm when regular socks don't, but that's all, maybe only the benefits when wet have more to do, but for us people with wet feet feel really strange
BEST SOCKS EVER!!!!!!
Familiarity:

I've used it once or twice and have initial impressions

Fit:

True to size
Oh my... my feet love these socks! The midweights are perfect for ~30*F hiking. I haven't had the chance to test them much outside of that though. Feet were nice and dry after a pretty decent 7mi hike :-)
Treat your feet right.
Familiarity:

I've used it several times

Fit:

True to size
These socks fit great and feel great on my feet. If you haven't indulged yourself you should try at least one pair. You won't be disappointed.
Warm and Cozy
Familiarity:

I gave it as a gift but have feedback to share

Fit:

True to size
I bought these socks for my brother in law for a Christmas present and according to my sister he is a very happy camper with these socks. I got him some lightweight crew-cut SW socks for business wear and then these for active wear and it turned out to be the perfect combo. It has been an especially cold winter in Washington D.C. and he says these socks are a pleasure to wear out on a brisk night's dog walk or stroll in the park! He wears a size 10.5 and they fit him perfectly!
Best Sock Ever
Gender:

Male

Familiarity:

I've put it through the wringer

Fit:

True to size
I love wool socks and have tried many. The Smartwool Phds are hands down the best, most comfortable sock on the market. They last a long time and are good to use on the longest of backpacking trips to the longest of days in the office and everywhere in between. They are always the first socks I grab out of the drawer. Shame about the high price....
Stellar ski sock
Familiarity:

I've put it through the wringer

Fit:

True to size
I got one pair for christmas years ago and since then I've started a collection. These socks are perfect for under any type of ski/snow/snowboard boots. They have these awesome vents above the base of your toes that let the sweat out and these crazy elastic bands that make your feet feel like they're athletic-taped with bands of awesome. You can even wear these as every-day socks in the winter without your feet filling your shoes with sweat. It's like turning your sneakers into slippers!
Great socks
Familiarity:

I've put it through the wringer
These are high quality socks. The PhD style are designed to fit more securely with the idea that they wont slide around in your shoes. So these socks will fit tighter, but as long as you don't throw them in the dryer, Smartwool's sizing recommendations are spot on.



The merino wool blend on these socks is very breathable, wicks well and dries quickly. The also have great durability and don't pill up when washed. My feet run hot, and the medium weight is a bit too warm for me from mid spring through late fall, but I love them when the temperature dips! Those with normal feet would probably like them for everything but the summer.
Would these work well inside fishing waders...
Would these work well inside fishing waders in the summer? What's the PhD stand for? Is there something different about them? I need a pair for winter fishing as well as a pair for summer fishing with potential for a few miles and full days on my feet.
Best Answer
Matt that's exactly what I use my Smart Wool Phd med crew socks for. They work very well. I bought six pairs soley for this purpose. They keep my feet warm, don't bunch up, and are very comfortable.
I've got a couple pair of medium and heavy pad socks coming. I bought a set of the light padding ones last week and love them. Thanks for the advice!
Should be good in the water. Might be too warm for the hike out though. PhD is their line that is supposed to fir and stay in place the best.