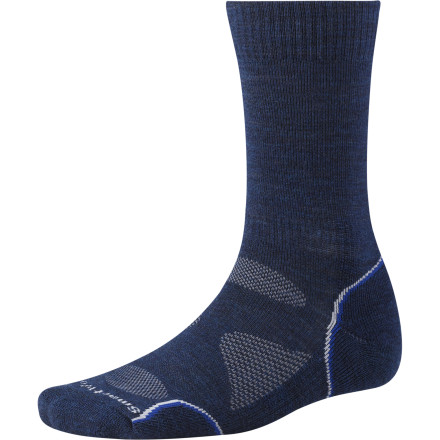 Description
The power of wool compels you.
From the trail to the office, the Smartwool PhD Outdoor Light Crew is an everyday all-star sock with tons of tech benefits. The 4-Degree Fit System utilizes athletic-shoe technology, creating a four zone support system in the ankle, arch, upper and lower instep. Stretch mesh along the top of the foot maximizes breathability, and WOW (Wool-On-Wool) double-layer impact padding in the toe and heel cushions your stride.
Share your thoughts
What do you think of the
SmartWool
PhD Outdoor Light Crew Sock
? Share a...
Love this sock for everday use
Gender:

Male

Familiarity:

I've used it several times
I love to wear this sock to work in the office in my normal tennis shoes (Puma). I also just like to lounge around the house in them. Couldn't ask for a better sock. Also, be sure to gentle wash and line dry. I wear size 12-13 shoe and the XL size fits me just fine.
These socks are great for a cooler morning mountain biking in the Wasatch, and even on afternoon rides in the dust when you want to keep some of the dirt off your legs.
I wasn't at all sure what the difference was between phd and regular smart wool socks, except that a coworker recommended and liked the phd. So I gave them a try and was thoroughly impressed. They're wonderfully comfortable, even after wearing them for a week straight. Whereas other socks have a tendency to stiffen up and become uncomfortable after being worn for more than two days, I never experienced any issues with these. Every day felt like they were almost new. Definitely using these on all future backpacking trips
These socks were for my husband who "claims" they are too tight for him. I'm pretty sure once the weather cools off that he'll change his tune, and will wear them all the time. Same Smartwool quality and the price was reasonable as they were on sale. Delivery was fast through the US Postal Service.
Lasts about a year, but really nice
Good but you could do better
These socks are nice but for less money i have bought better socks. The thickened up wool abrasion areas are too thick and cause my feet to sweat more than they should. While at the same time if it's cold out the thin top of the foot part of the sock is too thin and my foot gets cold. Do yourself a favor and buy socks from a sock specific company like Lorpen of Darn Tough and you will get a better product.
What is the difference between this sock...
What is the difference between this sock and the SmartWool Hiking Light Crew Sock?
Other than the slight difference in fiber content, the main difference is that this sock includes SmartWool's PhD technology. That means you get the "4 Degree Fit System" and WoW (wool on wool) as well.
The Smartwool PhD socks have a 4 degree fit system. Smartwool says the fit is supposed to be more secure and comfortable around the heel, arch and instep on socks with their PhD technology.
Buy these. They are great.
How come Smartwool's don't come in LARGE...
How come Smartwool's don't come in LARGE ~ Black anymore??? I cannot find them anywhere... what's up with that?
good for you there are more on the way. If you need them asap smartwool has the grey/black color way. looks like they have them in stock and in your size.
http://www.smartwool.com/mens/phd-outdoor-light-crew-14.html
I know this question not about this product,...
I know this question not about this product, but I have a running sock that is 5% wool and 95% synthetic. Would it shrink if if got wet when running or only with warm water?
It shouldn't shrink. I have accidentally run my wool blend socks through on a warm instead of a cold cycle and they were fine. BTW, Smartwool socks are great!
Smartwool is great! AND they don't shrink even with the higher content of wool!
I'm buying a few more just for work (HVAC/Construction). Super breathable and great compression.
My friend wears a size 10 shoe, what size...
My friend wears a size 10 shoe, what size sock should I buy.
Love these socks! Broke in a new pare of La Sportiva Boulder X Approach Shoe's on Mount Moran while wearing a pair of these. Did not come close to blistering. Definitely kept my dogs from barking.
Bought these socks to wear in casual shoes. Was hoping they'd be thin enough to substitute for dress socks, but these socks are thicker than I'd expected. I'm a size 12.5 and purchased size L, should have got the XL's. The L felt tight. My mistake on the size. Otherwise, I think they are great socks! Good wicking and nicely cushioned.
You can't go wrong with Smartwool, especially not their PhD socks. A few years back I could not have imagined paying $20 for a pair of socks, now I can't imagine not wearing smartwool for hiking, biking, snowboarding, etc. Wick great, prevent blisters, and breathe great.
The best socks I've ever used. These socks are great for day to day activities and also perform excellent for long day hikes. They breath and expel moisture exceptionally well which is excellent for high intensity activities. The fit is incredible they literal conform around your foot and will never move or shift around in your footwear. The merino wool naturally does not retain odor.
I Love These Socks!!! I Run Pretty Much All of my errands within a ten mile radius of my home on my bike. With my old socks I was having to change the 2 to 3 times a day because my feet sweat so much. Not any more. I've had these socks for almost a year now and have found the vents do a good job of keeping my feet cool and dry, and the uppers in place. Despite all of the washings they have gone through they still fit as comfortable and well as the day I first put them on. These socks may cost a little more, but I feel that they more than make up for that by how durable they are.
I really liked these socks as soon as I tried them on. They'll be perfect for a lighter & not bulky sock inside my hiking boots when it is warm. I liked these a bit better than the Icebreaker Hike Lite Crew Hiking Sock in the 2 pack. I haven't yet worn either one hiking yet and am basing my opinion on the fit & the feel. The oatmeal/natural is a great color leaning on a very light brown which will go with a lot of things.
Is this sock the same or equivalent to the...
Is this sock the same or equivalent to the SmartWool Adrenaline Light Crew Sock they were selling a few years ago?
Yes. Smartwool made some great improvements to fit and breathability with the PhD upgrade. In terms of weight, height and performance, it is essentially the same model.
perfection in wool sock form
love these guys. extra padding in the heels and balls of your feet. compression over the top is great! i feel like i have fewer weird sore spots the next day. wick excellent...i sweat a lot and these keep up in the summer. have never stunk near as bad as any of the cotton or synthetic socks i have ever used. when i alternate these with another pair of the same day to day, they are nearly stink free (and my feet usually stink like all hell). great great socks!!!! i have some the mediums for cool/cold weather. being that they are on sale, i am buying several more pair tonight!!! there may be better socks out there, but i refuse to pay $30 for pair of socks.