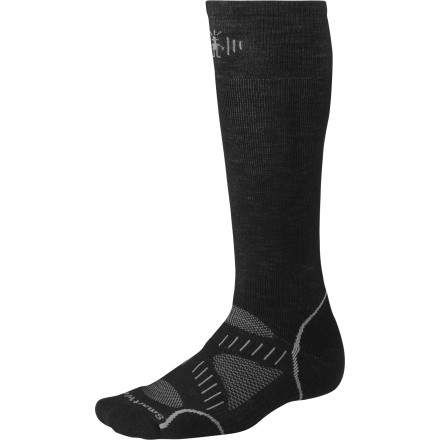 SmartWool uses a soft blend of fine merino wool and stretchy fibers to create the PhD Snowboard Medium Sock. This wicking, quick-drying snowsports sock keeps your feet dry within your boots—key because no boot will keep you warm when your feet are soaking wet. Four-way stretch knit provides a comfortable fit, and snowboard boot-specific padding absorbs the impact of turns and landings.
These socks are awesome. Got some last season and another pair this season for those multiple days doing runs. I should note that my extremities get cold easily but have never felt cold with these on for the day (coldest weather I've been in is ~26F for about 6-8hrs while snowboarding). Sizing is spot on (shoe size: 8.5, sock: medium), feet never feel overheated, material doesn't itch, and haven't had any problems with sweating.
My boyfriend has never had a warm day in ski boots until I got him some of these. For the first time ever, he's not in pain. I recommend giving them a shot.
Went snowboarding in these socks and it kept my feet nice and dry. My toes gets cold more easily, and I found that with these it was no longer an issue. It's not too thick for a midweight sock, so my boots (which are snug) still fit perfectly. Really comfortable to walk around in & performs great on the slopes. It's a good price for merino too!
Comfortable, dries real quick when washed and super warm. Great value!!
Best sock to ride in EVER!
I love this sock! Really comfy and with perfect thickness!
Comfy as hell, warm, I end up wearing them to work, to parties, wherever. I have 5 pairs now and I can't get enough!
The only issue I have is sometimes when my feet are sweating to hell, the SmartWool can't keep up with wicking it all away. Take them off and turn them inside out for 10 minutes and that problem is solved. Or just switch pairs!
These socks are awesome they are really comfy and will keep your feet warm. SmartWool makes amazing stuff so buy these while you can!
Love these socks. Perfect for weather in the teens with my Burton Ruler boots. They feel great all day and if they are like my other SmartWool socks, they should hold up for quite a while. I didn't have any hot spots and my feet didn't sweat and get cold at all. Even after it warmed up to almost 40 on one trip, my feet never felt hot and sweaty or wet.
Not for the colder weather
Very comfortable socks, but are not nearly as warm as a pair of super-thick Burton socks I bought a while back. Toes definitely got cold with these guys in about 7F weather. I don't think these work very well with anything below 20F.
These socks are real comfortable, but they wear out too fast in the heal and bottom of the big toe area.
SmartWool PhD Medium Snowboard Sock
After multiple pairs of cotton/polyester Burton and whoever socks, I decided it was time to upgrade to merino wool. Why I didn't do it sooner is beyond me, but these socks are awesome. Keep my feet warm, great cushioning and they aren't soaking wet when I take my feet out of my boots. Really great at wicking the moisture away and I can go a week or more and they don't smell (fact!). Not that I do that or anything....
When are you guys going to get more SmartWool...
When are you guys going to get more SmartWool PhD Medium Snowboard sock, size Medium for the color Black/Grey?
Most likely out for the season, as Smartwool is also out of this sock. Colors are changing for next season - but the same great sock will be back.
Okay, so I own at least 3 pairs of these socks and can assure you that they rock! They are great for snowboarding and I've never had a problem with comfort or warmth while on the slopes. In fact, I could lounge around all day with these on because they're just that comfy. I also wore these a lot when I was doing plumbing and construction in temperatures down in the negatives and again, never had cold feet. Oh yeah... they look cool too.
I wore these while out shopping for new snowboarding gear, which involved a lot of walk in the snow and cold and my feet stayed happily warm. Even better, they were comfortable around my calf's all day which is normally something I have trouble with. LOVE THESE!
I have several sets of smartwools and these are by far my favorites.
work for hours of wisconsin recess duty. enough said.
I bought these for my friend, who is in charge of multiple recesses at a K-12 school. She is hardcore about good winter clothing. She loved them so much that she promptly went out and bought another pair. She loves the way they keep her whole lower leg warm. I don't have these exact socks, but love smartwool in general. Yay!
So comfortable I forget they're there
SmartWool rocks. Every SmartWool product I've ever owned is top quality and super comfortable; these socks are no exception. My toes are usually cold but in these socks they're always perfectly cozy. Highly recommended!
These socks ROCK!!! Kept my feet warm during a boarding trip to Colorado and are super comfortable. I love the cushioning - not too thick, but thick enough to prevent the bruising that I normally get around my calves and shins with thinner socks. I just wore this sock with a simple, thin liner, and it was totally warm enough in the 7 degree weather + snow.
Anybody know if these are constricting...
Anybody know if these are constricting around the calf area? I have rather large calves and my current ThirtyTwo socks don't have that much elasticity around that area and it is uncomfortable
Best Answer
These socks are pretty stretchy up top. They are comfortable for me and my calves are too big for some socks. I would definitely give these a try.
Hope this helps.
This are the warmest pair of socks my feet have ever been in. I use these for cycling during winter months under a pair of regular Sidi shoes. Even when it's 5 degrees outside with wind blowing at 20+ my feet stay nice and toasty. Soaking wet, covered in snow, ice, and road grime these still perform. So warm and comfortable my feet feel like they're in a nice warm bed :)