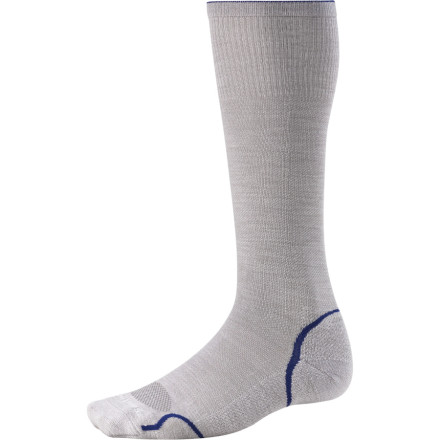 The SmartWool PhD Graduated Compression Light Sock combines all of SmartWool's most advanced technology to create a sock that insulates, dries, cushions, breathes, and even applies compression from the toes to the calf to aid circulation and speed recovery. At SmartWool's second-to-lightest weight, this sock won't feel bulky under your boots or shoes, but it will provide just enough warmth on a chilly day.
Wool Over Wool knit pattern at impact zones creates extra cushioning and shock-absorption
Merino manages moisture and insulates even when wet so you don't get a case of cold feet
Strategically placed mesh zones allow perspiration to evaporate away
Graduated compression keeps feet from swelling as you exercise, which improves performance and speeds recovery
Ultra Light thickness means you won't even notice the sock under your boots
These socks make sweet sweet love to feet and calves.
Yes, I meant every word of that. After a couple 10 hour flights in these babies, I even hesitated to take them off after my 27 hour day! It would have been weird taking a shower in these so I did take them off. While wearing them, my feet and especially my calves always felt like they had just been masaged my a lovely Thai woman with hands brought down from the heavens. Buy these or consider punching yourself in the face retrospectively for not buying them sooner.
Can't ask for too much more
I've worn these over a course of the season last year (about 20 days of skiing on these) and they are the best socks I've ever worn. I use them for skiing in my Full Tilt Seth Morrison with intuition liners, so naturally, thick socks are out of the question. They keep me reasonably warm throughout the season, and that is saying a lot considering how thin they are. They are also very robust and still haven't lost any of the elasticity (hence its performance). Sure they are expensive, but you get what you pay for.
These defy physics, the only way their performance can be described is magic! I will never board without these again! My routine at the end of the day used to entail sitting in the car with my feet up on the heating vents so I could regain feeling in my toes and give them that oh, so desperately needed, end of day wiggle. Now I bring a steaming tray and some asparagus and let the heat that escapes my boots around 4pm soak that asparagus to the perfect consistency, don't forget a little bit of butter ;)
best compression socks ever
These are the best compression socks I have ever had. I work 12-hr shifts on my feet, and my legs still feel great at the end of the day. They are relatively easy to get on and off and they don't leave line. My feet, which get hot and sweaty easily, are comfortable in these all day long-- they can breathe. I also haven't noticed them smelling yet. The socks seem like they will last a while. Great socks!