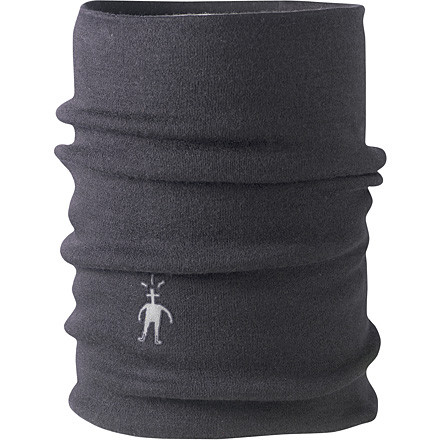 Description
Don't get caught in the cold without the SmartWool Neck Gaiter.
When the wind blows icy cold on the mountaintop, cover up with the SmartWool Neck Gaiter. Your neck and face will appreciate the softness and warmth of this double-layer gaiter.
Warm soft and comfortable neck gater
Great for skiing
Familiarity:

I've put it through the wringer
I bought this to use while skiing over the holidays. My neck is always cold -- not this year. This was thin enough to go under a 1/2 zip and was easy to buckle my helmet over it. My new must-have piece of gear - was toasty warm the entire trip.
If anyone is wondering about the length of this neck gaiter... it is 10.5 inches long.
A little slice of heaven
Familiarity:

I've put it through the wringer
Great for winter sports or just staying warm in the city, this completely replaces the need for a scarf, and while it may mess up your hair when you yank it over your head to put it on/take it off, it has the benefit of never coming untied or having annoying flappy bits blowing in the breeze.



Easily keeps the neck warm, and I also found I was able to pull it up high in the back and overlap my wool beanie on the sides and back to completely seal out the cold. Enough fabric to reach up over the nose for those ridiculously inclement days.
Did the trick
Familiarity:

I've used it once or twice and have initial impressions

Fit:

True to size
I tried using a scarf before making this purchase. Get a Neck Gaiter and forget the hassel of trying to make a scarf stay tied. Another perk - smart wool is warm and doesn't seem to hold the moisture and get wet even when it is over your mouth and nose. Must be the magical qualities of smart wool.
Gave this gaiter to my mom as a gift. She was super stoked because she is out in the cold all day. It works great and keeps the cold out.
A great value for a wool gaiter
Familiarity:

I've used it several times

Fit:

True to size
There are probably 20 different gaiters on the market. Of those probably half are wool or a wool blend. Of those I think this SmartWool gaiter is a great value.



It pulls up over my face/nose when the wind is howling and still keeps my neck covered. It also seems to hold its shape too. I have a 16.5 inch neck and its nice and snug, but not restrictive.



The material is a double knit (like a tube) so it's pretty heavy, and honestly it takes a little getting used to breathing through it when needed. Sitting on the chair lift, I pull this thing up to my eyeballs and wait for relief.



It's cozy, functional, good quality, and competitively priced. Give it a try.
Does anyone know what the measurement of...
Does anyone know what the measurement of this gaiter is, laid flat, measured from side to side and from top to bottom? Arc'teryx is 8 inches across, but don't know length.
I have not worn this neck gaiter so I invite correction if someone has more personal experience. But the specs I have read from Smartwool say that it is 8x10.
Awesome Product
Gender:

Male

Familiarity:

I've put it through the wringer
I grabbed one of these for cold bike rides into the office. Works like a charm. It doesn't stretch out too much and even when it does a quick wash puts it right. I've used it biking, hiking, and skiing in the BC interior. I have no complaints except that I lost it and I have to wait a few weeks for the new one to get here.
Woohoo I got my gaiter back!!!
I've had one of these Smartwool neck gaiters forever. I got it for winter trail walking in NH but ended up using it as my everyday scarf too. Last week I lost it somewhere. Luckily Backcountry had it in stock with free 2-day shipping, and saved me a couple dollars by pricematching another store. I ordered it Monday and got it today (Wednesday), so I'm back in business for tomorrow's trail walk! The gaiter is great - brand new of course, tags attached, 100% merino wool, good length (pulls up over your nose when it's super-cold out). My only gripe is the big tag on the inside but I can live with that. Thank you Backcountry for "saving my neck" :-)
Great neck Gaitor
Gender:

Male

Familiarity:

I've put it through the wringer
I've used this several days in the backcountry this year and its doubled as a "headband" while ascending. I still use a balaclava for my face on very cold days, but this does the job on warmer ones. Good smartwool quality as expected.
Nice
Gender:

Male

Familiarity:

I've used it several times
More comfortable than fleece.

Very soft.

I use it as a hat.

Would endorse the product.




Meh
Familiarity:

I've used it once or twice and have initial impressions
The one I got didn't look like the picture shows now, but I assume the essence is the same.

I used this on a day when it was about 30-32 and a heavy snow was falling, which means that there was a lot of moisture on the outside and also I was breathing rather heavy because I was working harder. Anyway, I found this thing suffocating me more often than not. Once it got wet, it stopped being breathable. So, I'll only be using this one on dry and cold days, if it's wet and cold I bought a couple others to try out.
This gaiter is one of several I have from different brands. There honestly isn't a lot to differentiate between them, as they all do the job. The only quibble I have with the Smartwool piece is the material doesn't seem to be quite as high quality as some others. I have had more pilling on this piece than any of my others, by far. All in all. though, it is a nice, versatile piece to have on those cold days.
the wool is very soft I just wish it was 2 or 3 inches longer.
the wool is very soft I just wish it was 2 or 3 inches longer.
Usually wear a fleece neckwarmer skiing..love smartwool so got the neck gaitor. Was pleased. Just as warm as the fleece, and I believe more breathable...and was not itchy. Fleece or smartwool neck warmer I would say are equal in comfort and warmth.
Great product. Just as described. Comfortable and lite.
THANK YOU! This gaiter saved my life (or at least my face) on my first snowboarding trip of the season. Less annoying than the full balaclava or the gaiters or buffs that have to be facing a particular way-- you just pop this puppy over your head and leave it around your neck when you dont want it, and pull it up for easy, warm, and SOFT coverage when you need to. You can also pull it up as a hat(ish) deal if you need to. It dries super fast, is light, and fits easily in your pocket. Best bang for your buck gaiter out there.
Do you want something enough to warm and convinient wearing and cheap.....etc.
There is one choice... smartwool neck gaiter.