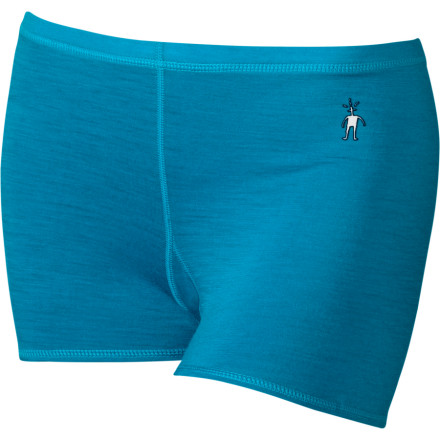 Underwear made of wool might sound counter intuitive. But we promise the Smartwool Women's Microweight Hipster NTS Underwear won't feel like your ma's itchy, old ski sweater. These super soft, breathable undies pull sweat away from your skin and fight odor to keep you feeling fresh when you work or play hard.
Share your thoughts
What do you think of the
SmartWool
NTS Microweight Hipster Underwear - Women's
? Share a...
Leg opening too small, very thin wool
These babies just don't work for my big cycling thighs in a size small (but IceBreaker does). They're about the least flattering thing I own now, too. The wool's a little to thin and they move around quite a bit when I'm on the bike. Definitely my first and last pair of these.
I like these, as they don't ride up a lot. They are higher waisted than some comparable products (like the Ibex hotpants, which I think are cuter), but this can sometimes be good, like if you want them to ride above a backpack hip belt. Also, the Ibex hotpant has a seam right down the middle, which can cause it to dig in a bit in sensitive areas. These smarwool hipsters do not have that problem.
I got a small, and they fit well. I'm 5'3", 114" with 27"natural waist, 37" hips
If they make some other colors next year I'll get another pair.
I like these, but not nearly as much as the Icebreaker hot pant. I bought both before thru-hiking the Appalachian Trail and ended up switching to just the Icebreaker ones. I liked these more at first, but found that the legs can easily bunch a bit and contribute to chafing (the great enemy of the backpacker!).
These are amazing. They are comfy while hiking and they are easy to wash and dry out over night even in chilly/damp conditions. Which I could afford to wear them everyday, even when not hiking.
These worked perfectly for an 8-day climb/camping trip in cold weather. I would wear these for everyday work/errands/life as well as for outdoor play time. Couldn't even tell I was wearing them, no bunching or climbing up. Warm, but not uncomfortable. True to size, 4-6 normally, but I bought a medium just to be safe.
I have two pairs of these and I do find them true to size. I'm about a 4-6 and the small fits great. I ski in the coldest weather in these as well as hike in the summer, they are very versatile. The waist band is super comfortable and they wash really well. I probably wear these more than my other boxers in the winter because I like the longer length in the colder months to cover my bum! Great shorts!
I ordered two pair - size small - I own one pair - small in a slightly heavier material that fits well - but the two that arrived today are too tight- and the material is not very elastic. I am returning them and I am pretty disappointed.
Smartwool needs to be consistent with its sizing. I had the same problem with socks - some fit well - some are too tight -
I tested these out on a multi-day backpacking trip and compared them to a different brand of "quick-dry" bikini underware that I also used on the trip. The Smartwool proved to be more comfortable; no chafing, no blisters where the backpack hipbelt sits, no circulation being cut off, and because they are so breathable, they kept me less sweaty than the other pair (it was 85 degrees and humid). In the opposite end of the weather, they add a nice extra bit of warmth on my 35 degrees and windy 4 mile commute to work. Highly recommended.
Can you wear these in hot, humid summer...
Can you wear these in hot, humid summer conditions? I'm looking for a breathable, easy washing and quick-drying boyshort for hiking.
Yes!, you just described this product to the 'T'. It's very lightweight and awesome.
As DakkaGuru said - YES! The most important aspect is that they breathe substantially better than any synthetic, keeping ALL parts of you happy!
Enjoy!
I love merino wool so I don't really want to complain, however, there is one detrimental design flaw that prevents me from absolutely loving these.

The stitching by the leg openings are made of non-stretch thread. I believe they did this in hopes of preventing ride-ups, but instead they created a very uncomfortable pair of underwear.

The wool is very soft next to the skin, and the waist is a bit higher than I like, but that wouldn't matter if the leg openings didn't dig into my upper thighs when I sit down.

I'm 5'4", 112lbs so ordered the XS. I do not have much in the way of thighs, so I wonder what will happen if I was a bit more shapely or muscular. If I went to a size small then it would be too big in the butt area so I know the sizing is correct.

All in all, it's a bit of a disappointment. I'll still wear them, though it won't be with a lot of loving feeling.
these keep my bum warm on the trail and around town. I wish they were cut a little more like hipsters than boy shorts, but overall a good purchase. Smartwool rocks!
I have a pair of Smartwool Boy Briefs that...
I have a pair of Smartwool Boy Briefs that I like. Did they just change the name to Hipster? The pics looks the same, but I'm not sure if there might be a difference.
Smartwool changed the cut slightly. The Hipsters are about 1" shorter than the Boy Briefs.
These are comfortable and breathable, but they stretch out after a few hours and the legs bunch up when you sit for long periods of time.
These are my favorite wool boxers
I have other brands of fine merino wool briefs but these are the ones I wear whenever there's a Hip Belt involved such as with a backpack. They wear for days, wash up great, dry quickly, are very soft, and, so far have been durable (as much as could be expected with a microweight). My hips are 38 inches, I wear XL because I don't like tight fits, these are very comfortable.