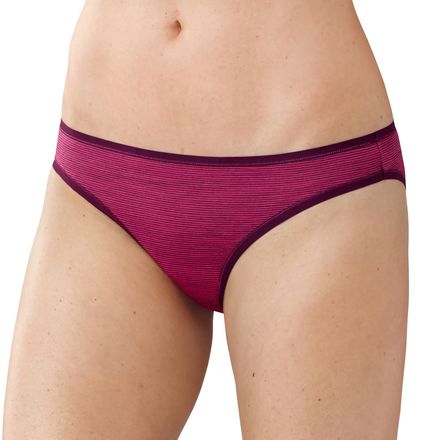 Detail Images

Community Images
Description
Who knew?
No, the term 'wool biknini' is not an oxymoron. SmartWool made the Women's Microweight Bikini from a soft, stretchy merino wool-spandex blend that fits like a dream, wicks and breathes, and fights odors. In fact, merino could be considered the ideal material for active womens' underwear.
I decided to refresh my underwear drawer and bought about a dozen pairs from several different brands. These are my favorite ones. Really, really comfortable.
who would have thought wool underwear !
Familiarity:

I've used it several times

Fit:

True to size
I play pickleball outside in AZ and it gets hot. These underwear keep me dryer and comfortable all day long. I'm used to wearing a brief so at first these were a little skimpy but they were comfortable and didn't ride up. I wear a 6-8 and both the small and med fit. I have since bought 6 pair
Finally, wool underwear that fits
Gender:

Female

Familiarity:

I've put it through the wringer

Fit:

True to size
I've bought a few pairs of wool underwear for hiking and this is the first time I've had a pair that is comfortable. Small is a perfect fit, true to size chart. I may just buy a bunch more of them.
I'm here to ask for more variety in the...
I'm here to ask for more variety in the models, or for you to at least tell us weight and height of models and what size they're wearing.

I'm a guy but I do a lot of the gear buying for me and my girlfriend, including clothes. She hates shopping.

But I'm beginning to understand my female friends' frustrations with women's sizing. I have a lot of female friends who love the outdoors. Exactly one of them is built like the models in the pictures.

I've gotten pretty good at buying for my girlfriend, but the sizing and pictures always frustrate me. She doesn't look like that.

I won't say "show us real women" because the models in the pictures are clearly real women. I will say "show us the actual variety that exists in the world" and give useful sizing.

There's a men's t-shirt company that tells you the male models' height, weight, chest size, and size they're wearing. I've seen another women's clothing site that tells you the model's height, weight, and size worn. Very useful.

How about it, Backcountry? Haven't you noticed climbers, skiers, and backpackers DON'T all look like tall, skinny runway models?
Best Answer
Hey Fachero,



We actually only have a very small photo team and we rely heavily on the vendors to provide photos of products. The ADD A PHOTO feature here in the community is a very fun but also useful tool to show how gear or clothing actually looks on the people who use them.



Besides, I hear that sometimes there are kickbacks to people who are rocking the community and adding a lot of useful content to product pages.
Hey Fachero!



Thank you so much for your feedback.

I agree with you completely, it is a rough rough world out there in terms of trying to determine sizing on the interwebs.

We could certainly improve our experience for users.



I've forwarded your feedback on to our merchandising team, and we thank you for taking the time to let us know your thoughts! In the meantime, check these out for your girlfriend.



http://www.backcountry.com/icebreaker-nature-sprite-hot-pant-womens



Best. Underwear. Ever. (With reasonably accurate sizing)
good backpacking undies
Familiarity:

I've put it through the wringer

Fit:

True to size
These were breathable, stayed put, and resisted odors. Wore these on 4th day of a backpacking trip with no problems. Still...the price was over $20
So far, I like them alot!
Familiarity:

I've used it once or twice and have initial impressions

Fit:

True to size
I usually wear Patagonia barely there bikinis - but I was searching for alternatives. I hate getting hot "down there" and want underwear that breathes! So just went on a 13 mile hike in my new smartwool micro bikinis and they did breathe well, but more importantly dried super fast after sweating all day on the hike. When we stopped to take a breather, or eat a trail snack, I noticed they dried super quick! The bikini cut is ok - its not like big, old lady undies (no disrespect to the older ladies as I am one!) - the Patagonia bikinis have a more sexy "less there" cut than these do. But overall, I am happy with them. Oh yeah, I am 5'3" and 128 lbs. Waist is 25" and hips are 36" and I have a round booty. The smalls fit perfect!


great undies
Familiarity:

I've used it several times

Fit:

True to size
I was a little apprehensive reading some of the other reviews, but am really glad I got these for a two month long backpacking/trekking trip.



They are so lightweight and comfy to wear - they breathe really well - so important for hygiene and comfort!



Washed these several times by hand and they always retained the right size.



I would definitely stock my wardrobe with these if they did not cost as much - but great to take a couple pairs travelling or backpacking.



Sizing : 5'9" 140 lbs, got a medium.
I didn't wear them.....But my wife did!
Familiarity:

I've put it through the wringer

Fit:

True to size
.....and she loved them! She even thought that she had left them at our last destination on our trip and she was crushed!.....Only to find them in the corner of her pack.



We traveled the globe and these were her "go to" as her cotton undies failed the test of trekking through Roman ruins, highlands of the Swiss Alps, and the glaciers of southern New Zealand.
Comfy, but delicate.
Familiarity:

I've used it several times

Fit:

Runs large
These are comfortable to wear and sweat wicking. Because they're a little delicate, I save them for backpacking so that they'll last longer. They also run just a little big.
Poor craftsmanship
Gender:

Female

Familiarity:

I've used it once or twice and have initial impressions

Fit:

Runs large
All of my Smartwool socks, tops and bottoms have been of superior quality but I am highly disappointed with the stitching of the bikinis and thongs. The garments arrive weakly stitched and frayed and unravels after a single wash. In comparison, my I/O Bio briefs have withstood gentle washing over the past 2-3 years and continues to look and feel great. On a positive note, it comes in a natural color, which is hard to find in XS in other brands. So on the rare occasion when I choose to wear white shorts or pants, I have no choice but to wear my unraveling underwear. :(
Stitching unravels
Gender:

Female

Familiarity:

I've used it several times

Fit:

True to size
Also, uncomfortable seams and tags. Sizing runs true to large. Bummer. (Same issues with many of the Icebreaker offering.) Check out the ibex offerings! Whole 'mother level!
Not very high quality
Familiarity:

I've used it once or twice and have initial impressions
I bought these for backpacking, and I have only worn them on one trip, and washed them once, and I can already tell they are not going to last long. The stitching is weak, and appears like it will only hold a short time longer. Pretty disappointed, since most Smartwool products last a very long time.
Yes, they are a little pricy but totally worth it! They are lightweight, soft, and give you that 'barely there' feel. Perfect for any outdoor sport activities! There are a lot of reviews on Smartwool panties saying that after washing, there is unraveling problems. I have washed these close to 15 times and haven't had any issues, I would highly recommend these for any lady!
Too much packaging, bad 4 Earth
I love SmartWool's undies. But it's a love-hate relationship, because they send this tiny pair of undies in a huge box. It's bad for our planet. Shame on you Smartwool for making me love you!
Dry fast
Gender:

Female

Familiarity:

I've put it through the wringer
Super comfy. Dry fast.

Handwashed these babies on a ski trip and they were the fastest to dry. I preferred the bikini style on the front of the thigh - more comfortable vs the hipkini. The sizing runs just a little big- they seemed to kind of stretch out.

Also the biggest tag ever. Gigantic. Not a big deal since I cut it off but just kind of weird.

I didn't have any quality issues as I've been washing them by hand and hang-to-dry. Have worn them many times skiing and touring without a problem.
Comfy
Familiarity:

I've used it once or twice and have initial impressions
Comfy undies..can't wait to try them on our next hiking trip!
I'm a devotee of Smartwool's wonderful socks, and really wanted to love these undies--but the quality just isn't there. In less than two months, and wearing them no more than once a week, if that, the side seams have disintegrated on both of the pairs that I ordered. Really, Smartwool?



To add insult to injury, they do not stay in place, in spite of the elastane, and ride right up my bum. I'll be sending them back.
These undies are great. I love the material and they fit me pretty much like any pair of regular old cottons but I rated them low for their stitching. I ordered 2 pair for a trip and noticed after the first wear that a seam had busted. I should have checked them over closely but common smartwool! if I'm going to pay 25 bucks for a scrap of fabric it should be well put together!
Pretty in pink with no stink
These are great. Super comfort and I love the antimicrobial aspect. I wore them for 3 days straight with no stink. I might go a size smaller for my next pair.