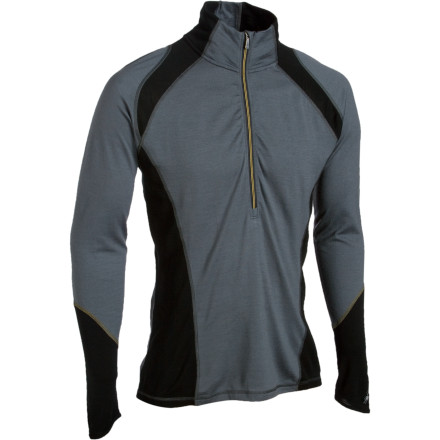 Detail Images
The Smartwool Men's LightweightZip Top is like the caped crusader of the baselayer world—at any time, and in any conditions, it's ready to wick moisture, dry in a flash, and naturally fight odors thanks to its soft, stretchy merino wool construction. Flatlock seams give it next-to-skin comfort and the front zip aids in venting when you overheat.
Happy in My SmartWool!
Gender:

Male

Familiarity:

I've used it once or twice and have initial impressions

Fit:

True to size
Love this top - so much better than the old school cotton T-shirt/sweatshirt combo ('nuff said)! I bought a Small, and it was just a tiny bit loose (I'd been told that base layer tops are supposed to fit like a second skin), but then, I'm a string bean type. Anyway, it was a great fit otherwise and very comfortable. I was never dying to take it off after a full day of skiing. I know people are saying it runs small, but I think it might depend on your expectation of how it is supposed to fit...so I am saying it's true to size.

The super deep zip makes it simple to vent, and I did make use of it on my early March trip to Telluride. SO glad I bought a top with a zip!! Worked great with a zip fleece.

Wore it when it was sunny and in the 20s/30s on the mountain and warmer at the base, no wind. I was a little overdressed, so it's hard to judge accurately, but I will say I never realized I was sweating until I found my trail map all crackly in my internal jacket pocket and my fleece was damp! I thought, how can my fleece be damp when my skin is dry?! When it was time to change out of my ski gear, my top was never wet at all, even when I know I sweat! And after three full days of skiing, it still smelled fresh - no lie!

The seams run all over this top, so I was a little concerned about feeling them, but while skiing it was a total non-issue.

I am a total SmartWool fanatic!
Really comfy
Gender:

Male

Familiarity:

I've used it several times

Fit:

True to size
Haven't had it for long, but it's super comfy. Weight is perfect. Fit is great, collar seemed too tall but actually works well. Not pulling or compressing anywhere on the body, just what I was looking for. Great color (blue with red zip). Deep zip is nice. Bought it as a base layer for skiing but have been wearing around all the time.
good layer
Familiarity:

I've used it once or twice and have initial impressions

Fit:

True to size
I bought a small, and it fits similarly to other smartwool smalls I've bought before, maybe just a tad smaller--not as long in the back as I thought it would be. I'm 5'8", 155#. The weight is great. I run hot and this keeps me just right. The collar is twice as thick as the rest of the shirt, which I thought would be terrible, but it hasn't been negative yet on the 2 warmish days I've used it.
Great Product, Not-so-great fit
Familiarity:

I returned this product before using it

Fit:

Runs small
I love all my SmartWool products! Everything you've read about their big warmth and little stinkability on the trail is true. However, this top just didn't fit me well. I'm 5' 11", 170 pounds and average build. Everything fits great except under the arms -- it's way too tight under the arms. Sadly, despite the fantastic appearance of the deep sea color, I had to return it.
Perfect around the Campfire or summits!
Familiarity:

I've used it once or twice and have initial impressions

Fit:

True to size
I dont love wearing Merino as it stays wet longer than synthetic. It is warm when wet so this is perfect for rafting or if its going to possibly rain. Little drizzle on Mt. Superior the other day and it was perfect for keeping Kelly warm. I am 5'8" 200 lbs and it fits like a pretty standard baselayer. Not baggy at all on me, fits nice and snug so for layering its awesome. As a stand alone piece I like the athletic fit as well. You dont want a bunch of fabric flapping around when your nervous of falling off the south ridge.
does this have any polyester in it?
does this have any polyester in it?
The Smartwool website says it does not. The fabric is 100% merino wool. However, it may have some polyester in the zipper and the stitching. Hope this helps!
Pretty good
Familiarity:

I've used it once or twice and have initial impressions
I'm 178cm, 65kg. Small size fit well.

I am pleased it's performance.
Hey, Im 5'9 (1.73cm) and 158lb (72kg) (sorry...
Hey,

Im 5'9 (1.73cm) and 158lb (72kg)

(sorry if I converted wrong), chest is 91cm (35.8).

Should I get the large or the medium?

Thanks.

Also, how easy is to fit a mid-layer or something else above, considering the zipper?

Thanks, Noam.
Best Answer
Medium should be fine for you unless you want it to fit pretty loose. If your midlayer doesn't also have a collar then this will stick up through a crew neck, which might look a little funny, but functionally shouldn't be an issue at all.
I'm 6'0" and 165 lbs (generally have a smaller torso and larger legs though) and I thought the medium was too big. Exchanging for a small; sleeves may be a bit short for me that's OK. A baselayer should be fairly tight, not loose like the medium was on me.
Short sleeves
Familiarity:

I returned this product before using it

Fit:

Runs small
Shirt did not fit. I am 6'5" with 37" arms, ordered the large and it was by far too small. The quality of the product is great, but just did not fit. Not recommended for tall thin guys.
Would people recommend this over the similar...
Would people recommend this over the similar Patagonia options? If so why?
Best Answer
Hey Ben,



Great question. Both the Patagonia Merino 2 Lightweight zip and this piece are very good products. They very similar, but have some definite differences.



This piece is 100% merino while the Patagonia is merino with some polyester and a little spandex to help it move with you.



In my experience merino feels better on my skin when it is just merino, but mixed with polyester etc., it is more durable dries faster and wicks maybe a tad better. The stink factor does go up a notch when polyester is added to the mix, though it is fairly negligible.



Another thing to look at is price, and the Smartwool and Patagonia pieces are within a few dollars of each other, with the Smartwool piece being a tad cheaper.



You should be good with either choice depending on your preferences as far as the way the piece feels, durability, stink factor, and wicking power, etc.



For myself I would probably go with the Patagonia. Best of luck!
Good looking out Steven, thanks!
Hi All, I am 5'10" tall and weight 212lbs....
Hi All,

I am 5'10" tall and weight 212lbs. what size should i get?



Thank you.
I would think a large should fit you pretty well for an athletic/comfortable fit, if you want a rather relaxed fit an XL might be better, though the arms might be a bit long.
I used this for the first time last week in the Smoky's. Temps were between 40 and 70 while hiking and this shirt did great at keeping me cool and dry on the trail, and warm at camp after a long day. The zipper in front seems like it goes a long way down but i just never opened it all the way up. By the end of the week thre was a smell to it but a quick rinse in the stream and it was back to smelling fresh again! Bottom line, I will continue using this as a base/ only layer and recomend it to everyone I know!
It looks like there are several seams on...
It looks like there are several seams on the shoulders... Would this be comfortable mid-day as the only layer under a pack? Only concern, as we hike quite a bit in varying conditions...
Best Answer
I just got back from a backpacking trip in the Smoky's and this was my only layer under the pack most of the week... it was very comfortable, the seams are well designed and placed.
Another Smartwool Winner
Gender:

Male

Familiarity:

I've put it through the wringer
Love the Smartwool baselayers, and this is no different. Great styling and the 1/2 allows for comfort control with the flick of a wrist. Soft, comfy, warm and breathable. Only gripe is the hard seam on the sleeve cuffs. Idfeally, this would have a bit of elasticity for those moments when you roll up your sleeves and get after it.
Excellent for a Lifty
Gender:

Male

Familiarity:

I've put it through the wringer
I work as a lifty in Sun Valley, I wear the top and the bottoms almost every day. So far, even with the temps gettin in the single digits, these have kept me warm. When the sun comes out and were bumpin 400 chairs and hour, it breathes and wicks away the sweat. Love 'em and no itching! KCCO
Bought for hiking trip
Gender:

Male

Familiarity:

I've used it once or twice and have initial impressions
I bought this for a planned hiking trip in New Zealand (Milford Trek) which spans 33 miles over 5 days. I have only tried this on, but I plan to use these with U.A. Catalyst & North Face Reaxion and Flex Crew shirts and also TNF Venture rain jacket. These are quite thin; kind of like a pair of "silk" shirt I have for skiing. Probably more to keep sweet and water from soaking in, not sure how warm these will be.
First Experience with Wool Baselayer
Familiarity:

I've used it several times
Here's a consumer equipment review for the canyon / orange SmartWool NTS lightweight zip top.



Wearer Stats:

Sex: Male

Height: 6'0"

Weight: 190 lbs



Purchased size large.

Used several times on 8 - 12 hour hikes in CT and NH, including Mt. Washington in November. Temperatures ranging from 5 - 55 °F.



Wearing the garment now to help recall previous thoughts of it's utility.



Product's best feature:

In my opinion, this product's best feature was it's combined ability to dry quickly, breathe, and retain warmth wet when.



Other important but less noticeable features:

The fabric's propensity to deter odor. (SmartWool marketing accurate)



Ergonomic fit seems to benefit kinetic energy. Fabric panel cuts enable easy flexing of elbow and overhead arm extension.



Downside:

Collar of shirt appears to be showing signs of wear. Collar losing integrity, may be stretching out and as a result has difficulty staying erect.



Observations:

Chose this top for use as part of my "action suit."



The incredibly deep-cut neck zipper allowed my chest and core to cool off when moving fast. Rapid adjustments to layering system were made easy, especially when combined with other zip tops.



This wool baselayer definitely kept me more warm when wet after many hours on the trail of sweating. While simultaneously drying quickly.



I've been unable to "wet out" this baselayer, as opposed to a synthetic layer of the same weight. In the past, synthetic baselayers of equal weight have "wet out" and given me the chills from many hours of comparable strenuous activity. (Note however, I may have been over dressed.)
me: 5'11 163lbs 34/35 sleeve length in dress shirts. Bought size medium. Fit is close to skin (NTS=next to skin)without strangling any part of my anatomy. Washing this good lookin top will get rid of the initial itchy shock. Looks svelt not too loose. Way better fit than Icebreaker for me (have to go to size large in that brand. I would say if you are a large get large and do not size up. Got the Canyon Orange color and it is not the neon vivid orange the pic shows. It is bit more subdued on the slightly burnt orange side. Very cool color, happy.
I'M 182cm 85kg , Sandy Brown suggest me L and I choice it , really nice! chest is 114 cm back Length is 75 cm. hope that can help every one!
HI friend: I'm 182cm 85KG,what size is...
HI friend:
I'm 182cm 85KG,what size is good to me? thank you!
Large for snug fit. XL for loose fit.