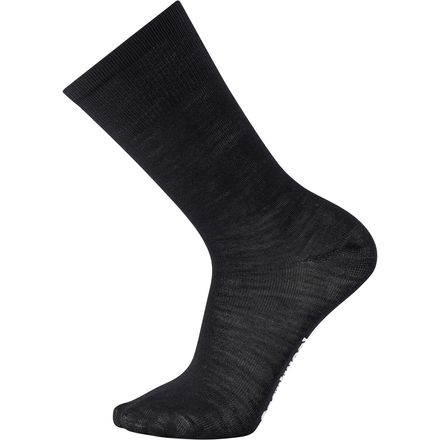 Community Images
Description
The Smartwool Hiking Liner Crew is an innie AND an outie.
The Smartwool Hiking Liner Crew can be worn as an ultra light sock on warm hikes or as a liner in cold weather. The ribbed cuff keeps it from sliding into your hiking boots or bunching at the bottom of your outer-layer sock. A flat-knit toe seam won't bother your toes while breaking trail. Smartwool designed the Hiking Liner Crew Socks to prevent blistering as well as odor—feel free to layer without fear of grossing out your camping buddies.
Gets the job done
Familiarity:

I've used it several times

Fit:

True to size
Used these liners under my normal hiking socks for summer hikes, and they work well. I had one 12 mile day in them, and they were comfortable and didn't bunch or sag at all throughout the day. I did still get a few hot spots under my big toes, which was something I had hoped these liners would help with, but not a deal breaker or anything a little moleskin can't fix. Fits true to size, I wear a 9 in shoes/hiking boots and ordered a medium.
What material is this sock made of?
Knit In USA Of Imported Yarn:



59% Merino Wool

39% Nylon

2% Elastane



Jared D.

Expert Gearhead

800.409.4502 ext 4055

jdowns@backcountry.com
Awesome!
Familiarity:

I've put it through the wringer

Fit:

True to size
I got five pairs last spring and since they have been the only every day socks I have used. They can go for days on end withouth having to get washed.

Downside is that they break. From the ten socks I got, I would say about half of them have big holes now. I will still get new pairs though. That's how awesome they are.
My favorite liner
Familiarity:

I've put it through the wringer

Fit:

True to size
No more overheating and blisters! These socks are incredible. They're light and durable and are super breathable. After using them for one hike they became my favorite liner ever.
happy piggies
Familiarity:

I've put it through the wringer

Fit:

True to size
I love my wool socks quite a bit. Put these liners on and enjoy no moisture or hot spots. They really are the only accessory for your human personnel carriers
Blister free; happy as can be :)
Familiarity:

I've used it several times

Fit:

True to size
Good stuff. Definitely do the job to prevent blisters and keep the stanky stank away. Get a couple pairs to keep your feet happy!
Is this liner women's, men's, or unisex?...
Is this liner women's, men's, or unisex?
Smartwool intends for this to be a unisex sock and I have seen both men and women buy them.
Yes, generally, a women's size 'L' would be equivalent to a men's size 'S', and so on...no real difference otherwise, (besides colors/designs ie (butterflies and daisys' and such, for example...but then, you never know!).
Great All-Around Liners
Familiarity:

I've put it through the wringer

Fit:

True to size
These liners are great. Comfy, lightweight, durable, dry quickly, and don't pick up foot-stank that quick.



I use them for hiking, with my slippers, and even just daily wear.



I'd recommend them even if you don't need liners, but want a lightweight durable sock that's not cotton.
I mainly use the liners during the summer. They are great for keeping my feet cool and dry. They also go well with another pair of wool socks for colder weather. Well done!
Good liners but not my favorite
I tried theses along with some coolmax liners. These are thicker and seem sturdier but I fount that they were a little tougher on my feet. I ended up switching halfway through one of my days because they just weren't as comfy. For the price I had hoped for a bit more but they were not bad. I will use the coolmax liners for long heavy hiking, but keep these for the slightly less intense hikes.
All I wear
Gender:

Male

Familiarity:

I've put it through the wringer
As the title says I only wear these sock liner's anymore. I use them to go to work, I work on my feet, I use them when I go hiking, and I use them when going snowboarding. Tried to put regular cotton sucks on my feet the other day, and I threw them all away.
Perfect liners. Double as work socks.
Gender:

Male

Familiarity:

I've put it through the wringer
Since I started using these liners, I stopped getting blisters on my hikes when used properly underneath a heavy wool hiking sock. For this reason alone, they get 5 stars.



As a bonus, since I got the black ones, I wear them often as professional work socks. They look great and are more comfy, cozy, and warm then traditional work socks.
So I need to work outside all day and my...
So I need to work outside all day and my feet freeze! Can I wear these under my regular socks to keep my feet warm and dry? I guess breathable boots are a good idea too?
These would be a good start for keeping your feet warm.



The main advantage of a liner sock is that you can take the liner off when your feet start to get sweaty...preventing them from chilling you out later. Maybe even bring another pair of liner socks in a pocket to switch out.
Best Answer
And again, wear wool hiking socks, not cotton, as cotton stays wet, ...and then you will really get chilled. This holds true for base layers for winter as well. Go with a hi-tech base layer such as Gore, just for example; or a wool base layer.
Great liner, very durable
These were more an experiment than anything for me. I almost exclusively wear Smartwool's trekking socks while I'm backpacking. I gave these a shot with some other sock combinations to see if I liked them... and I do. It turns out that I actually prefer to not use liners, but of the four or five types of liners I tried... these were easily my favorite. They are still occasions where I still use them, and when those times come around I always find myself impressed with how comfortable and durable these are.

If you prefer liners with your boots and socks... give these a shot. You won't be disappointed.
About what I expected from Smartwool
All their socks are great. I use these liners for bicycling and hiking. They are a little thicker than my polypro liners, but not so much that they make my shoes and boots too tight. They were especially a good value when Backcountry had them on sale.
Seams are flatter than most, but not he flattest.
I bought these socks because my other sock liners went missing in the dryer, and the model has been discontinued. The seams on these are flat but they're not the flattest I've experienced. This makes a difference after 20 miles on the trail with a 50-pound pack.
Fantastic year round socks
I use these as my year round sock of choice. These socks are soft, wick moisture away keeping my feet dry and they wear like iron. Front country or back country, these are super!
I use these with my black loafers and dress pants in the fall and winter time. I also use them with my dress boots. They are great because they keep your feet warm when it's cool, they keep your feet cool when it's warm, they make your feet smell fresh instead of stinky, and the black dye in the fabric doesn't fade overtime. I also use them for their intended purpose (as hiking liner socks, and of course they're fine for that too,) but I really love them with my casual dress work clothes. I wear b/w a 6 and a 6.5 in women's shoes, and the size small socks fit me just fine.
I have always used these primarily under a heavyweight sock

but these actually work great for a summer sock.

They are very thin and breath great also dry very fast.
worked exacly as they were supposed to, dry feet mean happy feet.