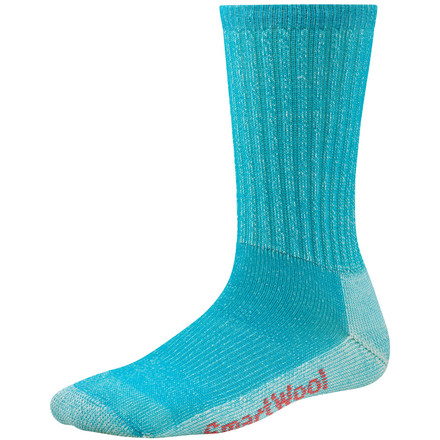 Description
Hike in comfort in your SmartWool Hiking Crew Socks.
Whether you hike in the mountains, forest, or desert, the SmartWool Women's Hiking Light Crew Socks will keep your feet dry and comfortable. Made from merino wool, these SmartWool socks transfer moisture away from your skin, which means your feet don't get clammy. Plus, dry feet are less prone to blisters. Nylon and polyester add to these crew socks' durability and breathability, and spandex around the arches gives you a close fit. A flat seam means you won't develop pressure points on your toes, while cushioning on the soles lets you hike comfortably for longer.
#slowroad approved
Gender:

Female

Familiarity:

I've put it through the wringer

Fit:

True to size
Recently we took a road trip to Yosemite and although our great aventuremobile could carry us, food, beverages, multi-sport gear for 2 we had to pack light on the clothing. I only purchased one pair of these socks for fear that they would leave me blistery & miserable after another year of tackling a trip up half dome. After lots of rain, a few major hikes and 10 days in the car I would have to say that these socks are incredible. Did I mention that I didn't wash them and they still were breathable & non-stinky. I have a size 5.5 foot & the size small fit great. Compared to other smartwool performance socks these would be on the end of pretty basic for this brand. What I mean by this is that you will not find any over the top fancy stitching techniques. These socks say light but don't be fooled they are plenty thick for long hauls with heavy packs. The padding is consistent around the toe to heels and they used a different stitch to achieve a tighter compression around the upper ankle that removes the padding bulk that protects the lower half of your foot. This is what you want in a quality hiking sock and the height comes up to about mid calf. These socks are moisture wicking but too bad my boots aren't. Also I would like to boast that these socks look great alone, with boots, or even some birkenstock sandals. Just saying- these are socks & sandals approved.

These are however not fireproof, so don't try to get your feet too close to the fire, they defiantly melt & then you'll have a bad day. I know this because I ruined my original pair & now own 3 additional.
Cloud sock
Familiarity:

I've used it several times

Fit:

True to size
This is a very comfortable, well made sock. I wear it in the winter on cold days, as our winters are not harsh. Just putting it on is a pleasure. I machine wash it but air dry it. So far it has held up well.
My favorites
Gender:

Female

Familiarity:

I've put it through the wringer
I own several different kind of wool hiking socks. This is the pair that I search for in the sock drawer. They fit well and are a great weight for fall,winter, spring in Utah! They last forever, the material doesn't ball up after washing and hang-drying.
I bought these to wear with hiking boots for a lot of hiking in July. I wondered if they would be too hot, but they were just right in 80+ degree weather. Very comfortable socks!
Nice and warn even when wet. Dry very fast.
Ordered one pair around Thanksgiving and wish I would have ordered 10 pair because they are the best socks ever. Comfortable and warm and last a long long time. The selection was slim when I went back online to order more so had to go find more in stores around here and spend a little more.
I will be honest, I was having a hard time spending $17 on a pair of socks. My wife and I both bought a pair and have been buying them since. I was concerned about them being too hot and scratchy but that is not the case. Very comfortable socks and well made. Are not as durable as I would prefer.
These socks don't absorb foot odor. Can use them more than once without washing, great for those who pack light.
My husband bought me these before a trip to Colorado. I was not a huge fan of wool before these socks. I live in Texas and really had no reason to wear wool that much. I thought that all wool was itchy and uncomfortable. Not these! The socks are soft, but kept my feet very warm. I even wear them to work now.
always depend on smartwool socks!
hands down, I always love my smartwool socks. I wear them everyday for hiking, to work, everywhere! I could use 100 pairs! These are a little thicker than the adrenaline light hikers and I tend to like these better for winter, and my adrenaline light hikers for summer. They still fit in my hiking shoes and any other shoes I wear for that matter. If you are an avid hiker and outdoorsman as I am, you cannot go wrong with smartwool!
Terrific socks! They stay up, they cushion well, they wash well, they breathe well. All you can possibly ask for in socks!
I didn't know socks could make such a difference. This socks made my feet feel so good - and I'm so disappointed that they don't have my size! I'm taking at least 5 pairs of these to Africa!
I introduced my mom to Smartwool with a pair of these socks. She used to purchase those bulk bags at warehouses and now that has come to an end. There is nothing like seeing mom smile after she puts a pair of these on her feet.