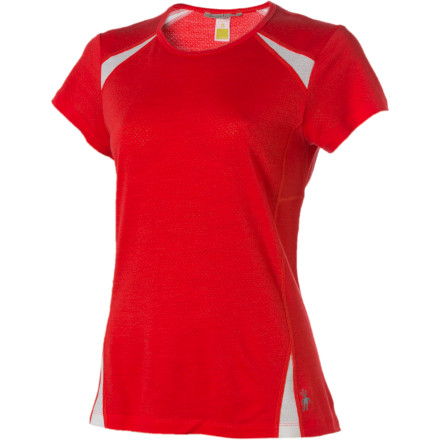 Detail Images
You'll appreciate the SmartWool Women's Cortina Tech T-Shirt's versatility all summer long whether you're a hiker, a runner, a biker, or all three. Ultra-breathable merino wool wicks moisture away to keep you dry and comfortable while keeping you from smelling like a locker room. The drop tail boost coverage, and the center pocket takes care of your music, snacks, phone, or keys.
I like this shirt, however I was a bit surprised by how thick it is. I think it will be a perfect companion when hiking in the forest (i.e., not in direct sunshine) or in the fall.
Love this shirt! Does pick up some smell after a few days of wear, but overall it stays cleaner than a tecwick shirt. It is also pretty durable - a little thicker than the last wool shirt I bought and stretch. And it's very comfortable and cute!
Great Layering Piece for Backpacking
I used this shirt on a thru hike of the Appalachian Trail between mid September in Maine south to northern New York in January. It developed minimal stink compared to my long sleeved lightweight Patagonia capilene top that I often layered over it once it started getting cold out. I am a size 6, 130-135 lbs, 5'4" tall woman and the small not only fit me well but was really flattering. It was well fitted and not saggy like a Patagonia shirt I tried. It was also not skin tight like the Icebreaker Atlas short sleeved shirt in a small.

I agree with the other review I read that this shirt is not super silky soft, but I am sensitive to itchy wool and this shirt though a tiny tiny bit rough was not itchy on me at all. I got use to the texture very quickly. I tried any icebreaker running shirt with similar glowy piping on it that was intolerably itchy.



I think this shirt performed very well. It had all of the plusses of a wool shirt. When it got wet or sweaty, it didn't feel cold next to my skin like silk or polyester can sometimes feel. I didn't use this shirt in the summer, so I can't say where the line is when it starts to feel too hot. The only issue I had with it was that I got an ink stain on the front that I couldn't get out.

I'm going to get another one of these shirts to go to the gym in now, since even though my old backpacking one wasn't that stinky, I'm pretty sure it's not pristine after three months of continuous use. Oh! I almost forgot, this shirt did not run and shred like a lot of knitted wool shirts do on the trail. It seemed more durable than some I saw others wearing.
Not my favorite, stick to Icebreaker or Ibex instead
I ordered this shirt for running, b/c I have some problems with Icebreaker running specific tees (although I really love their superfine lite tees). The smartwool is a bit of disappointment. The bottom hem is curved, but it's just a tad short for me and I'm only 5'6". The fabric feels somewhat coarse - I have loads of Icebreaker and Ibex and have never had a problem w/ wool. Finally, the fabric also feels somewhat heavier than the Icebreaker Tech T Lite, which makes a difference for running in hot weather (although it's hard to measure). I think this tee works and obviously will perform just like any other merino clothing, but just not as good as alternatives. Fit-wise, other than length, sizing is right on when I ordered my usual size.