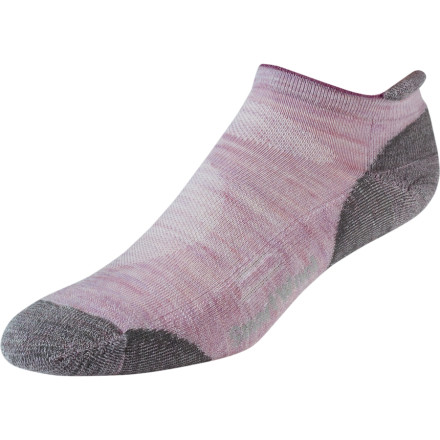 I play tennis all year and these are good summer and winter. Sounds odd to wear wool in the summer, but after 2 1/2 hours on a hot court, you're glad you have the cushioning and wicking. Good for casual wear, too.
I love these socks. I probably should have got the small because they don't stay up in the back where that flap is. I ordered the medium according to my shoe size. This does not take into consideration how small my ankle is. All in all great sock!
These are the best socks I've ever owned. I even like to wear them just for hanging out when I am not doing anything athletic. They have tons of cushioning and you don't sweat.
Gotta love the smartwools
I own countless pairs of smartwools and these always rank among my favorite. They fit great with lots of cushioning and a low profile. They are a bit thicker than many other low profile socks; I have a hard time wearing them with tighter-fitting shoes. They work great for anything from hiking to bumming around the house.
Love these socks. Good cushion. Never seem to smell no matter how far I run or where we hike. Great fit. I only buy socks with the roll tab on the backs, so they don't slip down in my shoes. These are perfect.
My wife takes a size 8.5 shoe. What size...
My wife takes a size 8.5 shoe. What size sock in the smartwook Adrenaline light micro should I buy?
She would be a solid Medium. I'm on the edge of medium to large (mens 8.5) but the medium works best for me.
I want to know if there is a major difference...
I want to know if there is a major difference between men's and women's socks ... besides the colors. My son has narrow feet and a lot of men's socks "float" on his feet. Are women's socks narrower than men's?
Yes they are a little narrower and a bit shorter as well......and also the color choices. These should fit him well though, and they're really great socks!
Mostly I wear these for gym classes (bootcamp, spinning) but these are also good for just hanging around at home or running errands. No cold feet with athletic shoes in the winter, either! Typically I wear these 3 times before I wash them. Just the right amount of cushioning for me, too. Definitely recommend!
SmartWool Adrenaline Light Micro Socks - Warm & Comfortable
SmartWool Adrenaline Light Micro Socks are both warm and comfortable. They are great for long hikes or backpacking trips. If you are on the fence as to whether to get a medium or small/med or large I would go with the small, they are more comfortable when ultra form fitting.
Best quality Socks -- Never Shrink
Not to compete, but I now have four (4) pairs of these socks. Unlike most high quality wool socks, these launder perfectly and never, ever shrink. They stay soft and are pretty much a perfect product, from a very superior manufacturer. Buy them, they last forever, or until you lose them!
This is my first pair of low cut wool socks and I'm in love with them, but I wouldn't call them light. They seem just as thick as a long pair of smartwools so they are so nice and cozy. I can't wait until it gets a bit cooler and I'll really get some use out of them. I wear a 7.5 and would have preferred a small.
not for the trails or golf
I LOVE SmartWool and I love these socks for running, cycling and just bumming around. However, I found that in situations where your shoes can pick up debris, the extra fabric on top seems to serve as a collector and fill your socks with dirt, grass, etc. I prefer the PhD Running Light Micro.
these socks are so nice and cushy - great for hiking or trail running. i really like the extra fabric on the top of the heel because it ensures that your socks don't slip down at all.
I generally tend to get blisters, but even after a 3 day 40 mile hike, no blisters!!! These socks are great in wet or dry (it rained one day during the hike).
These socks are awesome. Hands down. No matter what sport or intensity-level, smartwool socks get the job done! I use these for casual hiking and both road and trail running and they are great!
weather to fit on yur hiking boots or to keep u warm on the cold tile floors of midnights these socks rock! thin enought to wear in your normal day shoes to keep your toes comfy and warms though out the work week or for hitting the trais and slops, they breath, can be warn over and over with no smell or that horibe crusty hard layer that usaly forms on hicking socks over a big trip. the fit is amasing i swear they almost make my boots more comphy
, ☃bcs_badge_alumni_label☃
This is a great item
I love it!
My Favorite running socks!
I absolutely LOVE these socks! They have become my favorite running socks...perfect thickness, not to thick, not to thin!
These socks are super dope fly...they most definitely kept my feet warm to the point of a wee bit perspiration..i would not wear these running in sneakers...definitely these are to be worn with hiking boots on a nice brisk cool spring day.

Awesome product I must say!
As a daily trail runner, I need supportive, warm, and long wearing socks. Miraculously, these never slip, something most ped-type socks can't claim. They're padded where you need it only on the footbed allowing custom sneaker fit. They absorb odor and if need be, you can get more than 1 use out of them. If you are unaccustomed to wool and remember your childhood itchy scratchy wool blends...think again. Smartwool is a little warm on the hottest days, and always warm, toes and all, on the frigid ones. They also manage moisture better than any sock on the market and keep your foot which didn't see that puddle warm, despite being wet! one negative -- they DO shrink up some, I rx air drying. Go ahead and splurge, your feet will thank you.