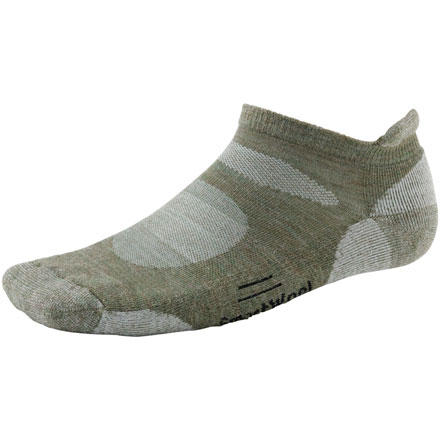 The SmartWool Adrenaline Light Micro Socks are versatile and cushioned to give your feet a treat during high impact activities. These are your go anywhere, do anything socks. Whether you're snowshoeing or mountain biking, Smartwool has your foot's best interest in mind. The SmartWool SmartFit System features a contour flex zone that prevents bunching, and arch and ankle braces support your feet where they most need it. Insulating air pockets within each fiber keep your pups warm in snowy weather and cool in the dead of summer. These socks are made to be itchless and odor-free.
Felt great for about a year
These are extremely comfortable socks (its like walking on a cloud of soft marshmallows!)
Unfortunately, mine developed pretty large holes in the back of the ankle and on the balls of my feet after about a year of use.
nothing like puttin on a new pair of..
socks. man oh man it's the best feeling in the world to put on a new pair of socks! however, i look extremely forward to the time these beauts get pulled out of the dryer! just want to put em back on! i bought 2 pairs of these online and i love em, they don't get your feet all sweaty, they're super comfy and don't lose shape like most other socks. they always stay snug to your feet. i'd recommend them over any other sock. i really like patagonia's hike sock and their mountaineering socks too. you can see my reviews on em there.
I love these socks. I wear them to work everyday and they always keep my feet a good temperature and feeling good. I would by 10 pairs if I could afford it.
These Smartwool socks fit well, wear well, run well and wash well.
There's not much to be said beyond this simple fact:SmartWool makes the best socks for the money. Period. Soft, technical, durable and blister-free.
These socks are Great, and I was just thinking that I needed to order another pair. I run and bike a lot and SmartWool are quickly becoming my favorites - buy them!
Pure luxury for your feet
I thought 13 dollars for a pair of athletic socks was ridiculous but I have been using smart wool hikers for years in the military and after many miles of marching I thought why not try these for my running. Skeptical, I put them on and they felt great! Cushioned in all the right places and comfortable mile after mile! Best thing though is with wool my feet are as cool and dry as can be. I came back and bought another 3 pairs! One for every day I run.

These socks are great and if the quality of my hikers is any indication these will outlast any other running sock and more than make up for the price!
I wear these running in any kind of weather. I hate wearing socks that show above my low cut running shoe. It almost looks like you're running sockless. When you first put them on, it feels like a massage.
These socks are great as myself and my husband have had many pairs. These 2 pairs we bought for my husband. We were looking for running socks, these will be fine for fall running, not summer. They are a mid-weight.
These socks rock. I will never spend ridiculous amounts of money again for technical socks full of materials I can't even pronounce. Wool is the way to go! I own a few pairs of SmartWool socks for warmth & comfort so I didn't know about if they could make a light micro sock, but I trusted all the reviews and I am BEYOND pleased with my purchase. You will not be disappointed. Last week I hiked Pikes Peak in Colorado from the Crags (12 miles round trip) and I only had to put ONE piece of moleskin on my foot due to an old blister from previous training when I was breaking in my new hiking boots. This is UNHEARD of while hiking a fourteener. I had ZERO new blisters at the end of 6 hours of intense hiking. These socks ROCK. I hiked Mt Evans, CO last year wearing mediocre hiking socks & I finished with blisters & feet full of moleskin, talk about uncomfortable. I am a believer & I will be purchasing many more of these perfect socks for everyday walking, biking & training. Side note - the socks will only work if your hiking boots have been properly broken in.
Great socks!
Bought them for my husband and he wore them with a new pair of hiking shoes on a 3-mile hike; no blisters!!!
His feet stayed dry, too.
He also liked that they were lightweight and odor-resistant.
Remember, wool is warm...
... and I didn't know just how warm it could get until a few miles in to a trail run. If I had a pair of synth socks I would have changed into them. You would think by way of these being ankle socks that they were geared towards warmer weather. They're not. At least not running in the upper 70's/lower 80's. Other than the fact that I'm using them out of season, and there will be a perfect season for these, which is a cooler one, I love the socks. They feel GREAT on the feet, maintaining that new sock feel (podia-gasmic) with each wear. They are odorless other than the smell of elastic, i wore them three sweaty runs before washing them and no stench whatsoever. Wool rocks for that. The lip at the back of the ankle on the top of the sock does lend a ledge for dirt, twigs, etc, to land on but unless I wear gaiters I get stuff in my socks no matter what, so it's not that big of a deal. I recently bought a pair of Ultimax X-static (silver embedded stuff) and have been extremely pleased with the results for warm weather. They are light, cool and RESIST odor JUST as well as wool (yes, a synthetic, not just making claims like Cocona). Check 'em out. I love Smartwool socks but these will probably relegated to much lighter wear and cooler weather.
I have been wearing smartwool socks while hiking for years now and I can't say enough good things about how great they are. The always fit and stay put, as in never having the heel of your sock sliding into your shoe (hate that) they are always dry no matter how hot my feet get while hiking. Great buy you won't regret buying these and will most likely get addicted to wering them on all adventures.
Are these men's or women's sizes?
Are these men's or women's sizes?
1 set of sizes to fit men and women...click on "veiw sizing chart" above the add to cart button to figure out your size
Smartwool also makes many of their socks (including this one) in women's models with a slightly different foot shape.
Mens. Check out the women's model for a proportioned version of this stellar sock!
I love these socks. I wear them everyday for work. They are durable and comfortable.
These socks are about all I wear now. From day-to-day casual wear to long, hot summer hikes, these always keep my feet cool and comfortable. And the little tabs at the back keep my shoes from swallowing the socks.
These socks rock! I have 4 pairs and use them for everything. Hiking, running, pickup soccer games, etc. They do pack out a little and lose their cushion after a few months, but they are still durable even after that and still perform well.
i liked this sock, it is a little heavier than it's ultralite cousin, but has a lot more padding around sensitive areas. i use it to play bball in, as well as hike and run. haven't noticed my foot overheating or anything. so if you want something a little more padded than the ultralite, get this sock, you'll love it
I try to wear these socks daily as I walk 5 miles delivering mail...the sock fits my foot perfectly but eventually moves around on my foot..the elastic on all 5 pairs I purchased does not hold the sock on the ankle, it slides down and around. The socks ARE the correct size, just not enough elastic at the ankle. Very frustrating, I keep my runnning shoes tight to deal with this. If I wear them in open heeled slippers(crocs) they slide around my foot and drive me nuts. They are soft and comfortable when they stay on my feet.
Great socks for a variety of uses-everyday wear, running and hiking. Not itchy at all and quite warm. They also don't get holes very easily which is a plus!