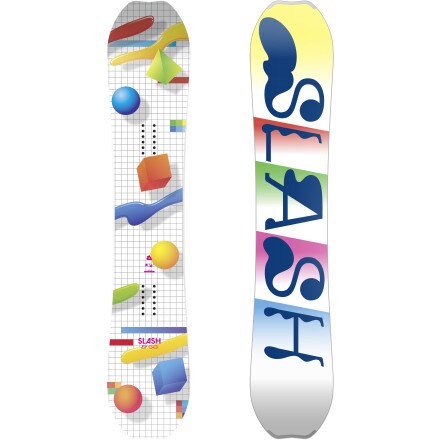 Colors
Description
Pick a line, any line.
Legendary shredder and Slash founder Gigi Ruf is well known for his precision on a snowboard in the backcountry, so it's no surprise that his original pro model ATV HUB Snowboard is designed to deliver the kind of performance Gigi expects in a board. Utilizing a traditional camber, the profile used since the beginning of snowboarding, this board is designed to distribute weight evenly and increase pop, giving you a precise response and a snappy, reactive feel. The twin shape and directional flex make it an all-terrain, all-conditions machine, and the tip protectors on the weight-saving concave tips help it stand up to the most aggressive jibbing.

Like a finely tuned Swiss watch, the Swiss Wood core is intricately designed and constructed to deliver durability. When the board flexes downward, such as when boardsliding a rail, the core matrix makes the edges bend upward, reducing hangups while jibbing; when the board flexes upward, as it does during a turn, the edges flex downward for superior edge hold while carving. Combine that with the Ultimate Traction Bumps and even the sketchiest conditions will be manageable as your edges will grip to anything. The result is a powerful board that charges through trees and powder fields, but doesn't mind being taken into the park, either.