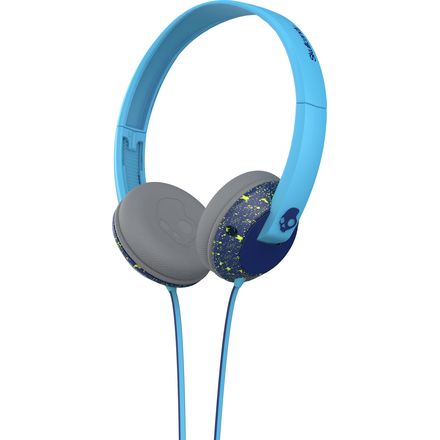 Colors

Detail Images

Community Images
Description
Droppin' some brand-new science on your Eustachian tube.
Get up, tune in, and rock out with the Skullcandy Uprock Headphones—the latest offering from the headphone gurus that are Skullcandy. This ergonomic and adjustable headphone accommodates to all sizes of domes while the twin 40mm drivers hit hard like an anvil dropping on your cortex. The Uprock is constructed from a blend of lightweight materials that can stand up to adventures of life. The blanket-soft padded ear pillows are comfortable enough to lull you to sleep, assuming you weren't blasting you alt-country/rap/bebop/rock mashup mixes.
Flat cord design remains tangle-free for unrestricted head-banging
The gold plated 3.5mm plug resonates glorious sound and resists corrosion
Includes an extra set of ear pillows to replace the ones your dog will chew up. Bad dog, baaaad!
I bought these for my daughter and she absolutely loves them. Of course her favorite color is pink and they sound great. Win win.
Got these the other day
Familiarity:

I've used it several times
I have used them a few times and so far they sound really good and the don't hurt my ears after hours of having them on my head while i'm at work. Good solid headphone at a good price.
Awesome for the price!!
Familiarity:

I've put it through the wringer
I got these because I can not wear earbuds. I have weird ears, I guess. But I was looking for an inexpensive set of headphones so I can watch my videos without everyone else having to listen to them as well. These work great!! I find that they run a little big in the headband part, I have them completely closed and it still slides around sometimes. But for what I need them for, they work great. Awesome sound! They get the job done for not a lot of money!!!!!
Great value.
Familiarity:

I've put it through the wringer
With Dr. Dre headphones going for crazy dollars these days, these headphones are an amazing deal. All I wanted was to be able to listen to music at work and these do the job with great sound. They may not be $300 or $400 headphones, but unless you need noise-canceling headphones for a flight, why not go with these?
Stoked on these
Familiarity:

I've used it once or twice and have initial impressions
Needed a pair of headphones for while I am in the office. These provided an excellent price and have great sound for what I paid for them.



They are comfortable so I can wear them my entire shift and jam out to my favorite music.
Great for a Price-Point Headphone
I got these for my broski on his birthday and he seems to be enjoying them. No complaints yet and he rocks them everyday at work. He can't hear me when I shout over the desk to get his attention anymore so they must block out sound pretty well!



Got them in the blue/black and they are true to what is pictured.
Good for everyday use
Familiarity:

I've used it several times
I bought them for work. Sometimes I feel like it has too much bass for my taste. I like the flat cord but not too much fond of having a cord on each side, though it's pads are very comfortable and seem durable.



Do I recommend it? Yes it fits my current needs for a very low price. It's good for Skype calls and helps you to block some of the surrounding noise but, don't expect a superb sound quality.


Cheap But Good
Familiarity:

I've used it several times
This is my second pair of Uprock headphones. I lost the first pair to a freak vacuum cleaner accident. I'll try to be more careful with this pair.



The sound quality isn't great, they're a little boomy, and there's not great response on the high end. But, they're inexpensive, so I didn't have high expectations anyway.



The build quality is fine. There some uneven seams where plastic pieces come together, but nothing bad enough to make me get out an Exacto knife to trim away excess material. I wish the L and R on the inside of the headband were more visible--I solved the problem with a black ballpoint pen. The flat cable is nice, but could be a bit longer.



Overall, it's a good purchase for not much money. I'll buy 'em again when I lose these to another inevitable vacuum cleaner accident.
Nice price for the quality
Familiarity:

I've put it through the wringer
I got two pairs of these for my kids and they put them through the wringer. Great colors to choose from and great quality.
What do you guys think, Navy or Black?...Can't...
What do you guys think, Navy or Black?...Can't decide need your help. Thanks
Best Answer
Black! hehe, hope this helps!
Great headphone for the price. Totally satisfied!
These things are extremely good for their price. They are durable and have great sound quality. Very comfortable too.
Such a sick pair of headphone. Ultimate sound for cheap.
Basically just what I was looking for in headphones.. simple and good looking. Great price and sound, no complaints here!
I only use them for the office but I haven't had to listed to any stories of my coworkers disappointment in their children since the purchase.
Do these headphones block out outside...
Do these headphones block out outside noise, so are they good for a long haul flight?
Best Answer
These headphones do block out outside noise to a certain degree. If you were to get the Skullcandy Aviators they would block out noise more, but these do a good job of it but still allow a little outside noise in. I like this because it blocks out noise enough for great music quality, but if you're at work or riding and you need to be able to hear people trying to get your attention they allow that as well.
Decent headphones at a great price! Good sound and very comfortable. I wear them at work and can have them on for hours without them hurting my ears. I wouldn't recommend them for running or heavy activity though.
Hows the bass? I'm used to in ear skull...
Hows the bass? I'm used to in ear skull candys and always liked the bass in them
they are pretty nice actually, i mean they arent Beats type of bass. but you can feel a little vibration on your ear. if your into hip hop its pretty good.

i would give the headphones an 8/10 as a whole. very good for the price.
Clean sound, good looking
Really clean and crisp sound, look pretty stylish on the slopes or walking around. Can't be worn with a helmet but if you are just rocking a beanie they fit great