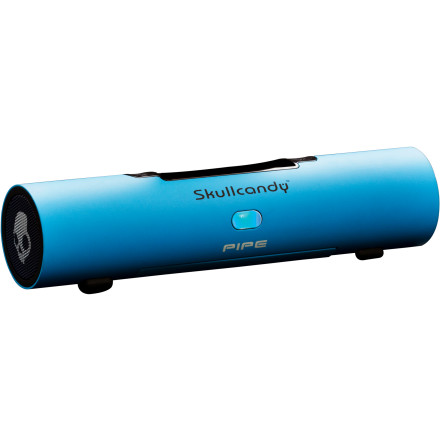 Community Images
The Skullcandy Pipe Audio Dock keeps the good vibes flowing, even when you're experiencing some serious couch-lock.
Docks and charges your iPod or iPhone (30-pin connector required)
3.5mm aux input lets you plug in pretty much any media device
Includes 110V AC power adapter, also compatible with 4 AAA batteries (not included)
Included remote control lets you switch tracks or adjust volume from across the room
Doesn't work with protective case on
Familiarity:

I returned this product before using it
I had tried a friends Pipe Audio Dock when I first got my i-phone and it worked great. I bought a protective case for my phone and then bought the Pipe Audio Dock. My phone won't fit on the dock with the protective case, so I had to return the dock.
Love it!
Familiarity:

I've put it through the wringer
This Pipe Dock is awesome! It is definitely worth the money and the sound quality is pretty awesome. It is easy to travel with gives out solid sound after blowing out your car speakers from extensive head banging!
Solid Sounds - Some Funky Issues
Familiarity:

I've put it through the wringer
The sound this little log can make is actually quite impressive.

It can really fill a room, whether you are bumping the bass tunes of the Snoop Lion (before he became a Lion) or the smooth sounds of Lorde or Alt-J. High quality sound for sure.



I've found it kind of difficult to adjust volume at times, the unit seems a little finicky. It seems to prefer some devices over others. It works with my iPhone 4s, but the connection won't work with my iTouch, so I have to use an AV adapter.



Remote works 90% of the time, which is great. It's a very convenient feature. All in all worth the money, I think.
great for older iphones and pods
Familiarity:

I've used it several times
I use one of these an have some compatibility options with my 4s but it was to be expected. the remote works well. Just wish I could push my home button when the phone is in the dock.
best sound, smaller package
Familiarity:

I've put it through the wringer
As far as portable speakers get, this is one of the best values in terms of sound for buck. I keep it in a water bottle so I can throw it in a side pocket or on the bike. A right-angle line-in makes for a more durable slim package, and is a couple bucks online. Eons ahead of the little solar speakers and weight is about the same. I have in my room right now and can fill a smaller 12x12 room.
Rockin' in the backcountry
Playing some tunes on the Yellowstone River Trail in Yellowstone National Park at campsite 1Y7. It fits nicely into my pack for backpacking trips. I would advise to use rechargeable AAA batteries, the 'on' switch can get turned on in the pack draining the batteries without knowing it.
small, but powerful
Gender:

Male

Familiarity:

I've put it through the wringer
I have this & the bigger Skull Candy Vandal for my bedroom (I enjoy quite a bit), the Pipe is good as a portable ipod stereo dock. It uses 4 AAA batteries, or can be powered via an outlet. Skull Candy has lifetime warranty & they honor A LOT if the returns. So really you can't lose, plus bc.com has a kick ass return policy as well. The sound on the Vandal is better, but the Pipe is great for the portability. You can be bring the Pipe practically anywhere.
Great sound and easy to use. Love it
Good Sound, Strange iPod Pin Connection
Familiarity:

I've used it several times
I needed something to bang out some tunes that everyone can enjoy and since I love my Aviator Headphones, I checked out Skullcandy's Pipe Audio Dock. The sound is great with a good mix of channels that keep the bass flowing, but doesn't let it drown out the rest. The line-in option is pretty good as well as not all of us have Apple products. But, problems arose in the connection when I did put an iPod or iPhone onto the deck as the volume would involuntarily raise up or it would only blast in mono (one side of the dock. Plus Apple updated their connection for the iPhone5 so you can only line in if you have that, but maybe that's the way to go with this dock.....
, ☃bcs_badge_alumni_label☃
Skullcandy Pipe Product Review
Skullcandy Pipe Product Review
Alright, pretty solid.
Gender:

Male

Familiarity:

I've put it through the wringer
Not bad, I like it. My only gripe is I would love an internal battery & not AAA batteries. However the product from SkullCandy have lifetime warranty, so you are cover. There are some that have better sound. I am happy for the price I paid for it. It is pretty small, so it is easy to pack when traveling.
Skull Candy has made a solid product in the Pipe. This is much smaller than the original "Super Pipe" that first came out. It's about 8 inches long and a few inches in diameter. It's surprisingly heavier than it looks which gives it a quality feel. The sound is impressive and it can get plenty loud to fill a room. Overall I love it for the quality, the size, the sleek look and functionality.
Doesn't like Jailbroken iPods
This used to work fine until I jailbroke my iPod Touch. Now it doesn't recognize the 9 pin plug that goes into the iPod. If your device is jailbroken this won't work right. If you jiggle it around will sometimes work. Other than that it is a nice little speaker system. It does want to roll over though so if you do use the touchscreen be sure to hold the pack of your idevice so it doesn't fall over.
Loved it at first. Had some problems with volume control while on battery power. But it shorted out about day 5. Never got wet, just quit on me. Don't know if salt air moisture was the culprit or not. Was in Boracay. Pretty steamy there.
I love Skull Candy Pipes. I have been really happy with my larger version of this the super pipe. In looking for something smaller and more appropriate for travel this was a no brainer. Great sound, although it will not carry into another room as the super pipe. I got each of my three kids one of these and they are no longer fighting over the ipod charger as this doubles as one. They can all blast thier tunes in the bedroom, without sharing with the whole house.