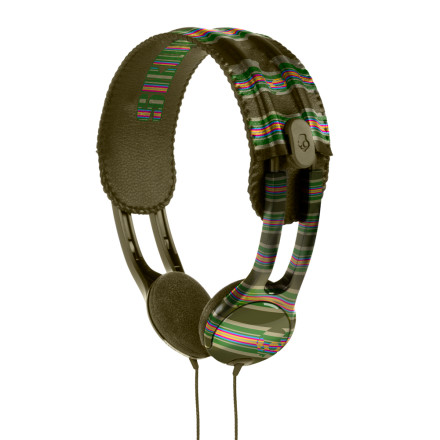 Community Images
Not only do the Skullcandy Icon Soft Headphones pump premium sound into your brain, but its fresh style and colorful design will make you a fixture on the ski hill or at the skatepark. The super-soft ear pads and top pad cushion your fragile dome piece, and a hands-free mic lets you field calls from your loyal followers.
Share your thoughts
What do you think of the
Skullcandy
Icon Soft Headphones
? Share a...
I was wondering if the product Sparkle...
I was wondering if the product Sparkle Motion (2010) one size (25.46) can be sent to a residence in Brazil? And also wanted to know how much is actually the amount of freight to Brazil and the product arrived and how long it tbm? depending on the response the product will be bought thank you, thank you very much ......!
Lucas, you would get a much quicker answer by using the "Chat Now" feature. BC customer reps do not usually answer questions about shipping in the forums.
I was wondering if the product Sparkle...
I was wondering if the product Sparkle Motion (2010) one size (25.46) can be sent to a residence in Brazil? And also wanted to know how much is actually the amount of freight to Brazil and the product arrived and how long it tbm? depending on the response the product will be bought thank you, thank you very much ......!
Use the chat now feature in the upper right hand corner to get a specific answer to this question.
Solid pair of headphones. Stylish. Sound nice. What more could you ask for in a pair of headphones. Easy to manage with gloves on as well. Only gripe is they are a little big for my head, but with goggles on they keep them snug to my ears! Overall a solid buy, works for cruisin the slopes, and walking across campus.
Picked me up a pair of these a couple of weeks ago, and was impressed before i opened the box. Got the rastas and shredded the park that night. With my goggles on these suckers don't budge. Super comfy ear pads, great sounds, affordable price, and easy to work with even with the beefiest of gloves. Like how lightweight they are and not compact, and not bulky like other models. A must buy for sure.
so why is the black and green one cheaper...
so why is the black and green one cheaper than the rest??
because its an older color....
do the green/black headphones have a mic...
do the green/black headphones have a mic
just wondering why those are cheaper?????
Hey Kris,

No they do not. Just on sale.
Have had them for 4 days and only one ear works
No sorry Mr lift op I didnt hear you tell me to not cut through your maze..
Got these bad boys for myself for Christmas and I am soo stoked on them, The sound quality is pretty good considering the size of these guys (how small they are) and I love the fact that I can move them around on my head easily if I need to talk to someone. I got the electric animal style and It looks so killer. Not too sure about some of the complaints I see about them flying off, the design is such that they fit perfectly under my goggle strap so if my goggles aren't going anywhere, these suckers aren't either and if your losing your goggles regularly in the park I think you have bigger issues than finding headphones that are gonna stay on... Anyway get these headphones but not the electric animal, I'm rockin that color lol
Unanswered Question
Just for everything in general (skating,...
Just for everything in general (skating, boarding, chillin) should I go with the icon 2 or the icon soft? Just trying to decide.
For snowboarding w/out a helmet
Flat out, these bad boys were made for snowboarding w/out a helmet. For snowboarding they are perfect. Like others have said, they will slip off your head if they are not secured by goggles or wearing a baseball cap underneath. If you want all around headphones, i would look elsewhere, for snowboarding these are the bees knees. You might be able to fit these under a helmet that has no padding (Capix wakeskate). I have a capix wakeskate lid but i keep the padding in and these headphones do not fit underneath comfortably.
Sound Quality= Average
Durability= Below Average (two left speakers have blown out on both my pairs and the wire is beginning to unwind.
Comfort= Above average but yeah they dont stick on your head at all,at least not mine.

Bottom line is that i think im done with skullcandy and am gonna try some other company
The Cure for Heavy Headphone Syndrome
Every one of my fellow Skullcandy fan clubbers share the same affinity for steezy dome-top speakers. But we also have the same complaint: These heavy half-gram headphones are putting a permanent dent in my skull. So the brain squad at SKDY added a plush pad to soften the weight on our newborn-like soft craniums. Problem solved...until you try to do anything besides sitting perfectly still in your basement. Try rocking these speakers while throwing down in the park. The top heavy and smooth cushion make the headphones slide right off your beanie (ala Lowriders). So unless you like wrapping duct tape around your head, these suckers don't stay on. I guess we're gonna have to wait for science to save our delicate heads from the pain of heavy headhones.
These headphones are an awesome bridge from the portable earbuds to the jam-out studio cans. Sound is full without too much bass, fit is comfy on the head and around the neck, and woven cord eliminates the noise that I've had with the rubber cord on the ind'd buds. They're a lil more flexible and durable then some other Skullcandy products too! I will say that the while the fit is loose enough to wear over a beanie/under a helmet/with goggles, even for my sizable dome it's a bit loose to be head bangin' without the phones slipping off. You definitely have to be ok with the "hey I'm wearing headphones" look, as always Skullcandy gear is bright and loud with some "sound leak" factor letting others hear what you're listening to in public. No experience yet with the mic but note that you get only the standard 3.5mm plug for smart phones, not a mini 2.5mm for crappy phones like mine. Rock on!
Rocked these last season, and loved em! Way comfy with the new design and cushions. Good sound quality, and durable. Lots of cool colors to choose from, and you can even switch out some pieces to get even more variety. Good riding headphones!
I would have given these headphones 5 stars, but like some previous reviews, I found that they are pretty useless for just cruising around, skating etc due to them not gripping your head too well and slipping off. However the main purpose i bought them for is snowboarding, and for this purpose, they are rad. Just put your goggles over the top to lock them in place and then try to look as steezy as possible.
Sound quality is pretty good for a $30 pair of headphones.
Ok, so everyone says they slip off and I should not get them. I got them anyway, I think they are sweet as milk chocolate, and I love chocolate. Let's do a breakdown,

Pros:
Nylon cord - Smart idea, less tension breaks because its braided, that means no fading in and out after the jack has been bent too much.
Soft headband- It fits nicer on your head and you don't get those plastic indent feeling from wearing them too tight.
Soft ear pads- They are super soft, feel great on your ear, don't irritate like in ear buds can.
Mic- Why not have a mic, how you going to talk without it?
Style- Let's face it, they look ill.

Cons:
Slippery(?)- They can be fickle about how they stay on your head, wearing a hat seems to help induce a higher coefficient of friction to the pair, making their grip tighter.

SO, if you have problems with these it is with your fashion not the headphones.

Bottom Line:
These bump sound like your grandma bumps gospel on sundays, and look just as good.
Good but not better than.
I don't know why some people complain about the lowriders they are way much better than these. I gotta say that yeah, they have a very good sound quality but not better and the soft version of the icons is more comfortable than the normal ones (if you are not wearing a hat)but the headband it's annoying after a while.
Bottom line: an average headphones, if you ask me.
Just got these a few weeks ago before my trip and couldn't have been more stoked.

The Soft version was far more comfortable with longer hair and super comfy over the beanie.

Best colorway
These headphones are great for snowboarding BUT nothing else at all. the soft fit makes them unnoticable on your head but they also fall off easier. just put your goggle strap over the headphones and your good to go. sound quality is decent but nothing special. when your just listening to music these headphones WILL NOT stay on your head. I would reccomend these for the mountain definateley but if you dont ride dont pick theses up. get the hesh if your just jammin.
great sound, great look, great price