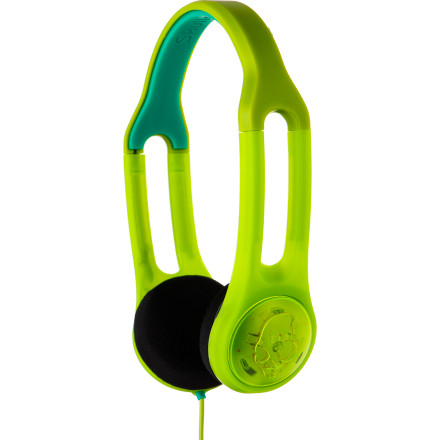 Skullcandy just one-upped themselves with the Icon 3 Headphones. It's the same clear sound and functional design you loved from the Icon 2s, with the added benefit of TapTech, which allows you to answer phone calls through the Mic 1 in-line microphone by simply tapping the ear cup on the side of headphone, making a great feature even simpler.
Mic 1 in-line microphone lets you pause music and answer calls from your smartphone without having to get your phone out of your pocket
TapTech allows you to access the Mic 1 functionality by simply tapping the ear cup of the headphone
The 30mm drivers pump full sound into your ears
Anti-Slip rubber headband stays firmly on top of your head
Unanswered Question
i cant figure out how to replace the caps, any ideas?
Best Snowboarding Headphones!
Familiarity:

I've put it through the wringer
These are the best snowboarding headphones for anyone who doesn't wear a helmet and wants to jam out while shredding. Also the pause/play button on the ear piece helps a lot when you just want to pause the music for a little bit. I've had these headphones for over a year and absolutely love them. My advice is to wear them with a beanie as much as possible, it is very comfortable, sound is great, and looks cool. Thanks Skullcandy!
Nice Headphones
Familiarity:

I gave it as a gift but have feedback to share
Gave these to my brother and he loves them. Super comfy and light weight on the ears (for long time listening) He mainly uses them for playing games on the iPad and he really zones in with these. The tap tech is a pretty sick feature and they seem pretty durable and he plans on using them for years to come.
Excellent headphones
Familiarity:

I've put it through the wringer
Before I had them it was plain ol' ear buds for me. But after finding these, ordering them and putting them through extensive use, I don't think I'll go back to anything else. The tap tech in the headphones is easily the best feature. Answering calls and skipping or pausing a song are all made possible without whipping out your phone in the freezing cold. Functions just as well in everyday life as it does when strapped into a board. Sound has a great quality to it along with a solid bass. Really dug the simple lines and simple curves of the headphones, as well as the minimal bulk of the product. They can get slightly uncomfortable after wearing them for hours on end though.
Pretty cool. Don't fit well though.
Familiarity:

I've put it through the wringer
Obviously the coolest thing about these headphones is the push feature which allows you to play/pause a song or or shuffle/skip songs with just the touch of a button on the earphone itself. Really convenient for while you are out on the slopes and don't want to have to pull your phone out all the time. The sound quality is actually pretty good as well.

However, my main qualm with these headphones is that they don't really fit very over the ears. They seem to slip around quite a bit. Other than that though, they are pretty sweet.
Iphone 5 use..
Familiarity:

I've used it several times
Taptech did not work with my iPhone 5 for skipping or pausing the track. Maybe I just got a faulty pair.



Sound and flexibility is awesome though.
Sound quality
Familiarity:

I've put it through the wringer
I have purchased about three pairs of these headphones because I like them so much. I mainly use them for listening to music in the office and when I'm boarding on the mountain. They comfortably fit under your goggles which secures them your head in case of any biffs. The Mic 1 in-line microphone is a great feature that allows you answer a phone call with the touch of a button, instead of taking your phone out of your pocket. The headphone button feature also allows you to pause, play and skip tracks. Highly recommend!
Comfortable wear, great sound!
Familiarity:

I've used it several times
I've tried multiple versions of 'earbuds' but can never get them to fit my ears correctly. Grabbed a pair of these to stay lookin' fresh and still have the sound I trust from Skullcandy. It was a great decision, and the smartphone compatibility is rad!
Oops!
Familiarity:

I've used it once or twice and have initial impressions
I got a pair of these to rock while skiing. I have owned several pairs of Icon 1's and 2's over the years and thought I would give these a try. Unfortunately I broke mine the first day out, but at no fault but my own. I took a pretty good spill trying to do something I had no business doing with this kind of snow coverage we currently have in Utah. But thanks to Skullcandy's awesome warranty policy, I can get a new pair for half price (because it was my fault not theirs).



The sound quality was awesome and the little clicker on the left earpiece is so much better than having to fumble around on the cord for the button. I will definitely be replacing my broke Icon 3's with a new pair of the same.
SO SICK! Best SkullCandy product!
I have had SkullCandy Hesh 2's, Fix it ear buds, UpRock's, and now these. The Icon 3's are the best sounding and fitting SkullCandy headphones yet with great bass. They are a perfect fit for snowboarding!
not too bad!!!!
Gender:

Male

Familiarity:

I've put it through the wringer
they sound great, work great and they are super strong! Skullcandy really did a nice job in upgrading these from the icon-2's, when not wearing a helmet (which is rare) i only ride with these. For any normal activity i would recommend these as well. Quality is on point so i will be purchasing more.
Best riding headphones out
Familiarity:

I've put it through the wringer
The Skullcandy Icon has been an industry staple for riding headphones for years. The Icon 3 is no exception as it's more durable than the previous two models, the sound is Grade A quality, and it has a button that allows you to answer calls and change songs without even pulling out your phone. I'd definitely recommend them!
Awesome!!!!
Familiarity:

I've used it several times
These headphones are amazing for boarding. Soooo durable and stick to your head like glue w/ a beanie! Extremely reccoemend these for shredding!
Do the head phones fold up for easier...
Do the head phones fold up for easier carry?
unfortunately Jacob they do not but they are pretty durable.
Does the mic only work with iPhones?
Does the mic only work with iPhones?
I've only used it with an iphone so I really can't answer your question there, but I can tell you that the person on the other end of the line does hear their own echo because the mic is right next to the speaker on this headphone, so if you are planning on talking on the phone with these, you will be happy, but the other person will get very annoyed.
Will these fit under a Red Avid Helment?
Will these fit under a Red Avid Helment?
honestly you aren't going to want to have any over-ear headphones directly under your helmet, with my helmet i turn them upside down and wear them like "behind the head" headphones. it works great and they stay on your ears.
I have been wearing the Icon 1's for years while riding because the just seemed to work. The Icon 2's I found were not very good at staying on my head while riding like the Icons 1's did. These Icon 3's are a perfect headphone for riding. A little bit tighter clamping force keeps them on your head even better, but some people might not like the tightness, so keep that in mind. The head band its self is much stronger and more durable giving you more confidence that these won't break in half when you eat it. A stickier rubber underneath keeps well on beanies, but I have noticed a bit of slip on my baseball hat. The new Mic 1 in the head phone seems to work great. I can use it with gloves on from the outside of my hood, so I don't have to unwrap everything. I know that the first batch of these had problems with the button not working in colder weather, but they have since fixed that. Great sound quality as well. The best over the ear headphones to ride with.
I finally broke my Icon 2 headphones while snowboarding and I got really excited when I saw the Icon 3 with the TapTech! That would make my life slightly easier when taking a call and changing songs on my iPhone while riding. I tested it at my house and the speakers sound amazing for the size of the headphones! The earpads were also pretty comfortable, but I noticed the TapTech still needs a little work. It didn't always work when I tap to pause or start my music or when I hold the button down to activate Siri. The biggest flaw was when I tested out a call. The person on the other line can hear their own echo which is super annoying for them. It is probably because the microphone is right next to the speaker so they hear themself. My side sounded great though. I'll be returning these and going with the Icon 2 again.

Pros:
- Great sound
- Button on the ear for super easy access
- Bigger ear pads

Cons:
- Other caller hears their echo
- TapTech doesn't always respond
- No Skullcandy sticker included :(

This would be great if you mostly want it for music and don't plan to use it with your phone at all. If you are riding with an iPod Touch this would be great!
Perfect
Familiarity:

I've used it several times
Love these headphones. Perfect for any kind of riding and the taptech makes it so easy to start/stop your music or change songs.
would i be able to wear these under my...
would i be able to wear these under my helmet snowboarding. it's a bern watts
No you would not. The ear pads are too thick and it would just not work. Your best bet is to just buy a Bern Watts Audio Liner.