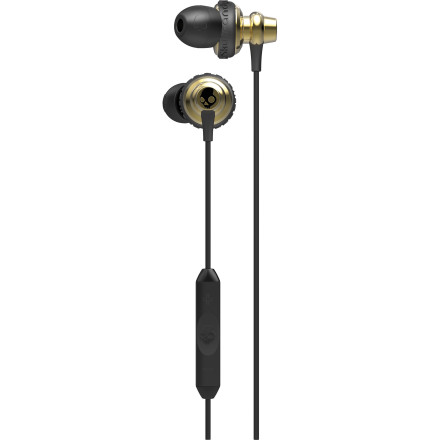 Detail Images
Plug in and tune out with the powerful 13.1mm Power Drivers of the Skullcandy Heavy Medal Ear Buds with Mic3. If you have to take a break from your tunes to seal a deal on the phone real quick, the intuitive in-line mic operates with ease.
Three interchangeable silicon gel tips included in addition to the stock foam tips
The 1.2m braided nylon cord keeps everything tangle free while you're bobbing your head
Gold-plated 3.5mm plug fits most phones and mp3 players while resisting corrosion and transmitting clear sound
Includes a metal carry case for safe keeping
Unanswered Question
I use a dell laptop vostro 1015.It has a...
I use a dell laptop vostro 1015.It has a mike in and audio out.How does the mike 3 deal with this configuration?
Great sound
Familiarity:

I've used it several times
I use these every day, Small with a surprising sound.
A decent inner ear option
Familiarity:

I've put it through the wringer
I agree the highs are a bit muted. Inner ear headphones are great for stability and the passive noise cancelling (physical block). These do suffer from the fact that the part of the headphone that doesn't go in your inner ear is bulkier than other skull candy headphones so it feels like it kind of levers its self out. It also wont go in as far as the smaller headphones because the big block behind the inner ear section is obviously too big to fit in ones ear. That said, I've been running with them several times without much of an issue. I do find myself fiddling with them more than the smaller version, however. I like having the mic and volume and track skipping and phone answering/canceling feature on the cable so I can be on call and adjust music without pulling out my phone. Should be good for skiing solo too...
Great sound. Highs feel like they could use a bit more. But they fit in my ear well. Sound is LARGE and they are comfy. I like them better than any other ear bud I've owned.
Unanswered Question
how can I get my heavy medal to work with...
how can I get my heavy medal to work with droid razr (like my FMJ)? None of the heavy medal's buttons work... MY FMJ works fine...
Unanswered Question
are these compatible with the lg optimus...
are these compatible with the lg optimus v android or any other smartphone besides the iphone? i really need a good earphone with bass, sound isolation, and control talk features. help
Terrible. Worst price for this headphone.
I'm not gonna sit here and give a huge review for a Skullcandy headphone. If you want anything better, just get the Ink'd buds and call it a day. These have by far the worst, unfilling sound quality I have ever heard. ESSPECIALLY at it's price- wow. There is almost absolutely NO bass and mids are bland. And no nylon cord. Wtf? Why?! If your someone who wants good sound quality for around this price, spend the little extra $$ and get some Monster Beats or something. Idk what Garret is talking about by "the loudest headphone" I mean that's usually what happens when you turn the volume up. I'd recommend to SOME, the Klipsch S4's on Amazon for the same price. About the best sound your gonna get at it's price.
These are the loudest and best sounding ear buds that Skullcandy has ever made. I have heard a lot of them and these are the encore to the concert!
everything the FMJ should have been
Hard to say how long these will hold up, given their pedigree, but for now, this is the in-ear headphone I've been waiting for. The rubber ring that wraps the outer body of the earpiece creates a fit much more snug than only the rubber tips could offer. A tighter seal over the ear also means you finally get to enjoy the better bass that the more powerful driver offers. End result? Cleaner sound quality in the mids and uppers. Finally feels like the tunes are tickling your gray matter.