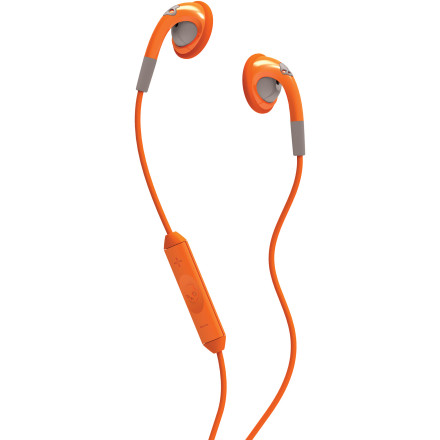 The Skullcandy Fix Buds Headphones feature a revolutionary new design that stays FIXed in your ear. Ahhhh we get it, at first we thought this was about getting your music fix. Well, it is, but you know what we mean … right?
In-line mic3 allows you take phone calls when you're rocking out—if you want
Rear acoustic port provides deep bass to rattle your face
Passive noise isolation—tune out with clear sound
Satin carrying bag conveniently stows your buds and keeps them safe
Gold plated 3.5mm plug resists corrosion and provides a strong signal
Remote and mic supported by iPod, iPhone, and iPad products
Nice sound quality but they tend to fall out of my ear when I'm running. They stay put when I'm walking the dog or cleaning the house but it is a pain to keep putting them in my ears on the trail.
I bought these for a bike race. I was doubtful about buying these because I have never had a pair of earbuds that were comfortable and stayed in my ears. These were awesome! Way comfortable. I wore them my whole race without them hurting my ears and they stayed in the whole race without me ever having to adjust them.
two stars seems fair, good sound and bass but they do not wanna stay in your ear, whenever i go for a walk or something they wanna fall out so i have to keep adjusting em and it pisses me off, grab at your on risk. oh plus the plastic breaks easy, happened to two pairs im getting the third times the charm luck.
These ear buds are pretty average when it comes to sound, but they are the first pair I've found that will stay in my ear and are comfortable to wear.
OK, first the good: These are super -comfortable and really secure. I bought them because they are really low-profile and work well under a moto helmet. They don't come out of my ears while I'm putting my helmet on or taking it off. Exactly what I needed.

The controls are excellent. Volume, pause/unpause, next track, previous track. Everything you need at your fingertips.

The bad: The bass response isn't great, but for this price, what do you expect (I guess). It's not terrible - you can still hear where the bass is supposed to be, it just won't blow your mind when you throw in some hip-hop or dubstep. The other not-so-great thing is the instructions, or the lack thereof. You're on your own when it comes to figuring out the controls. So I'll help - click the center button once to pause/unpause. Click it twice for next track and three times for previous track. Volume is self-explanatory.

Overall, I'm super-happy with these. I gave them 5 stars because of super-clean sound, and I kinda figured the bass wouldn't be anything amazing at this price.
I bought this headset to use with my Droid...
I bought this headset to use with my Droid 2 but I am unable to use them to answer calls. I can hear the person but I can not speak to them. I was told that this headset would work. any suggestions
Best Answer
drop the droid. get an iphone. these are only compatible with i-pad/phone/pod.
Great sound for a great price!
They sound awesome and look killer, but after a month of use, one of the buds cracked along the earpiece (to be fair, they were getting tossed around quite a bit in daily use). Still, I expected a little more durability. All in all, if you're careful with them, they'll work great, just don't expect the highest level of durability.
Finally a bud that won't fall out of my ear!! Love em and the sound incredible.