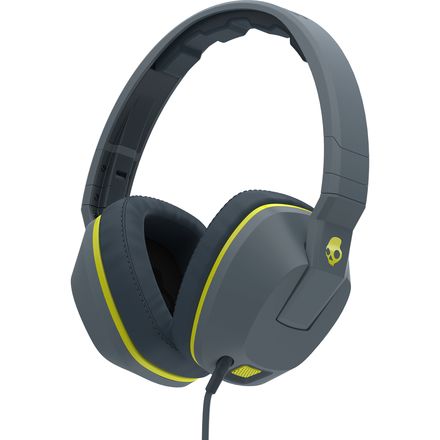 Colors

Detail Images
You may have missed the concert, but you can still feel like you're there when you listen to the recording on your Skullcandy Crusher Headphones with Mic. That's because in addition to the crisp-sounding Supreme Sound drivers, the Crusher features separate battery-powered subwoofers to deliver brain-rattling bass without compromising sound clarity. The subs are controlled with an in-line bass switch so you can crank the bass up or down depending on what you're in the mood for, and there's also an in-line mic that allows you to answer calls from your smart phone without having to pull it out of your pocket.
Supreme Sound 40mm drivers deliver crisp vocals and face-melting sound
West Coast Subwoofers provide ear-rattling bass, and a bass switch allows to crank it up when you're really feeling it
Folding band makes it conveniently stashable, and a drawstring closure bag allows for secure storage
In-line mic allows you to control tracks and answer phone calls on your smartphone
Nice sound
Familiarity:

I've put it through the wringer
I am pleased with these headphones. I bought them for the office so I can jam and get work done! I am very pleased so far with how they perform. I just hope they last.
My son loves them
Familiarity:

I gave it as a gift but have feedback to share
My 14 year old son received them as a birthday gift and loves them! He loves the bass! I was also extremely happy with Backcountry shipping them to us in Canada (even if we didn't receive the free gift) as we could not find the Camo ones in Canada!
Sound Great
Familiarity:

I've used it several times
I use these while I board! Love them!
Uber cool rattling sound
Familiarity:

I've used it once or twice and have initial impressions
These have KILLER bass. Love the feel of the music. Detachable cord is also a great feature. And I am super stoked that the connector ends of the cord are skinny so they fit into my Mophie iPhone case without the need of an adapter! Only complaint is that the bass doesn't really kick in unless the volume is turned up around half way. Kind of annoying for use in the office when I want to play music but still be able to hear someone trying to get my attention. Wish I could still get some of that bass sound in the lesser sound ranges but oh well. These will be great for plane trips and using them with my laptop.
Great Gift!
Familiarity:

I gave it as a gift but have feedback to share
We are so happy with these. My Husband hunts, so I was excited you had them in Real Tree Dark Tan. They work great, no problem with one side working and not the other, like other headphones we have bought. The Bass is Amazing!!! They do a great job at blocking out the other sounds around you so you can really concentrate on the music. He uses them all the time. He loves the pause feature this has, very useful! Thank you for a great product!!!
The Crushers are Crushin' it!
I have these bad-boys and they're awesome. I have these and the aviators. I have likes and dislikes. First, what I like:

Killer bass. These are the headphones for you if you like heavy hitting base and what to feel your skull rattle from the bass.

Great sounds. Obviously, these headphones are designed for bass, bass, and more bass. That being said, they do a good job keeping the other sounds crisp and clear as well. However, if you have the bass cranked all the way up, the higher tones do get a bit drowned out (but that's what I expected).

Comfort. The ear pieces are very comfortable and I've been able to wear them for hours on end.

Detachable cord. <-- really like that the cord detaches from the headphones.



Dislikes:

Bulky. These are a bit bulkier than I would like, but, given the hardware (read battery and amplifier), it is to be expected.



Great product! Skullcandy really delivered on these.
Do the ear pillows have the white thread...
Do the ear pillows have the white thread accents on them as seen on skullcandy.com even though they do not show up on the pictures on your site?
I have the red pair and they don't have the white thread accents.
These suck!! Skullcrusher vs Crusher??
Familiarity:

I've used it several times
I'm a bass lover don't get me wrong. If all you want to do is crank these bad boys up, you will LOVE these headphones.



I use them in a work office so I like to keep them moderately low. However beware, the automated on / off switch which turns the bass amplifiers that you might love so much, off and on, is very finnicky and sucks donkey balls.



The predecessor to this model headphone was the Skullcandy Skullcrusher. Those would always have the bass on because you have a switch to turn it on and off.



However with this headphone, you need to have your volume at 40% at the minimum to be able to have the Bass amplifiers turned on, and yeah they turn on while you have it on, but guess what. If you're in a song and say some bass kicks in, you'll hear it come in. Then as soon as the bass might soften or disappear for a moment, the amplifiers turn the bass off again.



Keep in mind this only happens at 40% volume or lower.



I'm not one to keep my music low but that's just ridiculous and seems to be a manufacturing design warranty issue that they should have thought of before hand.



It does not just turn on and off when it "automatically detecs sound".



No it just turns off when it doesnt have enough bass to pick it up. These things are trash if you can't even listen to a song without turning the bass on and off, its the most annoying sense in the world.



I dont want to have to keep my music at 50% or higher all the time. You'll be getting some hearing loss if you keep that up. These things should be called the EarBleeders.



I honestly feel the Skullcandy Skullcrushers are a more basic but much more developed model than these headphones.... They only work as intended if the Volume is cranked up. have fun blasting your ears into the tinnitus world.
Awesome
Gender:

Male

Familiarity:

I've used it several times
I'm loving these. My whole head vibrates with the bass. Having the battery inside the ear piece instead of on the cord is a big improvement. Get these if you like your head to rattle with bass!



I wish these had Mic3 instead of just the one button.
I wasn't sure if I would like the Crushers at first, because I don't listen to a lot of music that is bass heavy. But, the Crushers dominate in a lot of other ways. While these are not noise cancelling, they block out noise very well. In fact, much better than some of the higher priced Skullcandy headphones. I've also been using these headphones to watch movies, play video games, etc. The Crushers definitely make watching a movie a much better experience, because the sound is intensified, much like in a theater. Last, I have found these headphones to be great for listening to any kind of music. I love the dial on the ear that allows you to crank up the bass when you want it. For $99, the Crusher beats out a lot of higher priced headphones I have tried.