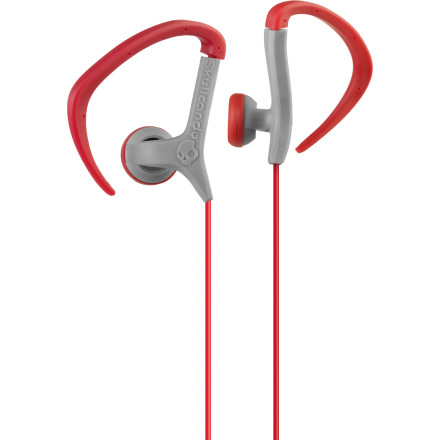 Community Images
Go ahead and deck all over the dirt park—you might bust your skull, but your Skullcandy Chops Earbud Headphones won't shake loose. These boomin' buds feature flexible, around-the-ear anchors to keep your tunes in place through tooth-rattling downhills and zero-gravity hangtime. Oxygen-free copper wires make distortion a memory, if you have any brain cells left.
Share your thoughts
What do you think of the
Skullcandy
Chops Buds
? Share a...
A Mountain biking must have item
Familiarity:

I've used it several times
sick of apple headphone falling out of your ear every time you turn your head to see that moose as you rip down a trail? Don't want to look like a futuristic robot wearing giant over ear headphones while just trying to get a good ride in? Well then, you have found a winner my friend. You could even select a color to match your bike jersey, if you are that stylish type. Look good, ride good.
Versatile Headphones
Gender:

Male

Familiarity:

I've put it through the wringer
These are the most versatile headphones out there and super cheap too. The uses are endless- skiing, mowing the lawn, home improvement, working out, airports... They pretty much do it all. These are the only headphones that will stay in my ear while skiing and the sound they deliver for such a small driver is incredibly clear with decent hitting bass.
CHOPS CHOPS CHOPS!
Familiarity:

I've put it through the wringer
I had the original pair of these from years ago! They did not stop working, someone stole them! (JERKS!) I decided I liked them so much I would pick up another pair. They made the new pair super sturdy and super durable! Definitely a step up! I only use them for running. These solve the problem of earbuds constantly falling out of my ears and work great! Always impressed with Skull Candy's stuff! I love how they back their items for life as well!
Audio quality is meh, but they work.
Make sure they fit you...
Gender:

Male

Familiarity:

I've used it several times
So I've been using the Chops Buds for a few weeks now. Typical SkullCandy sound so nothing new there. If you like their sound, you know what it's like. Average nothing to die for but ok. They are the type of headphone that will do the job and that's about it. Nothing fancy, the fit is ok. I wish they part that actually goes in the ear was a little smaller it kinda hurts my ears. We'll see if I change my mind as time goes on but for now 3 stars. Adequate to get the sound during a run.
Average
Familiarity:

I've put it through the wringer
I got the Skullcandy Chops for use at the gym and really bought these mainly because they don't have a mic on them. The fit is somewhat awkward and like most things Skullcandy they are average but do the job.
great for running & other sports
I bought my first pair of the Chops Buds 3 years ago and when they died I went on the hunt for new ones. The design has changed slightly, but they are still comfortable, and stay on/in my ear. I tried other brands, but nothing came close in regards to comfort and quality for the price. Have 2 pairs in reserve for the next couple of years...I tend to stick with brands I like, and styles I like - these will be the ones I use for the years to come!
Great alternative for regular buds
These are great for running, much better than the regular buds because they STAY ON. I love that they are adjustable because my ears are a little small and I have tried a few other styles and brands that hurt because they don't fit. The only reason I gave these 4 stars instead of 5 is because the plastic is still a little rough- I can tell that Skullcandy tried really hard to make them comfortable, and they are ALMOST there:)
Bottom Line: Sound and overall quality is great for this price.
Is there a volume control on the wire?...
Is there a volume control on the wire? could I wear this under a full face helmet?
Hey GG,

No volume control on these. It is possible to wear under a full face helmet but they are a bit bulky. I would suggest you look at the Skullcandy Fix Buds. They hook nicely into the ear canal so that they don't get pulled out accidentally. They also have a mic3 control with volume adjustment.
Great buds for the price. Audio piece rotates from ear wrap for easy removal without completely removing bud from ear. Great for chair lift conversations or anything you may use them for. Sound is great and I haven't had any problems losing them from ear while skiing or biking.
Sound is pretty good and they do the trick. I would recommend them, no durability issues yet like previous reviews. Used them for about a month snowboarding.
Improved on an already good product
I have used several seasons' of Chops, and I'm pretty darn pleased with these. The ear piece is more squared this season which works far better with sunnies and eyeglasses than last season's. The sound is still good, without compromising your peripheral hearing (which is important when biking in traffic). They sit nicely over the top of the ear, and the buds fit very comfortably in the ear. I have small ears, and in the ear buds just don't work for me. I highly recommend these. I may get a second pair as back up.
They stay in place and produce decent sound. I ski with them but haven't ridden with them yet.
not as good as the old ones
the speakers are don't sound as nice as in former models and the slightly new design is more bulky and not as comfortable as former models. they are still pretty good though.
these sound okay but not nearly as good as the in ears, plus these are that durable and fell apart after about 2 months.
Skull Candy Chops
Familiarity:

I've put it through the wringer
These Ear Buds worked well , the designed looked odd , but was very practical , never falls out of your ear. I put these ear buds to the test and they worked great.
i'm on my second pair because i work out in these and i sweat way more than the average human being and these have held up really well while taking a bath in my sweat. they sound great have almost never fallen out while working out. i also sport these when riding because i just flip them out when talking to someone and they have never fallen out when riding.
I went through two pairs of these in less than five months and I can say I am through with the Skullcandy brand for good.

My first pair lasted for about 4 months. I did not use them roughly, they sat at my desk for my computer and I would occasionally wear them to work out. I really liked the fit and the sound quality was acceptable. Then the wires started shorting out near the plug and eventually they disconnected completely. They were toast.

So because I liked the fit, I shelled out money for another pair. These ones started having the same wire shorting problem, but it only took about a week. Unfortunately I didn't buy them from BC so I couldn't return them, so I'm stuck with 2 sets of busted headphones.

As a side note I also have the Skullcandy Smokin' Buds (got off SAC) and they are crapping out after about 6 months of use. The left speaker cracks and sounds terrible.

All my Skullcandy buds couldn't handle basic desktop use. That is pathetic. What a trash product. Spend your money elsewhere!
I personally just dont like the wrap around ear buds, there just bulky and never seem to stay in for me at all! i know alot of people love them, but i never have liked them, i used then once then stopped using them. The inked, or Riot buds are much better