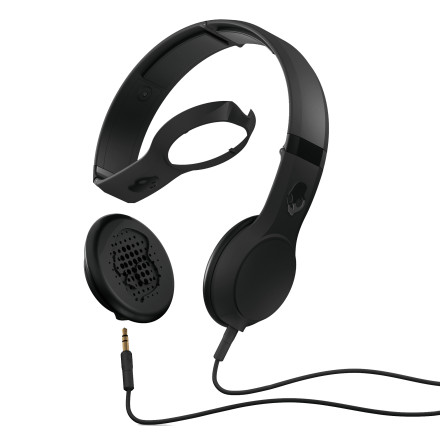 Description
Turn it up.
Skullcandy Cassette Headphones are loaded with a mic for your calls and big 40mm drivers for full, rich, brain-shaking sound. The Cassette's speakers can be used in Skullcandy's Home Brew Kit hoodies and beanies to blend into what you're wearing.
Where can I get a replacement cord for these?
http://www.skullcandy.com/customer-service/warranty-information/warranty-information.html. I would contact Skullcandy and ask them what the best way to get a cord. Unfortunately we dont sell one.
Skullcandy Cassette Headphones
Familiarity:

I've used it once or twice and have initial impressions
They are great sounding headphones, and fold up nice and small.



Sadly though I bought these hoping they would fit into my helmet, but they are to large. I have a Shoei RF-1100 in Medium. Wouldn't recommend them to someone planning on using in a motorcycle helmet.
Gooooood
Familiarity:

I've put it through the wringer
I really like these for sport kinda stuff. Works well in the helmet for skiing. Snaps out when you want them too. Good quality for what you pay. I have not had problems with the mic and buttons like other have but I do not use it that often? Works great for what it is intended to be used for.
Good for your helmet! (poor headset)
Ok, so I love the idea of these headphones. Easily switch between standard headset or inserts for a helmet...brilliant!



Unfortunately the execution is a little lacking. The headset by itself is rigid and uncomfortable. Also, since my dome is pretty big, I have to extend the arms to get sound in my ears, which RUINS the super-clean look of the headset. (If you extend the arms, the line of the overhead strap is interrupted with a thin strip of metal.) Also, the assembled headphones LOOK like they should fold up really small, but they don't.



The upside is, the speakers sound pretty good, so if you have a compatible helmet then pop these babies in and rock out! (Just don't waste your time with the headset.)
Sweet Helmet headphones, poor Mic
Basically what everyone else is saying. These headphones are great. They fit perfectly in my Giro Nine.10 helmet. The sound is great, they fit very well.



Just like everyone else says, the Mic1 is a huge pain in the ass. I think its about time Skullcandy come out with Mic3. I bought a pair of Skullcandy in ear Mic3 and they work great at my desk. When will the Cassette's get the same feature? Idk, but I am sure I will buy when they do!
, ☃bcs_badge_alumni_label☃
Dig the phones, hate the mic!
Gender:

Male

Familiarity:

I've put it through the wringer
These work great to throw in my Smith Vantage helmet. Good sound quality for the price. The downfall is the Mic 1 is just dumb. No volume control on it. and if you dont click it just right youll end up calling people when you were trying to change the track. I just dont even use it.



Overall its an inexpensive way to get tunes in dat helmet!
The is a quote from my nieces they use them all the time.
Otherwise great headphones w/ 1 drawback
Gender:

Male

Familiarity:

I've used it once or twice and have initial impressions
These headphones are pretty great. No complaints about volume (these things BLAST music when turned up... seriously, they're a replacement for carrying your cassette player on your shoulder, Fresh Prince (which is probably where they got their name)...



They're pretty comfortable and extremely versatile... pop out the puck headphones and slip them into a variety of products including many helmets and specially-designed hoodies and beanies and prepare to rock your face off.



Where they really falter is the in-line controls. YOU CANNOT ADJUST THE VOLUME. You can switch tracks, play/pause, take calls, do pretty much everything except for adjust the volume!



The reason is their "MIC1" distinction, which means "one button" (MIC3 is three buttons). Seriously Skullcandy; I'll pay extra to have my equipment fully functional. Back to my Apple earbuds for now.
Sound qualit is $$ money
Familiarity:

I've used it several times
Have used this guy a few times now and am noticing that Skullcandy has upped their game in the sound quality realm. I like that the speakers are removable, I've dropped them in my Smith helmet a couple times to have tunes while I ride... Sick!
Sound quality wasnt great.
Gender:

Male

Familiarity:

I've used it several times
Overall I ready do like these but I was less than impressed with the sounds quality. Other than that these are dope headphones.
love them but music could be a little crisper
I just got these headphones in the mail and I what have to say they are pretty good for what you pay they also look sweet on your head the base is ok but nothing like the hesh 2 or the 50/50 I would say get these because I love the fact that when I was shaking my head like a crazy rocker the headphones did not move skullcandy shocks me again
I was wondering, If you could pop out the...
I was wondering, If you could pop out the speaker and slide it into a Ski helmet slot for speakers?
Yes, you can see in the photos that they pop right out of the connecting arm and the cables snap off too. They go very well with Smith helmets as those have a dedicated feed hold for the cables, though they'd work with any ski helmet that has a pocket in the insulated ear piece.
Cassettes work Great in Smith Helmets
The Skullcandy Cassettes is an awesome audio option for a Smith Helmet. Every Smith Helmet has a zippered collar so the speakers in the Cassette pop out of the headset and slip perfectly into the collar of the Smith Helmets. The sound is amazing and they will go as loud as I can handle. These are a great value and look great to. The head set folds up super small when I travel. Get em!

http://www.smithoptics.com/products/#/Helmets/Adult+Helmets/
Unanswered Question
can i use this for my RED HI FI helmet
can i use this for my RED HI FI helmet
I have been waiting for these things to go live for a while now and I am stoked! These things are pretty awesome. the fact that you can use them as a very simple, comfy headset or pop the speakers out to just rock music is soooo cool. They are technically the same speakers as the homebrew kit Skullcandy already makes which is even better because I can throw them in my snowboard helmet to rock out while riding too.
can i use them in a smith helmet?
can i use them in a smith helmet?
Best Answer
They fit in the zip pocket in the liner if you pop them out of the holder.