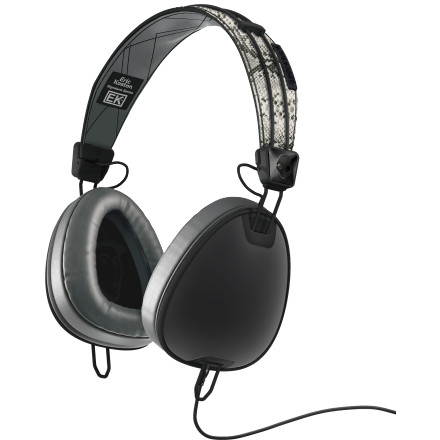 Colors

Detail Images

Community Images
Description
Taking style and sound to the next level.
Skullcandy partnered with Jay-Z's Roc Nation to produce the latest, most sought-after headphones on the market, the Skullcandy Roc Nation Aviators. These phones drip with a fusion of vintage and ultra-modern style, but they offer more than that—they also pump premium-quality soundwaves through 40mm Mylar drivers.
Polycarbonate aviator sunglass lenses form the speaker housing, with polished stainless steel hinges that let the headphones fold and stow in a case just like your finest shades do
Spring hinges and leather-wrapped memory foam ear cushions create a customized contoured fit
40mm full-range enhanced audio drivers produce a premium sound quality
Skullcandy's Mic3 sound cord allows inline volume adjustment, pause, and track control, plus the ability to catch a phone call with the push of a button
Included plush carrying case protects your prized investment
High Class, Cozy Comfort, and Good Sound
Familiarity:

I've put it through the wringer
I have had these for about a month (Green/Black model) and used them for approximately 120 cumulative hours. Overall they are very comfortable for extended periods of time, and the in-line mic/play-pause/volume adjustment works great with my iPhone 6. They provide good sound quality for my style of music (everything from Led Zepplin to Crosby, Stills, and Nash) and even work flawlessly when plugged into my PS4 controller. The build quality is solid, especially for the price-point. They pack away very nicely for transport. Great product, worth the cost.
Easy to pack!
Familiarity:

I've put it through the wringer
12 hours on an airplane and two hours to the hotel. Hands down the best headphones to travel abroad with. Comfortable and packs small.
Excellent sound Quality
Familiarity:

I've used it several times
I wear these for hours at a time, not only has the sound quality been fantastic, but everything else if muffled out. What I've liked best about these is how comfortable they are. After wearing them for six hours at a time, they still do not hurt or put pressure my head. Very solid headphones
Dig these Aviators
Familiarity:

I've put it through the wringer
This is my second pair of Aviators, and they have great sound and look so good. Had to hop on a pair of the brown and golds before they went away. Comfortable to wear.
Great sound, great design
Familiarity:

I've put it through the wringer
This offer really great sound. I use it with my iPad everywhere I go. Great classic look. I chose the green because the skull was subtle. It has a great design. I wear them for hours and never feel too heavy or pinch like some other brands.
Awesome look and awesome sound
These headphones have great sound. Some of the clearest sounding headphones I've ever heard (I like them better than my Beats). These have a very class look that you won't get with other headphones (a lot less bulky than the Crushers). These are also extremely comfortable. I've been able to wear them for hours without even the smallest bit of discomfort. I think that the MSRP is a little high, but they are worth it if you can get them on sale here or over on SAC.
Never leave the house without them!
Familiarity:

I've used it several times
As an Apple fanatic, I never thought about buying headphones when I could just use the Apple Earpods that came with each of my iPhones. Sure, they hurt my ears. Yeah, the sound quality is terrible. But they were free! and I love free.

Then one day I stumbled upon these Aviators. I'd heard bad things about Skullcandy's in-ear headphones so I was extremely hesitant. But as soon as I opened the package I fell in love. These headphones are beautiful. So shiny and sleek, I couldn't wait to put them on my head. Within seconds I was listening to a crazy remix of Kanye's Touch the Sky and the shire theme from Lord of the Rings. I was blown away at how clear and rich the sound was. It felt like Kanye was literally rapping in my room to a bunch of twerking hobbits.

These headphones are perfect for all types of music. When I'm not listening to weird remixes I found on Soundcloud, I'm listening to super chyll music like James Blake and Bon Iver. My Aviators make me feel like I'm covered in a blanket of happiness. I have no complaints. They're the perfect companion for my 8-hour desk job.
Comfortable enough to wear all day
Familiarity:

I've used it several times
Wear these all day to listen to music or for a marathon conference call. Love the control of the Mic3 to play/pause/skip-head music and to answer/hang-up calls. Killer.
Killer no Filler!
Familiarity:

I gave it as a gift but have feedback to share
I gave these as a gift recently and have input to post. My sister uses these while traveling and she finds they work awesome. They have been comfortable on long trips and do not smash your ears like some over the ear headphones. The sound is awesome and the only thing they could improve is the noise cancelling. However for the price these are some killer headphones that will supply you with awesome sound.
Better than beats
Familiarity:

I've used it several times
I got these headphones on clearance and compared to beats by dr. dre, these are way better. the clear loud bass is a very important part of the music. And these headphones provide them! these are also very good for on the go people and can be stored easily. Now excuse me I need to go listen to my dubstep with these.
You know how you have the go-to pair of jeans that make you feel good? Or that go-to shirt that you always look smokin in? Well, these are my go-to headphones when I want quality, clear sound, great comfortable fit, and a clean look. Skullcandy did it right with the Aviator headphone . The sound quality is clear and crisp, and they are so light on your head you can wear them for hours on a plane or at your desk without feeling like you brains are being squished. They also look SO super clean. With the upgrades to a removable cord and supreme sound, you really can NOT go wrong here!
Good headphones!
Gender:

Male

Familiarity:

I've used it several times
These are well balanced. Good highs, mids, and lows. Lows are not muddy like some headphones at higher volume. They are comfortable to wear for longer periods. My only problem with them are they need some insulation. It's annoying when you can hear the cord rub when you walk around. For what your getting you can't beat the price.
Great over the ear cans
Gender:

Male

Familiarity:

I've put it through the wringer
I use these every day for hours at a time. There isn't overpowering bass like with some powered model headphones (in line amp that uses a battery), but the quality of sound is 2nd to none in this price range. Every day I'm surprised at how good music sounds through them and I use these as a control when comparing production value of albums. I don't know how they would hold up to DJing abuse but I take care of my equipment and these have no issues (not to mention SK's lifetime warranty). The ear cups are made with some sort of soft memory-type foam that doesn't cause that hathead type pain that comes with iPod earbuds after 30 min of use. I've worn these for 4+ hours at a time and I forget I even have them on. I wouldn't recommend them if you're looking for headphones that block out sound and you're not going to get real noise cancellation unless you go with active/powered headphones. They dominate from hardcore to hiphop.
Sleek design makes the headphone
Love the way these headphones look and the sleek design without the overpowering skull found on some of the brand headphones. I was hoping these would be more noise cancelling than they are, nonetheless they deliver high quality sound for the price you pay. All in all a pretty descent pair of headphones.
Buy Them!!!
Gender:

Male

Familiarity:

I've used it several times
Great headphone! sounds great no matter what kind of music i listen too! decent bass and by far the most comfortable headphone out there!
IN LOVE.
Gender:

Female

Familiarity:

I've put it through the wringer
I've been rocking Skullcandy buds for the last few years, and have never been properly introduced to any of their over the ear models... until now. I use my Aviators at work, at home, and while traveling. I'm tempted to buy multiple pairs so I am never without them - especially with all of the new color options available. Check out the new Skullcandy Edit site, that's my next move. I also love the mic 3 capabilities with my iPhone, the detachable cord, and the ear pads are way comfortable. Great work Skullcandy.
You know it's time to replace your headphones when people come to your desk and go "EWWW!"upon viewing your old, beat up ones. Did they work? Sure. Did they snap and have all the ear cup covering come off? Yeah. So I figured it was time to upgrade. And boy, are these an upgrade!



I had bought another pair of cheaper Skullcandy's and returned them a day later disappointed in the muddy sound. So I wasn't sure what to expect with these. I was specifically attracted to these because multiple reviews mentioned how good they were for rock. They weren't lying. Nice clear sound, and I can actually put the volume lower than my old headphones because the ear cups block out so much ambient noise. I like that the cord is detachable for general aux use. The carrying case is pretty boss, and even comes with a microfiber cloth to keep your headphones as shiny as the day they arrived!



Why four stars? Maybe I just haven an unusually fat head, but I found that the design of these pushes the ear cups into your head in a manner that gets uncomfortable after a while (I listen all day at work). Also, the mic isn't totally compatible with Android phones. Only the center button works, which is disappointing. It's not like Droid is some up-and-coming platform; how about a little support? Luckily, I found a cool app that lets me program the lonely center button with a multitude of commands based on the number and lengths of the clicks, so I can get it to do what I need.



Overall, I'm super happy with these, and think they're worth every penny.
What i like about the Aviators is that the bass doesn't over power the mids and the highs which tends to happen with other headphones. The comfort alone sells the product but the ability to listen to any music genre with out distortion is key. I would recommend Skullcandy Aviators to anyone out there.
I have never had a pair of headphones that both feel great when I wear them and sound amazing at the same time. Well worth the money!!