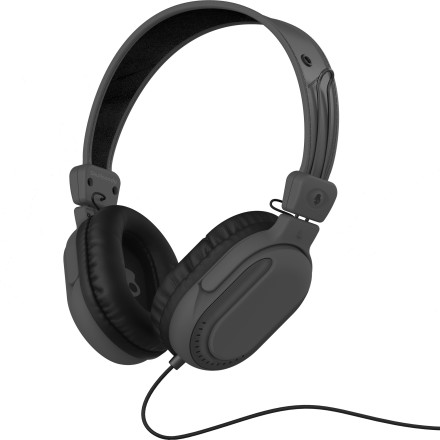 Community Images
With hi-fidelity sound and a sleek profile, it's no wonder that the Skullcandy Agent Headphones are seen everywhere from the ski hill to the skatepark. These premium head speakers pump out fresh style and premium audio for rocking out on the go.
Within two days of purchasing, sound was dependent on the position of the plug in the headphone jack. By the third day, I could do nothing to make them work. It appears others are having the same issue.
I haven't tried them for boarding yet but I have been using them for mowing and computer use and I cant wait for winter. Sound quality is good but wish it could pump out more bass. They fit/cuff over your ears and feel great for maybe around 4 hours before you start to feel them.

Compared to the Hesh, they are very light! I would not recommend doing bomb-runs through heavy woods for a slight tug pulls them right off your head.

I can not be any happier for what I payed for, (Got mine off E-bay for half off!) and would buy another one in a heartbeat.
These headphones work great! They have a solid sound quality, great base, and are extremely comfortable. A+
Please answer I own the skullcandy lowriders...
Please answer
I own the skullcandy lowriders and i'm trying to upgrade without murdering my wallet. i'm wondering if the sound quality on these are better than the lowriders. Also the lowriders don't cancel noise at all, do these cancel noise a little bit? Are these actually an upgrade from the lowriders?????
Best Answer
Okay lowriders are just like these but i prefer these because the sound quality on these is much better and the ear pieces fit better on your ears. I would defiantly prefer these over the lowriders. These cancel somewhat a bit of noise and yes i would recommend these for you. I hope this helped you some.
I gave these to a friend as a gift. They worked properly for one day only. I am sending them back. Talked to others with the same problem. Might be OK if they were $10 but for $50 I expect a lot more quality.
Great headphones, I have small ears so they fit over mine.
Im trying to decide between these and the...
Im trying to decide between these and the icon soft headphones. Which are better for all day use off and on the mountain with good sound?
I WOULD GO WITH THE ICONS FOR RIDING AND ALSO THEY ARE GOOD FOR OFF THE HILL.
I have had these headphones now for about 3 weeks and I'm really happy with my purchase. I wear these on average 3 to 4 hours a day at work and they are getting more comfortable with age. I consider myself to have a relatively large head and I must say that they are tight at first but they get better over time.

As far as sound quality, they are average to good for the price range. I compared them to a pair of Sony monitor headphones that were a little less expensive and listened to both on my laptop at the same volume level....

The Agent headphones produced significantly better and fuller base while the Sony headphones had slightly more fulfilling treble. The 40mm drivers on the Agents product much louder music at the same volume level meaning even your low powered MP3 players will rock hard with these. And of course the Agents have the Sony's beat in style hands down. Needless to say I returned the Sony's.

Pros: Full, deep, rich, undistorted bass at all vol levels. Mad style. Price. Single sided nylon tangle free cord. Soft and nice earpads. Very loud and perfect for rap/hiphop/dance music.

Cons: Bass tends to drown out highs, especially if you don't have an equalizer option. More of an on-ear style headset unless you have small ears.
these are the best sounding headphones i have ever owned but the only downside is that one day they just stopped playing sound altogetherI recommend these to anyone that is looking for great sounding headphones that will last 6 months
these are the only pair of headphones i own, so i can't really compare them to anything else, but i really really like them and love wearing them. the sound quality is awesome and i can listen to music for hours without it hurting.
These headphones sound great, but they only last 3 weeks. I have gone through 2 pairs and am not rough with them at all. The headset is fine, but the cord has major issues. Both times, my cord ended up with some kind of short or connection failure. Once again, these are amazing sounding headphones, but plan on having them for about 3 weeks, sending them back and waiting 4 weeks for a new pair, having them for 3 weeks, and sending them back and waiting again and again and again.
Skullcandy Agent Headphones
I bought these for my son's 15th birthday in October. By the second week in November one side didn't work anymore. I bought another pair, and low and behold, on December 2, one side failed again. It is a wire issue, because he can fuss with it and get it to connect for a brief time before it breaks again.
I will be getting him another pair of headphones for Christmas, but I will be looking beyond Skullcandy.
I got these headphones because I like to listen to music when i snowboard and the ones that i had previously broke when i got hit by a skier. i was a little skeptical at first that these were going to be any stronger, but i got them anyway and i love them. they work really well, i wish the bass was better but whatever, people are saying that they hurt your ears but i don't get it. i wear them for hours and they don't hurt. maybe there heads are just to wide or something.
For the price, not so great.
I'm in the lawn service business. I wear ear buds about 8 to 15 hours a day to listen to my mp3s and block out the engine noises (which are pretty loud).
I got these headphones thinking that maybe they would block outer noise a small bit and give great sound considering the great reviews. This was infact not the case by any means. My Jvc earbuds get way better sound quality and ofcourse, block out 90% of outside noise. I didn't expect these headphones to just completely mute outside noise. However, 40% blocked wouldn't be so much to ask for considering the price.
these headphones are really good. very durable and they make the ride that much better. i couldnt imagine hitting the slopes without them.
These headphones are in my opinion the best headphones at this price point. I tried on all the models of skullcandy and even listened to a few for quite sometime while working and none of the headphones fit perfect. The fit is such a personal thing that you really need to try them on to be able to tell. The sound is great and I love the cable only being on one side. They were a little tight when new but after wearing for a little while they became very comfortable.
I got these in white print. There sweet but if your gonna spend the money go with the hesh. These got nice base and sound but they hurt my ears after wearing them for a while
skullcandy agent headphones
I had them shipped to my military base in the middle east. They worked amazing before they stopped working less than 72 hours after I got them. It started with just hearing lyrics than twists of the plug would add some instrumentals then I lost everything and it doesnt play at all. I guess they are cool to look at now ...
i got these headphones as a gift, and man, i couldn't be more satisfied. Great sound (especially bass), comfortable fit, and they stay on my head, even when im BMXin or boardin. i get compliments every time i wear 'em. i got the white print design (its sikk)