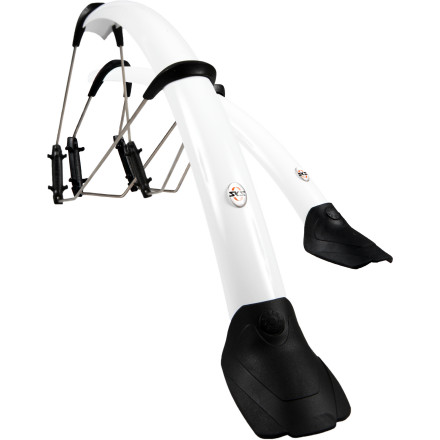 Colors

Detail Images
Description
Train just the same in the rain
The SKS Raceblade Fender Set allows you to train in wet weather without ruining your gear or waterlogging your bike. The set attaches quickly to your bike with a tool-free rubber grommet system, and they stay firmly in place once they're on. The fender set is gentle against your frame, and also lightweight and aerodynamic. The RaceBlade Fender Set fits 700c wheels equipped with tires ranging in size from 18c-23c.
Mounts quickly with tool-free rubber grommet system
Fits 700c wheels equipped with tires ranging in size from 18c-23c
The front and rear fender with mounting hardware weighs in around 250g
#sopro
Familiarity:

I've put it through the wringer
Every pro i've ever met uses fenders, i promise. You spend hours outside in the winter in the wet; you need fenders. These are easy to take on and take off, equally light weight and offer great protection.
Easy and Dry
Familiarity:

I've put it through the wringer
Doesn't get much easier than throwing on a couple of over sized rubber bands around your sit stays and fork to attach these fenders. Easy to throw on quick in the morning, as you rush out the door for a training ride or commute in bad weather. Keeps the nasty off your feet and backside, and off your buddies face if you plan on doing some group rides in nasty weather. Doesn't get much simpler than that, I've liked them a lot this winter.
Simple solution
Familiarity:

I've put it through the wringer
I bought these a number of years ago to use on a old road bike I converted to a fixed gear. Easy on and off, never had had a problem with them moving while riding. Only complaint I have and it has been said here the mounts will leave marks on your frame where they attach. Being an older bike with pretty chips and marks on the frame not a big deal. I have also used them on regular road bike but only temporarily and haven't had problems with marks on the frame.


so so
Familiarity:

I've used it once or twice and have initial impressions
I wanted a set of these fenders for a few seasons. Finally picked up a set and these just are not what I expected. They are lightweight and are mounted easily, but keeping them centered on the wheel is a challenge. Make sure to use a protective film anywhere these make contact to the bike or the mounts will tear up your paint. I have used these on three totally different winter rides and all three times I had to readjust during the ride. The rear fender makes a terrrible racket on bumps. Overall I think they would stop about 80% of the spray onto your feet, but think about 20% of the spary hitting your feet over the course of a long ride and you have saturated feet. The rear fender does a great job eliminating spray up the back. These are a decent solution if you are not able to mount a more permanent fender and you don't mind the racket they make.
Not Perfect But Better Than Expected
Familiarity:

I've put it through the wringer
I've used these for three seasons now and have the fender placement down pretty good but still have problems with clearance on the rear which is so close that sand quickly builds up while riding in the road conditions I need it the most, that is post snow roads that have been salted and sanded. For that reason I have switched to a rear mountain bike fender that doesn't work as well but also doesn't require me to stop mid ride and readjust the fender. The front works fine and is the only front, portable fender I have found that is long enough to protect the drivetrain as well as protect me.

My biggest complaint is that the curved rubber compression mounts cause the bikes clear coat paint to rub off, but whenever you attach a friction mount to a painted service this should be expected.
I didn't look closely enough at these when I made my purchase. As a result I was disappointed when I received what I would call cheap looking and ill fitting fenders. I just saw the fenders and size without looking closely enough at what I would actually be receiving. Lesson learned. The day after I installed these I went to a local shop and found a more solid permanent set of fenders for the $15 cheaper. These may work for you, but don't expect a permanent fender that will look like and feel like part of the bike.
Easy Install
Familiarity:

I've used it several times
I put these on a single speed road bike and they work great. They are incredibly light weight and the install was pretty easy. You can install them for easy on/off, or do a more permanent install with zip ties.
Unanswered Question
Does it comes with adapter for aerofork...
Does it comes with adapter for aerofork and spoilers?
Will the SKS Raceblade Fender Set fit my...
Will the SKS Raceblade Fender Set fit my 29er with disc brakes?



What fender will work with a 29er with Maxxis High Roller tires? 2.1 and disc brakes?
Jackson are you thinking of using these with a slick tire? They are made for a 700c wheel so they are the right circumference, but they are not made for big knobby tires so that would be your limiting factor. They are pretty much only designed for road tires.
Finally broke down and decided to try fenders. It wasn't the rooster tail, it was the sub-32F cold salt water pounding the back of my thighs for three hours brrrrrr
1-if you plan to keep these on all season, check out the Crud fenders. Apparently they fit pro bikes (4mm clearance needed), yet are full coverage i.e. like the big ones that attach on frame mounts. There is even (apparently) a wheel well to protect your front derail. In the past I have had a problem with water comming off the road and then freezing on the bike (one solid chunk of ice w/ no brakes,frozen shifting, and a single frozen rock for a rear casette). In this situation I think these might be better than minimalist coverage of SKS.
2-once set up, the SKS go on and off easily, while minimizing the dork factor.
3-learn from my mistake: I dont think you bend the metal stays as much as torque the fender to bend diffferently. I found the front took a lot of bending as the clearances are tight, and I suspect the default is not a straight blade fork (i.e. default is fork w/bend in it). If you have to bend the stays, THEY WILL SLIDE BACK to their default unless you screw them down w/enclosed screws. So after an hour on the road, the fender slipped in the holder, and I wore off my mud flap attachment peg.
Hope this helps dan
for being anti-fender, I sure like these a lot
Put off buying fenders for two wintery wet seasons, and finally gave in. The sleek profile of these fenders, along with the simple and minimalistic mounting, make these a good addition to my ride. Switching back and forth between my fixie and my roadie is a little difficult because of the different forks and spacing, but all in all, extrememly easy to use. The addition of the Aero converters is a big help for those forks that aren't your basic every day set up. The set comes with 4 rubber strips, as well as 2 extras in case you snap one. They are easy to adjust, and once you know your spacing, they can be removed and put on in about a minute flat.

A must have if you're not a fan of the mud skunk racing stripe when you arrive.
I have an Orbea Diem w/ disc brake and...
I have an Orbea Diem w/ disc brake and rear rack mount. Will the SKS Raceblade Fender fit on it?
Of you are using a tire less than 23mm they should fit fine. I think the Diem has a larger tire though. Also, I believe the Diem has mount for standard fender so if you are looking for a full time fender get those for sure because the raceblades are best used one day at a time and not permanently.
I have a Raleigh Grand Sport 2008. These fenders fit on the bike with a problem. I do have troubles with adjusting to make sure there is no rubbing when i am accelerating hard. I will hopefully update this later once snow begins to fall so I can comment on really wet conditions.
better than a water wedgie
When you ride in the rain, it's pretty much a given that you're going to get soaked one way or another. What I really needed from a fender was one that could mount easily, and keep the rooster tail from splattering that attractive brown mud stripe all up and down my jacket and backpack.

Was pretty skeptical on how these would perform, given that they're mounted with a only couple of rubber straps, and don't provide the level of coverage from a full road fender. However, after much finagling on the proper height (I'd first mounted them too low, and on a test run, they rubbed against the tire) to mount them on my steel frame, I hit the road in a surprise rainstorm, and came back completely soaked--save for my asscrack, and my lower back, just beneath my messenger bag (which was also bone dry). Seat rails and post were also totally clean.

So, mission accomplished?

* easy to mount, but admittedly tricky to find optimal spacing and fit between fender and tire
* this particular blade runs up to a 23mm wide tire
* low-profile design nicely dials down the dork factor for your roadie rig
* ideal for strapping on for that just-after-rain road wetness