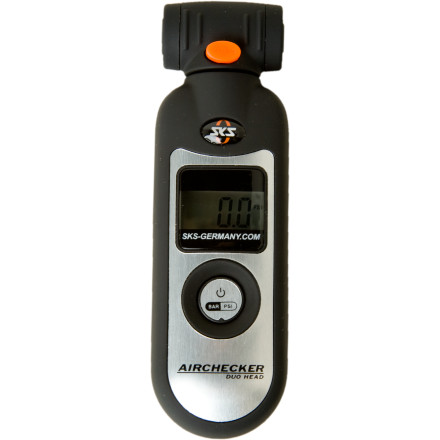 Detail Images
Description
Dial in your pressure and move up the pack.
The SKS Airchecker Digital Display Pressure Gauge is a far cry from a squeeze and a "seems good enough" as you roll towards the door for a long training ride. In the same amount of time that you can wonder what your tire pressure is at, you can check it and know.
SKS uses modern technology to make this happen. The Airchecker has a lit digital readout that gives you a reading in PSI or BAR. Simply push the 180 degree swiveling head onto the valve stem and you'll get an instantaneous reading that remains displayed on the screen after you remove the checker. It runs off of a standard CR-2032 battery. The SKS Airchecker Digital Display Pressure Gauge works with Presta and Shrader valves.
Not recommended for low PSI
Familiarity:

I've used it several times
I wanted a digital pressure reader for a more accurate PSI reading of my fat bike tires. This one will not read a low PSI. Its fine for pressures over 15 psi but anything under that it won't ever read. Never would of bought this if I knew that.
Know before you go
Familiarity:

I've used it several times
Prior to buying this I never really took the time to make sure my PSI was dialed in pre-ride. This little beauty makes checking my PSI apart of the pre-ride ritual on everyride, I have even started to carry this in my truck as the gas-station air pumps have the worst gauges ever!

Unlike a lot of pressure gauges, this one has both presta & shrader compatibility for your convenience and there is no need to carry around one of those silly little adapters.

This thing is pretty compact, light, and beyond easy to use. Display is clear and readings seem accurate.

Only concern I have overtime would be the overall durability of this product if you are keeping it in your tool kit/box. Overall, super satisfied with this purchase and would recommend for anyone to add this to their kit.
Terrible in practice
Familiarity:

I've put it through the wringer
I was excited to get this gauge but it is extremely finicky and that negates its utility. I would recommend the topeak travel gauge.
Great gauge
Familiarity:

I've used it several times
This great to take with me on my bike rides just incase I get a flat, so when I put the new tube in I know how much pressure I have. Small enough to take with me in my case.. easy to use.
Not the easiest to use nor very sturdy
Gender:

Male

Familiarity:

I've put it through the wringer
SKS made their mostly plastic pressure gauge light, perhaps to keep down the weight for people who obsess over every gram. But it isn't very sturdy as a result. It flexes readily in your hands. The instructions fail to note anywhere that the valve locks when it is turned 90 degrees with respect to the body. The locking valve enables you to secure the gauge in place and take readings as you bleed out air to hit the exact pressure you want. You have to rotate the valve back in line with the gauge body in order to disengage the meter from the valve. If you don't, it's extremely hard to remove. Even in the unlocked position, it is hard to get the gauge off the presta valve without rocking and finessing it off. My old $8 analog gauge can be popped on and off with little effort. It's also really sturdy.

Pressure readings can take a few seconds each. It seems the gauge needs to let the pressure build inside the gauge as the numbers on the readout tick upward then stop. If you release air, you must wait again for a second or two for the number to settle. On some presta valves, I needed to apply both hands firmly to get the gauge to seal and arrive at a reading. The gauge is too flimsy to use one handed much of the time. The unlocked neutral position doesn't have a clean click to confirm its position. Readings seem easier on Schrader valves, but I doubt the valve gripping lock feature would hold it in place on a Schrader.

So, it's a bit flimsy. It doesn't pop on and off presta valves easily (though one reviewer states that partially opening the presta valve solves that problem. My own observation is that slight differences in presta valve design make it much easier or harder to remove the gauge. It is somewhat slow to produce a reading. Readings are discrete. Each distinct reading takes the gauge a second or several to arrive at. The values aren't retained when you remove the gauge. As noted, the precision is in increments of 0.5psi.

It looks cool. It lights up and the Amber light is pleasant. It's light weight. It locks onto Presta valves which is convenient when releasing pressure to hit a target.

It's an open question based on your expectations whether or not it's a good value at $25. I can't recommend it from what I've already observed, but I really need a gauge so I'll probably stick with it even though it's pretty underwhelming as a tool.
This is a nice, compact, durable digital pressure gauge. Better than some of the older one's I've used which use a smart head. I'm a bit happier with having two separate options for presta and shrader.



my only complaint would be that the gauge operates in 0.5 increments. At least i have more confidence in these readings than I do on my floor pump.
Received my gauge. At first I was wondering why it wasn't reading my air pressure using the presta valve, but I figured it out. The thing I was doing wrong was, I completely backing out the presta valve screw. I needed to not back it out completely, so that the tip can press against the inside nipple on the gauge. This is so much more convenient and I don't need to use the presta to shrader adapter anymore. Also, its light and easy to carry in my camelbak.