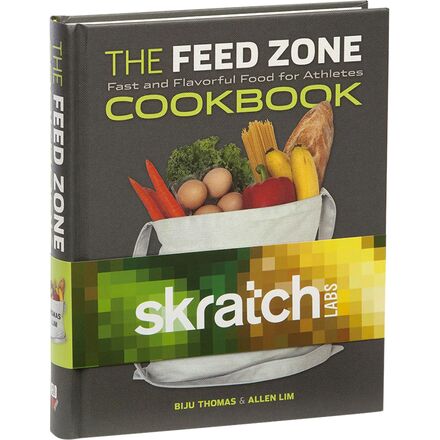 Colors
Description
Real, edible food.
The Skratch Labs Feed Zone Cookbook is packed with 160 delicious recipes for breakfast, lunch, dinner, and of course, packable meals that can be carried on a hike or even bike ride. These are meals made with real food—not just carbohydrate- and electrolyte-heavy bars smashed together to be wolfed down for peak performance. From fish tacos to bison with spice rub to summer melon soup to simple Recovery grilled cheese, the recipes in the Feed Zone are tasty as well as extremely nutritious. Bon Appetit!
160 recipes
Real meals made from real food
I've only made a few things out of this so far, was convinced to try it by Nicholas Frank (review below) after trying the chicken wraps he brought to the Ragnar Relay race. The recipes are delicious and they don't weigh you down. I feel better eating the handhelds on a long hike than putting down a bunch of bars or gels. It includes recipes for breakfast, handhelds, entrees and dessert.
How to Feed the BEAST Within
Gender:

Male

Familiarity:

I've put it through the wringer
Once a full time athlete training for 8+ hours a day I was constantly tired in and out of the sporting arena. I got my hands on this breakthrough book from Dr. Lim and Dr. Biju, my energy and performance levels changed forever. Gone are the days of feeling bloated and heavy with food. This book is not just for the hardcore athlete looking to change the way they train, the simple and clean food that is offered in this food bible are also for the common man. Don't take my words for it, buy this bible yourself and feed on clean performance fuel!!!

Pictured is my favorite go to 5+ hour food recipe (Honey Ginger Chicken Wraps). I made this for my entire RAGNAR team, and it was more than enough energy to sustain us over the 30 hour race.
I hardly ever buy cookbooks, in fact this is only one of 3 I own. I found myself stuck in the mundane food rut that many training for cycling do. I got this book to expand my diet and it did just that.



Great recipes included for breakfast, lunch, dinner, portables, and even desserts. I haven't made one of these yet that I haven't thoroughly enjoyed! The bison are sweet potato tacos are a big hit!



Best of all its the most energized I've felt when I stick to the book and train regularly. Highly recommended.
Eat Real Food!!!
Familiarity:

I've used it several times
Fantastic book with great nutrition info beyond just the recipes. If you don't cook and don't plan on cooking this may not be for you, but go borrow it from a friend and read the first couple chapters before the recipes.



Fig and Honey Rice Cakes, awesome!

Rice Pudding, yes please.

Crispy Rice Omelet, I'll take one of those as well...(you'll need to get the portables companion book for this one though)
Eat Right!
Familiarity:

I've put it through the wringer
Fantastic recipes to eat better every day. From simple items to take on your rides to full blown meals to eat at home. everything I have tried is fantastic.
Quick, Simple & YUM!
Gender:

Female

Familiarity:

I've used it several times
I am always looking for healthy and quick recipes that don't require a zillion ingredients or a white chefs coat. This book has been such a treat and functional for all the dietary needs in my household. The meat eater, vegetarian and gluten free eaters are all covered in this book with easy substitutions. For us it is helpful that a lot of the snacks and meals can be easily consumed on the go or thrown in a container for lunch. I am looking forward to ordering the other book from Skratch Labs.
Not that impressive
Familiarity:

I've used it several times
We have bought multiple cookbooks, and this one we were really looking forward to it. Maybe our expectations were too high, but it did not live up to it. There are much better athlete cookbooks out there. Sorry skatch labs, but not impressed.
best cookbook ever
Familiarity:

I've used it several times
The recipes are amazing and easy to make. I've found that the amount the rice cake recipes makes more than I can eat in a week of riding. But thats not even a real issue. I need to pull it out more often and my chef girlfriend make some of these
Must have for every cyclists kitchen.

http://www.competitivecyclist.com/learn/skratch-labs-crispy-rice-omelet
Stop eating junk
Familiarity:

I've put it through the wringer
An awesome book of simple solutions for training. If you are lucky and know how to cook, lots of new ideas. If you aren't so gifted in the kitchen, proven recipes for your type. Save $$ and add happiness.
You now have time to cook
Familiarity:

I've put it through the wringer
I always hear friends say, "Oh, I'll just grab something from Whole Foods after the ride" Hey, lazy person, get your nose in The Feedzone Cook Book and start learning how to feed yourself tasty food that you make. Chef Biju makes it easy for you to cook tasty and healthy food at home, without needing to know the difference between julianing, cubing, or dicing. So get your face in this book and start eating better. You won't regret this purchase. Promise.
Great book
Familiarity:

I've used it several times
Awesome recipes and very easy to make. I need to use this more.
Easy, accessible, delicious
Familiarity:

I've put it through the wringer
The recipes cover a great range. My wife and I have made almost everyone and have yet to find a bad one. this one blows away the traditional cook book. It offers reasonable back ground info. It also breaks down recipes into easy to understand instructions. Great gift for active friends.
This will turn anyone into a chef
Familiarity:

I've put it through the wringer
I can grill and I can make some fine pasta, but that's the extent....or should I say was the extent. This book is dead simple and makes unbelievably tasty meals. I have purchased a handful to have on hand for gifts, it will work for anyone.
I am loving this cook book! Thank goodness for Dr. Lim and Dr. Biju, they keep the recipes simple yet flavorful. I can already feel my energy levels rising from the extra carbs added into my meals and MAN does that feel good on a long run/ride. I would suggest this to any athlete along with the Portables book!
, ☃bcs_badge_alumni_label☃
Dr. Lim and Biju are Heros
No brainer of the day: buy the feed zone cookbook to change your food game.



Seriously. We have adopted this cookbook like nobody's business. It's a part of our life now.



Recipes are super simple and you don't need to make three trips to whole foods to get it right.



Thanks to Dr. Lim and Biju for sharing.