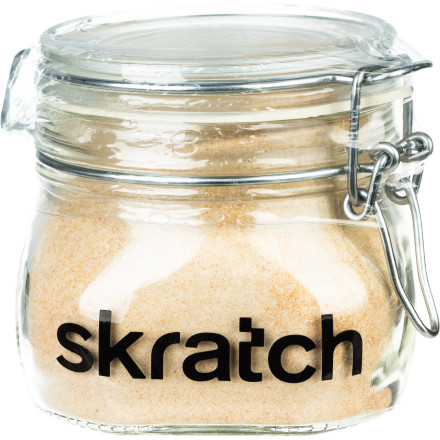 If you're tied to your trainer come wintertime, a hot sports drink probably doesn't interest you. But, if you're the ride-or-die type, the gnawing cold on your bones can be alleviated with a little something that's warm and refreshing -- not a Hot Toddy. However, until now, the problem has remained that no one has dared make a hydration mix that's meant to be consumed hot, let alone in comforting winter flavors. Note that we said 'until now.' Dr. Allen Lim researched the unique impact exercising in the cold has on our bodies, and created a hydration product specifically combined to combat it.
With the Skratch Labs Apples & Cinnamon Exercise Hydration Mix, you receive the absolute best in exercise hydration, while warming your chilled bones with the natural, sweet taste of apples and cinnamon. On top of that, this extremely limited flavor run comes in a beautiful, Italian-made swing bale glass mason jar. Don't you think that's it time to treat yourself a bit?
Unlike most sports drinks, which are formulated around electrolyte or caloric replenishment during physical exertion, the Exercise Mix focuses on keeping your body's sodium levels carefully regulated. Lim discovered that the rampant headaches plaguing his pro riders were not induced by a lack of fluids, but rather, a lack of sodium -- a very typical symptom of dehydration. Essentially, your kidneys regulate fluid retention based on the body's concentration of sodium. When sodium concentration is high, your body is forced to hold on to that fluid to dilute it. But when your sodium levels get too low (ie: through sweat loss), the opposite happens and your kidneys must expel that fluid.
Lim's mix is designed to keep your body's sodium balance carefully regulated, maintaining hydration while also slowing diuresis. With diuresis slowed, you'll be able to pre-hydrate and drink more before a race without needing to make those three inopportune bathroom breaks right before your call-up. If these concepts around a sodium-based formula sound familiar, that's because they are -- Lim's drink mix contains nearly four times the amount of sodium in many convenience-store sports drinks, putting it on par with emergency-grade rehydration salt formulas like Pedialyte, and those used by the World Health Organization to combat severe dehydration.
The athletes that helped Lim develop the Exercise Mix weren't just complaining of headaches. They were also suffering from severe stomach bloating and flavor fatigue. The second half of Lim's solution was to ensure his drink was easy and pleasurable to consume day in and day out. To accomplish this, every ingredient from the Exercise Mix is naturally occurring or naturally sourced from real fruit, which ensures you're not putting anything in your body that's been chemically formulated or enhanced. In short, if it wasn't here on this earth before you were, Dr. Lim and his team refused to use it.
The ingredients are: cane sugar, dextrose, apples, sodium citrate, citric acid, cinnamon, magnesium citrate, calcium citrate, potassium citrate, and ascorbic acid (Vitamin C). Notice the pronounced absence of the 'natural flavors' found in so many other sports drinks. Part of what makes the Exercise Mix so palatable during prolonged periods of exercise and constant re-hydration is the lack of a savoring agent. Generally, chemically-derived flavoring agents like those ominous 'natural flavors' tend to remain on your palate, causing flavor fatigue, and in larger doses, wreak havoc on your gut.
The Exercise Mix uses real apples and cinnamon, which are freeze-dried and pounded into powder. This creates a refreshing, super-clean flavor that's easy on your stomach without a lingering aftertaste that wears out its welcome halfway into your ride. It means that you're not just getting the 'flavor' of fruit; you're getting actual apples in the mix. This is one of the many fundamental breakthroughs behind the Skratch Labs drink mixes. Whether you're staying hydrated during a 24-hour endurance race, or re-hydrating after a grueling criterium, they simply taste great.
Lim and his team created two drink mixes, optimizing each for different levels of physical exertion. This Exercise Hydration Mix has a slightly higher salt content, making it Skratch Labs' on-bike mix, best used for periods when your heart rate is up and you're sweating. Because this mix has a supremely high absorption rate and is not a natural diuretic, it's excellent as a preventative measure against dehydration while you ride, when you stop at an aid station, or immediately after your workout or race, because you can drink a larger volume of it at a time without painful bloating. This is due in part to the drink's exceptionally low levels of acidity, and lack of chemically-enhanced flavors.
The Skratch Labs Exercise Hydration Mix with Jar is available in the Apples and Cinnamon flavor. Each one-pound package should provide approximately 40 eight-ounce servings. Please note that Skratch Labs does not recommend using this mix cold, as the cinnamon apparently doesn't play well outside of warm water. So, add the mix to either hot or warm water in order to get all of its flavor benefits.
What do you think about this product?
Have questions about this product?
Fantastic
Familiarity:

I've used it several times
Living in the Alps, I spent a lot of time in cold weather and have always been looking for a warm drink to try and help hydrate. I frequently would heat up some gatorade or just bring some hot tea out with me, but when I found this I was very excited. The flavor is fantastic, and gives you a little comfort on a cold belay or while riding a lift. I can't believe this is the first time I have seen a product like this.