sale
$14.62
$19.50
25% Off
Free 2-Day shipping on orders over $50*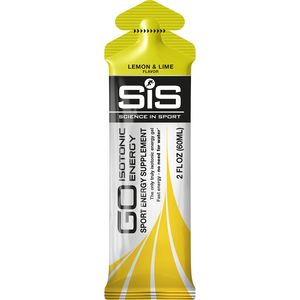 Free gift with purchase!
GO Isotonic Gel
Details
Believe the hype.
Our comrades over at Competitive Cyclist dedicated nearly 1500 words to Skratch Labs' Exercise Hydration Mix when it first launched. We'll be a bit more brief —there's simply nothing else out there that we like more than Skratch for hydration. It's easy to get down, it doesn't cause GI distress, and we feel like we can go a bit harder for a bit longer than we can with plain water or other mixes. Engineered by Allen Lim and tested on some of the world's best cyclists, Skratch Labs Exercise Hydration Mix promises to regulate your body's electrolyte levels during exercise so that you stay more functional for a longer time. The bulk of this is accomplished via sodium, which Lim found to be the most important ingredient in fighting cramps, headaches, and power loss.
None of that would mean anything, though, if it weren't easy on the stomach. Fortunately for us, the use of simple, real-food-type ingredients means that our bodies can digest it easily, and the absence of savoring agents (what you'll see called "natural flavors" on other mixes) means that you won't experience a weird, lingering aftertaste, just real fruit flavors that dissipate as you'd expect.
High sodium content
For exercise specifically, other products for daily hydration
Natural ingredients and flavors
No savoring agents
Item #SLB0001
Tech Specs
Ingredients
sucrose, sodium citrate, glucose, potassium citrate, magnesium citrate, freeze dried lemons & limes, ascorbic acid
Recommended Use
stayin' hydrated