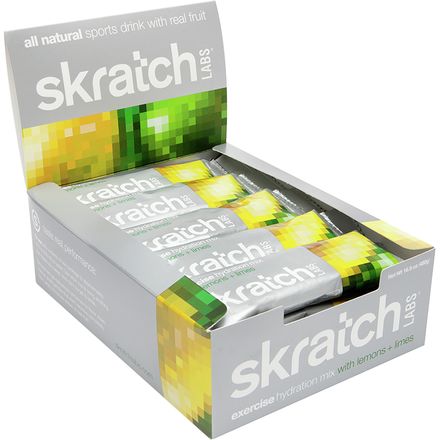 Colors

Detail Images
Description
The smartest way to stay hydrated.
Skratch Labs' Exercise Hydration Mix uses all natural ingredients to replenish the fluids and electrolytes you lose during intense physical exertion. Dr. Allen Lim developed this unique formula for pro riders plagued by headaches and upset stomachs caused by the artificial ingredients found in most sports drinks. Lim found that the key to maintaining hydration wasn't simply in electrolyte replacement, but rather relied on regulating the body's sodium levels, which is why the Exercise Hydration Mix contains a level of sodium that is similar to many emergency-grade rehydration formulas. And because Lim's formula uses all natural ingredients and is only flavored with real fruit, it's easy on your stomach while providing just enough calories to refuel your working muscles. It also tastes great, probably because it wasn't formulated with a list of chemicals we can't pronounce.
All natural ingredients
Regulates your body's sodium levels
Refuels working muscles without upsetting your stomach
Share your thoughts
What do you think of the
Skratch Labs
Exercise Hydration Mix - 20 Pack
? Share a...
Better tha Gatorade
Familiarity:

I've put it through the wringer
Does the job without the sugar rush or hurting my stomach. When I go out for a big day or a long climb I typically preload my water bottle with one of these and stash a few in my bag for later. I've tried a few of the flavors and prefer the lemon lime.
So Hydrating.
Familiarity:

I've used it several times
I purchased this excellent product right before a long camping/hiking trip and I could not be more pleased. I got the lemon and lime flavor, and while the flavor isn't overpowering, like gatorade or other artificial sugar laden alternatives, it tastes delicious and makes you want to drink and drink fast, delivering your body with good natural sugars and even some salts to help your cells rehydrate quicker. This stuff was awesome for hydrating for long day hikes, and rehydrating afterwards.
Not sure I get the hype
Familiarity:

I've put it through the wringer
I think nutrition is a personal thing, but I really don't get all the hype about Skratch. I have followed Alan Lim since the beginning (Floyd Years) and his science is right on. The taste is amazing, but I just don't feel as good on Skratch as I do on cytomax. Giving 4 stars because the quality is good, but I just don't like it as much as some other things.
Game changer (for me anyway)
Familiarity:

I've put it through the wringer
I've struggled for years with stomach upset and cramps with every single sports drink ever, so have been on straight water for the last 10 years until reluctantly trying this one from a friend who had completely bought into the whole story. Turns out, it works for me, really well. Subtle flavor that doesn't make your mouth sticky, doesn't make my stomach sick and keeps me from bonking. Hard to say if I'm more hydrated, but that's probably due to all the coffee I drink otherwise. Most surprisingly for me is that I actually enjoy the taste of all of them that I've tried, I mean, it's really pretty good, not just acceptable, but actually good. Haven't bonked in 2 years, haven't had stomach issues, for me, about perfect!
Not what I expected, but good
Familiarity:

I've used it several times
I expected basically higher quality gatorade mix from these, but it's quite a bit different. First of all, when mixing the packet with the recommended dose of water, the orange flavor tastes about like water with a little bit of skim milk and orange flavoring. But VERY slight, almost unnoticeable flavor. It's pretty good. Sometime gatorade or other mixes can be overwhelming, this definitely isn't, it goes down easy and tastes just enough to be more appetizing than water and avoid those stomach aches that come when pounding plain water.

It's hard to say how it works, it's basically just water with some electrolytes, but it left me satisfied and hydrated. Good product.
Great Portability
Familiarity:

I've put it through the wringer
It is cool to have it in a ready to go package for longer rides where more than two bottles are needed. Don't dilute the rasberry mixture; I think it tastes kind of gross when watered down. Lemon Lime is more forgiving.
Same Great Product, Just Simpler
Familiarity:

I've put it through the wringer
Just like the standard 1 lb bags of Skratch, these contain the same great product that is easy on the stomach and keeps you feeling fresh on the longest days in the saddle. I find these packets really nice for leaving in the car or when traveling to make quick work of concocting more magic potion. Sure it's a bit more expensive per serving, but it's nice to have around and makes a great compliment to a big package at home. You can't go wrong with any of the flavors. Lime and Raspberry are my go to's, and mixing them 50/50 makes for a secret mix that Dr. Lim claims is 50% faster than you.
Convenient
Familiarity:

I've put it through the wringer
These are great little packets to carry with you on your ride. Like other Skratch products only the best ingredients are used,in just the right amount, making it gentle on the stomach. I'm a big fan!
Great for long rides
Familiarity:

I've used it several times
Skratch is very light and easy to hold down. These packets are great for long rides where you need a few bottles of drink mix.
Easy to drink
Gender:

Male

Familiarity:

I've used it several times
These have a great subtle flavor. Hard to say if these increase your performance but they did make me drink more water. Single serving sizes make it easy to through in your pack for those longer rides.
Perfect for travel
Gender:

Female

Familiarity:

I've used it several times
these little packets are great for mixing on the go. they tear cleanly, and can easily be added to the tiny necks on bottled water.

Note: After receiving my order the nutrition info seems to be double the listed values in the BC description. my packets list almost exactly twice the amount of each ingredient.