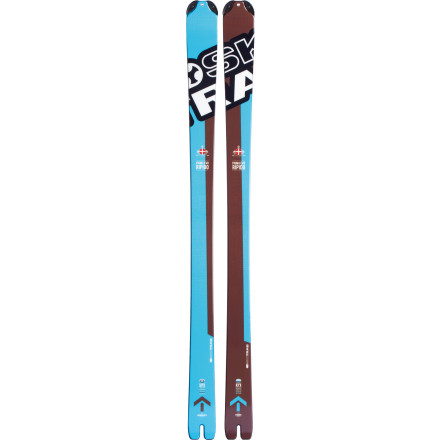 Videos
The Ski Trab Ripido Ski climbs like a billy goat and then descends with the speed and precision of a laser-guided missile. Everything about the design of this ski was chosen for crisp performance without a weight penalty, from the honeycomb core to the carbon-reinforced cap construction. You're treated to fast, stable descents, and when you lay this ski on edge, the unique notched-tail shape makes turns smoother than a baby's backside.

This ski has a traditional camber, and the tip rises up and hits the snow with a whopping 121mm up front. With micro-finished steel edges and full ski-and-snow contact, the toothsome edge bites into steep slopes like a tiger with a fresh steak. After you've risen to the acme, take the brakes off and fly down. The relatively trim 88mm underfoot makes short turns snap and long-radius turns lovely.
The Aero honeycomb core makes weight disappear without taking away stability. The HiBox carbon-mesh cage gives this stick a stiff backbone to stand up the most chunky terrain you choose so your ride stays sweet. Torsional rigidity with superb suppleness turns this touring ski into a cheetah on the descent, if you choose to push the speed envelope. If you're like a wolf, stalking fresh powder prey, use the Ski Trab Polvere skins with the Ripido for a stealthy ascent. Regardless of the animal form you most embody, the Ripido ski rips turns, skins with ease, doesn't break the weight limit, and plays well in bounds or in the backcountry.

Traditional camber
Quadraxial cap construction
Hi-Box micro-mesh carbon cage
Aero Core (aramid honeycomb compound core)
88mm underfoot
171cm (single ski) weighs 3lb 1oz
Ski Trab Polvere skins recommended
What do you think about this product?
Have questions about this product?