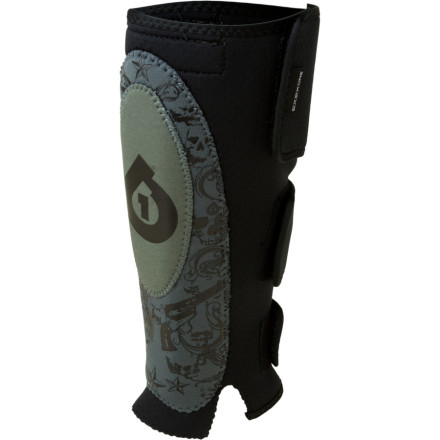 Detail Images
Good for preventing pedal scars
I wanted these to prevent a repeat of six stitches in my calf from a pedal. They fit the bill perfectly.

They are essentially a wrap around piece of neoprene (wet-suit material) with a light and flexible plastic piece sewn in at the front. They will probably be a bit hot in the height of summer (encasing your calves in neoprene) but in winter I did not even notice I was wearing them.

The sizing chart on sixsixone.com is accurate. I was dubious about ordering the largest XL based on my calf diameter, but the sizing was spot on and they fir perfectly.
Lightweight, easy to put on, take off, good protection, easy to pedal, and not too hot.
Good soft shell shin guard
This is a nice soft shell shin guard, be careful with size M is kind of small, size L is probably going to work for the majority
, ☃bcs_badge_alumni_label☃
I got these because both of my calves are wrapped in tattoos and I don't want them marred with peddle bites and trail rash. These shin guards fit great and don't slow me down on the trail. The neoprene keeps my legs free from scratches and minimizes bruising from bad hits.
Am I correct to assume the price $34 for...
Am I correct to assume the price $34 for a "pair" of shin guards?
, ☃bcs_badge_alumni_label☃
Yes, these are sold as a pair.
These shin guards are incredibly comfortable and do fit very snugly. I used the sizing chart from the 661 website because the one on here is for their knee pads and the fit was perfect. All in all these are a great light shin guard for some XC trail riding.