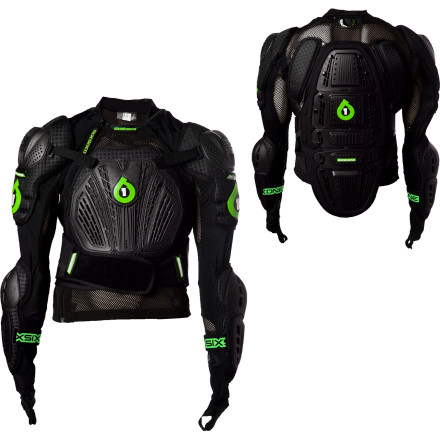 Detail Images
It's game time, so make sure you're prepared to send it in the Six Six One Vapor Pressure Suit. This bad-ass suit offers superior upper body protection while giving you the flexibility and mobility you need to slay your line.
Articulated, removable back plate armor helps protect your spine from injury when skiing or riding
Injection-molded chest, shoulder cups, elbow, and forearm guards help aid in protection
Built-in support belt protects and supports your lower internal organs
Vented mesh and EVA, and moisture-wicking fabrics keep you cool, dry, and comfortable
Built-in shoulder, elbow, and forearm pads won't shift position or fall off when you ride
Adjustable hook-and-loop strap closures let you fine tune the Vapor to your body
got this few weeks ago, used it in MAMMOTH for 2 days of DH riding and am very happy with my purchase.
it fits great, for a minute i felt like it was a little loose, but after riding 2 days i can say that it was all in my head. suit fits very snug, elbow/shoulder protection sit where it suppose to and doesnt move around.
i took a good fall on my right side and elbow/arm protecting plates definitely saved me.

it vents really well as long as you're moving. the only time i would get hot is when i stopped moving, but i had a short sleeve jersey on, so because the suit is black my arms were getting a little toasty, but i feel like this would easily be fixed with light color L/S Jersey.
suit is very light weight and you really dont feel it getting in a way of anything.
the only thing i would adjust was the strap that goes across your stomach that holds the back plate, and i would only loosen it up a bit if i had a long climb ahead of me so it wouldnt cut into my gut,
otherwise i am very happy with this suit.
six six one Vapor pressure suit review
its a great armor and protective system it fits good and tight around the arms and shoulders the chest strap is extremely adjustable and well securing the removable back plate is great fits good and tight the suit is very breathable and comfortable
This suit needs some work
I've owned 2 previous versions the SixSixOne Pressure Suit (SP-2) and really liked the fit. I expected this suit to be the same, if not better, but it wasn't. It feels OK getting it on, but when you zip up and cinch down, it feels really bulky and uncomfortable. The back armor plating is about as ergonomic as an ironing board, it's like 2" thick and hardly contours to the body. The back plate in the old armor is way better, they need to go back to that design IMO.

I returned it and got the Alpinstars Bionic Jacket, which has a much better fit. The cups in the shoulders and elbows feel great and the backplate is very contoured to the body. It's a little more $$, but being ultra comfortable (and protected), is worth it to me: http://www.hucknroll.com/alpinestars-mtb-bionic-jacket
My first upper body armor...and a winner!
The size seems to run a little big. I'm a size Large shirt-wise and the medium sized pressure-suit fits pretty well, my large jerseys fit just right over it. The thumb tabs are great, knowing that the elbow pads won't ride up when you take a digger over the bars. The venting is awesome with this and a jersey but be warned...this will rash your nips if you don't wear a layer under it. After just one weekend I no longer felt stupid for wearing all this armor, I feel stupid and naked without it. Buy it and wear it.
How does this suit compare to the fox titan...
How does this suit compare to the fox titan sport jacket other than the small price difference?
Best Answer
The Fox Titan is nice. However I like the little bit off extra added protection of the solid front panel of the 661 as it zips on the side. The 661 also has some nice little touches like gauntlet cuffs that help keep the sleeves in place. Other than that they are pretty similar in protection. 661 has been refining their design for the last 8 or so years while Fox is a little newer to the body armor market.