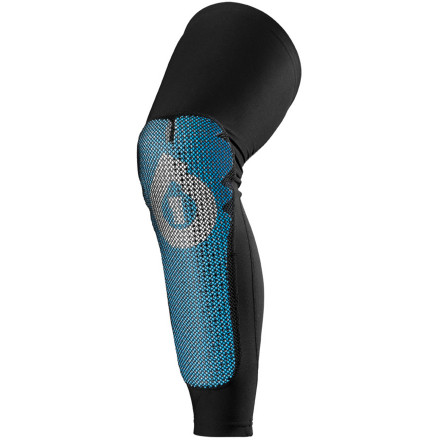 Detail Images
With the Rhythm Knee Pads, Six Six One took a whole new direction in knee pad design. The Rhythm's unique design addresses body armor's two main problems: temperature and fit, while it adds extra protection and a compressive, fatigue-reducing fit.
The Rhythm is built around a breathable, compressive, stretch sleeve. There are a few advantages to this design. The first is that it keeps the pad in place so you don't have to make constant adjustments while you ride. Six Six One added a silicone screen print to make sure that the Rhythm stays put. The second is that the compressive material reduces vibration to alleviate stress and fatigue on your muscles. Attached to this sleeve is a lightweight, ventilated pad that protects you from above the knee to just below the shin. This is a much larger area than standard knee pads can cover, and the Rhythm's flexible construction and airflow-promoting ventilation make it quite a bit more comfortable, too.
The Six Six One Rhythm Knee Pads are available in Large and Medium and comes in Black with blue and white accents.