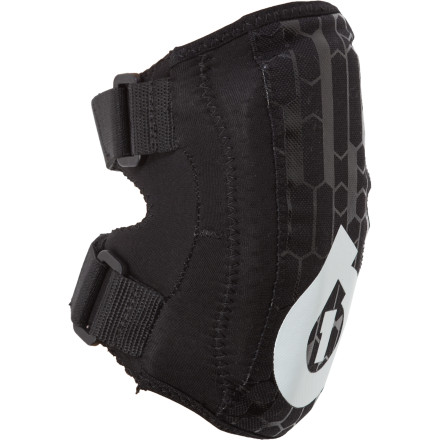 Detail Images
Flying elbow first towards terra firma gives you enough time to reflect on the situation at hand … er, elbow. It could be, 'Sweet, my Six Six One Riot Elbow Guards are going to take a beating.' Or it could be all, "Owwww, who can I trust to staple me back together.'

Ventilated neoprene cuffs flex easily, keep the pad in place, and prevent a nasty stew

Low-profile EVA pad and hard cap reduce injury and easily fit under jerseys
Durable 1000D Cordura outer fends off sharp rocks
Great with lining
Familiarity:

I've used it several times
Right now it is winter and I have been using these with a traction kite. I haven't run into much trouble with itching, which might be because I have been wearing them over a thermal layer. Additionally, they have been great with impacts and very comfortable to wear.
Great protection, but uncomfortable
Familiarity:

I've used it several times
I've had the same issues addressed by others in these reviews. The padding is completely stiff and will not flex at all. When you strap the velcro on to tighten the pad to your arm, the velcro straps scrape against the inside of your elbow (the crease where your arm bends) because of the opening between the upper and lower straps. You will end up with red blood blister/scratch/bruise type marks on that crease. If you can keep your arm relatively straight, they're not too bad, but doing anything that requires a lot of movement like bringing the mouthpiece of your Camelbak to your mouth is virtually impossible and at the very least, painful. The only real work-around I've found is to pull the pads on, but not fully strap the velcro on until you start heading downhill or need the added protection. They are quite comfortable in this set-up.



I will give them credit for offering a ton of protection. There is a lot of padding in there and it seems to be reinforced by some tougher material so they will withstand a decent impact. I had a decent crash this year while wearing them and they did keep my elbow safe.
Fitting is tight
Familiarity:

I've used it several times
I would recommend buying other designs or 1 size larger from the fitment chart.

My elbows had abrasion marks from the first right as it was tight. But the padding is great which is why I guess we need to trade some comfort for safety.

However, I tried a friend's g-form and boy was it comfortable but am unsure of the protection as itwas not as thick as the 661,
Uncomfortable, not flexible, too thick.
Gender:

Male

Familiarity:

I returned this product before using it
I don't like these at all for the following reasons: 1) Too thick, way too thick. Like 1-1.5 inches of padding. Hard and soft materials make up this thick shell. Sure this would be good for a massive fall with direct impact to the elbows, but this leads to my next issue 2) Not flexible. Maybe over time these would fit better and conform to the joint and allow greater range of motion, and in the 10 minutes I wore them they seemed to flex better, but I couldn't get over point number 3) There is a hole in the thinner fabric on the inside portion of the elbow guard, presumably for breathability. But during the flexing of my elbow, skin gets squeezed out through this hole and is then chaffed by the sides of the velcro straps. This hurts, is not comfortable, and I don't think would go away during break in. I have red marks on my forearm from less than 10 minutes of wear.

These may do a good job of protecting, you, but that is if you actually wear them. And for the reasons above I wouldn't wear them. Returning.
Are these sold individually or as a...
Are these sold individually or as a pair?
I really wanted to like these! Tried them today on a 7 mile ride and halfway through I already had chaffing in the crook of my arm. There isn't enough open area between the straps, so they rub the skin. They sure did stay in place though, no amount of sweat moved them!