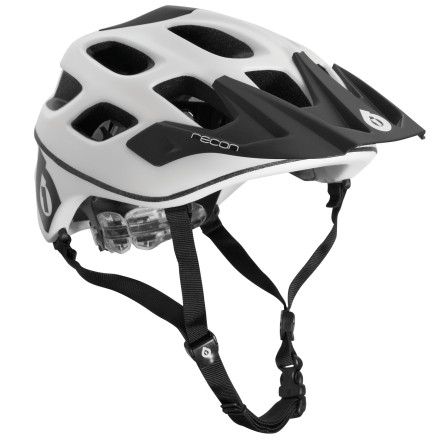 Community Images
Description
The Funplex awaits.
Does the sight of roadies rocking 'aero' helmets on recreational rides make you cringe? Then you're a candidate for the Six Six One Recon XC Helmet. Less shave-one-tenth-of-a-second and more turn-the-trail-into-a-funplex, this brain bucket lets you rip with money in the safety bank.
Moto-style extended rear coverage
Detox fit system for quick adjustments and a secure fit
18 Intake vents for a cool head
Removable visor

Share your thoughts
What do you think of the
Six Six One
Recon Helmet
? Share a...
Good Fit
Familiarity:

I've put it through the wringer
This helmet has a good fit, and is super adjustable. Pretty light, and really comfortable. Visor stays put and overall I have been happy with it.
Great Helmet...
Familiarity:

I've put it through the wringer
Have had this helmet now for a couple months and the best compliment I can give is that, when riding, I forget it is even there. Protection, comfort and style, what more could you ask?
Fantastic Helmet
Familiarity:

I've put it through the wringer
I've spent a lot of time trying to find a helmet that provided the protection I was looking for while being comfortable and not looking too stupid. This helmet did the best in all three categories for me. I like the extra protection this has down the back on the skull, and the ventilation is as good as anything else I've tried. It also doesn't look too bulbous on my head, which is just icing on the cake.
Miles and Styles
Familiarity:

I've put it through the wringer
This helmet has got it all for pretty cheap. I've worn this thing on my daily 13 mile ride through rugged terrain on Acadia NP trails in Maine. With rocks the size of softballs and speedy downhill slopes, you're gonna fall. This helmet products my massive dome.
I also have a huge head (7 5/8 + thick hair) and usually have trouble finding helmets that fit. The snap adjustment in the back is quick and secure. Cheers 661, I'll be buying more gear from y'all.
GREAT HELMET
Familiarity:

I've put it through the wringer
this bucket is all sorts of sick. from the ratchet style adjustments to the gnarly visor. i love this helmet it has class and doesnt make you look like a stereotypical dude or sis on a bike ride! ha!
Nice helmet
Familiarity:

I've used it once or twice and have initial impressions
Light weight and comfortable helmet to wear. Easy to adjust for fit. I live in Texas and this helmet did not feel hot to wear.
good helmet
Familiarity:

I've put it through the wringer
i have the wired grey/cyan helmet. it looks cool, fits great, is light/comfortable, and good bang for your buck. visible at night time. nothing but good things to say about this helmet. go buy one!
Good fit and protection. Can't beat the price either
Great helmet I use it for mountainbiking and enduro, it fits just right the only complaint is that is a bit bulky,,
Looks cool, but sits high on my head. the Fox Flux fit better and sat lower. Also paid less for the Flex.
Nice
Gender:

Male

Familiarity:

I've used it once or twice and have initial impressions
I love this helmet, took a decent fall trying to ride up a technical climb and it took it like a champ, didn't even scuff. The only complaint I have is the velcro that holds the forehead pad in place scratches if I don't slide the helmet on a certain way. Still awesome though fits super
Almost Perfect
Gender:

Male

Familiarity:

I've used it several times
Decided to switch from my medium-sized Limar 911 to this in Stealth Black. Was apprehensive about the sizing at first. Admittedly, when it arrived, the S/M was just slightly tight for my head (58cm noggin)... resolved this by taking out the side padding and velcro bits. Now it fits great. Good looking helmet, great ventilation (I'm in the tropics at 35degrees Celsius at day's peak), and I love the the retention system. Comfy on my rides (mostly 2 - 3 hour trails excursions). Conclusion - no regrets. "What Mountain Bike" winner... I guess they weren't wrong ;)
Great Helmet
Gender:

Male

Familiarity:

I've used it several times
I originally purchased this helmet for mountain biking, but I'm using it every time I ride these days--regardless of the terrain. It's extremely comfortable. I would definitely recommend it to anyone.
Great helmet
Gender:

Male

Familiarity:

I've used it several times
I wear this helmet on 12 hour bike patrol shifts. It is incredibly comfortable. Most days I keep it on my head the entire shift. The visor works great for keeping rain off my glasses and shade from the sun as well. Haven't crash tested it yet, hope I never do, but the coverage looks good for max protection. Absolutely a great purchase!
FINALLY GOT ME INTO A HELMET
Gender:

Male

Familiarity:

I've used it several times
After 35 plus years without a helmet for a variety of reasons this one will keep me in a helmet for another 35. I still maintain my peripheral vision which is critical off road. It is light and subtle in its style. And I finally got it through my thick skull that it is necessary. Thanks
Looks good and the protection seemed adequate, but unfortunately the size ran a bit too small for me (big mellon here). It also sits high which gave it a "shallow" feel. Returning to give the Fox Flux or Giro Xar a go. Got a big mellon? Might not fit, but then again just gotta try one on.
Crashed hard on the right side and hit my head. I was silly for about a half hour. I didn't even have time to take my hands off the handlebar. Looked at helmet and the outer shell looked good, but the inner styrofoam was cracked. It did its job and I got another one.
I do think they are sized a little "big".
i would agree with comments about sizing - deff runs big. I've got a large mellon and even with the back clasp tightened all the way down I've got some wobble. with a helmet mounted night light wobble is accentuated where i'm thinking about helmet on my head not fully on whats infront of me. solution i added some additional padding to the helmet and fits much mo betta - like no worries brah! outside of non mod fit... its a slick looking helmet, lots of vents, with great coverage. when on sale I say buy it.
Unanswered Question
Does anyone have any experience with these...
Does anyone have any experience with these and goggle fitment?
Want to love this helmet, but I don't
I was looking for something with more coverage around the back of the head. This helmet looks like it has good coverage, but really does not since it sits so high on my head. This helmet is very comfortable, and I thought it was The One when I fist put it on, but then looked in a mirror and saw how high it sat and felt where it didn't cover as much of my head as I hoped. For a helmet universally described as "moto-style extended rear coverage", it really isnt. It makes me wonder what a helmet without this moto-style coverage is...an armored yarmulke?

I can't knock the recon too badly though since I just don't like the way it sits on my head, and it isn't really the style I have in mind. If you don't mind something with less rear coverage, then this helmet will be great.