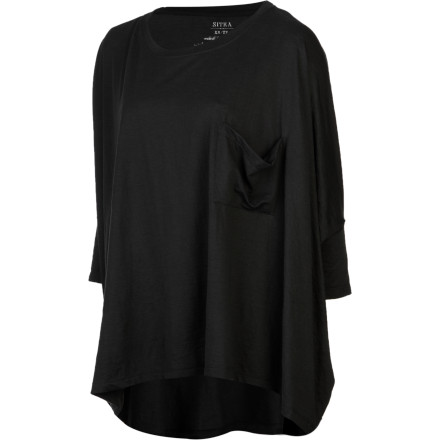 Detail Images
The stylie cape-like Sitka Women's Banyan Shirt won't make you a superhero, but it will give you super-comfort. A relaxed fit with dropped hem, three-quarter sleeves, and a slouchy pocket oozes carefree comfort; pair it with leggings and tall boots for a sleek yet totally laid-back look. Here's proof you can be completely comfy and look smoldering hot.
Easy-wear, easy-care cotton and polyester blend will tempt you to wear this fun top day-in and day-out
Relaxed fit with dropped hem has a cape-like look and comfort to match
Three-quarter sleeves and a slouchy pocket throw this top into high style
Adorable cape-like shirt that is very flowy and soft. There is a lot of fabric here, so no need to size up. I am 5'6" 130 and got a M and it was plenty big.
The fabric on this shirt is ABSOLUTELY AMAZING. So comfortable. The downside was that it was fitted in the sleeves, and HUGE in the rest of the shirt. It's a very cool, stylish shirt, I just couldn't pull it off.
more of a sheet really. This shirt is gigantic. I ordered a medium and expected a somewhat large flowy top, not the monstrosity that arrived. I can fit myself and my two sisters in this thing comfortably. Thinking about making it into a bat halloween costume or a faux wingsuit. The picture is very misleading.
This tee comes off as an awesome more fashion forward basic if you will. Really cool drop tail effect and truly soft fabric. The weight is a bit more substantial than a normal tee. The picture doesn't do it justice, get this tee and step out of the basic box!