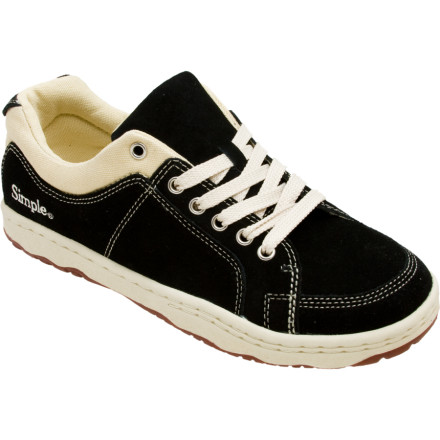 Detail Images
Whether you wear the Simple Men's O.S. Sneakers to work or to play fetch with your dog, the suede uppers match your jeans, shorts, and khakis, and the squishy insoles cushion your feet for all-day comfort. Simple gave these sneaks rubber-playground-ball-inspired outsoles that hopefully conjure up fond memories of kickball games and not scary memories of no-rules dodgeball.
My son picked this up before a trip to New York and loves it - super comfortable, lightweight, and just a little different from the ubiquitous skate shoe. Never had a bad experience with a Simple shoe in this household!
Fits right, feels right, gives a mellow vibe but still sporty. My fav sneak.
Great casual shoe - better with long pants than shorts in my opinion. Soles are stiffer than they look. Toe box is a little narrow for those of us with flippers so you might need to size up a half size if you have wide ones. No complaints so far!
Very comfortable shoes.
I wish the rubber on the soles was softer though.
They are kind of noisy when walking on hard floors.
They are also slick when wet.
Still are great casual shoe, I wear them all the time.
This is my fourth pair of Simples that I have ever owned and I am more than happy with these. My only complaint is that Simples seem to be a bit narrow and getting a half size bigger helps with this. (How about some width for us hobbits?). These are very comfortable and are built to last years. Awesome!