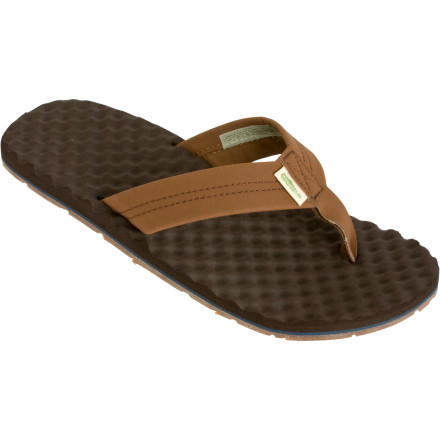 Want to know the secret to conquering airport security? You need only to look towards the Simple Shoes Men's Flipee Synthetic Nubuck Sandal. Shoes take forever to unlace and fit into one of those plastic bins, but sandals just pop right off and get you on your way through the body scanner, pat-down station, and circus act otherwise known as 'security.' For once you'll actually make your flight, and you'll do it while wearing the most comfortable sandals known to man.
These things are excellent casual flip flops. I bought these things to replace my 2 year old Rainbow flip flops that were just plain worn out. I have to say that when I ordered these things on the SAC and I wasn't expecting them to be very good. I was just looking for a cheap flip flop to hold me over until I got around to buying another pair of Rainbows. However, after I tired these things on, I changed my mind. I decided not to buy another pair of Rainbows and just hold on to these because they are so comfortable, even right out of the box! (Unlike my Rainbows, which took about a week to really break in)
I haven't had these things very long so I can't really comment on the durability, but I'll update my review after I wear them over the summer.
If you are on the fence about buying these, I say go for it!