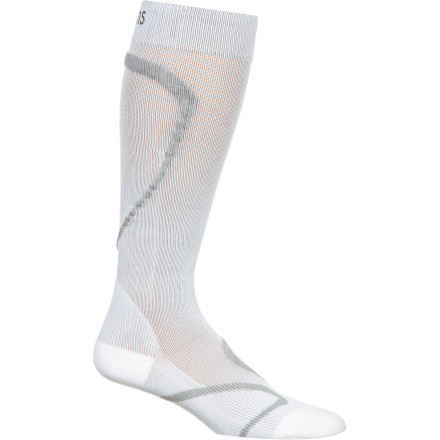 Whatever your workout, pull on the SIGVARIS Performance Sock for the increased blood flow and reduced soreness that only a true graduated compression sock can provide. The Achilles protector reduces vibration on ligaments and an odor treatment cuts down on unpleasant smells.
Blend of nylon, Coolmax polyester, and spandex keeps your foot dry and comfortable, and provides true graduated compression
Sock stops just below the knee
20-30mmHg compression rating increases blood flow and reduces soreness
Achilles protector reduces strain on ligaments
Treated to reduce unpleasant odors
What do you think about this product?
Have questions about this product?
I bought these socks after having them recommended by my vascular surgeon to treat my Lymphedema. I've only been using them about a week but I've ordered two more pairs because they work a lot better than having my legs wrapped and taped every week by my surgeon. The first time, they were fairly difficult to get on but I anticipate it getting better as I get used to wearing them. Even though my legs have been very painful from all the swelling, these socks actually feel pretty good and offer good compression. In the first month, I've lost 35 pounds just from reducing the edema in my legs. Sigvaris also offers products to make it easier to put the socks on and to wash the socks. I've ordered their donning device, donning gloves, and washing detergent but I haven't received them yet. My Sigvaris socks were my first order from Backcountry.com and I was really impressed. I received my order very quickly, packed well, and in new packaging (as it should be). I will definitely be ordering more of these socks and will definitely continue shopping with Backcountry.com.
Legal performance enhancements
If you want to stay stronger for longer without abusing your boddy with drugs. Try out the sigvaris compression. They feel great, last long and boost that blood flow.



Trust me when I use Sigvairs my friends are all "man your are strong today sam" and I am all "can you try to keep