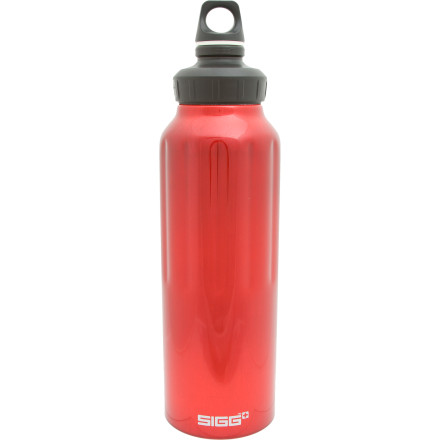 Seamless construction as well as an acid- and odor-resistant lining make the Sigg Wide Mouth Traveller Water Bottle the choice for anyone. Whether you're simply commuting to work or school or headed on an epic adventure, the Wide Mouth Traveler offers two size caps to let you choose to drink from a narrow or wide opening, and the mouth means this bottle is easy to clean and ice-friendly.
What do you think about this product?
Have questions about this product?
great water bottle
Familiarity:

I've put it through the wringer
love the wide mouth (you can add ice cubes) and regular cap. i'm a window cleaner and in the summer it can get really hot here. this is a big bottle (too big for some) but i'm not hiking with it. leaves no taste like a lot of plastic bottles do. never leaks and its been almost a year. the only problem is that it's not insulated in any way. if you want insulation try something else. otherwise a great bottle.
It does what it says, and holds what it says. Can't do much better. If it could fill itself with water, I would add a sixth star, but as it is, still love it.
Gday,I used to have a sigg water bottle...
Gday,I used to have a sigg water bottle till it was run over,I still have the original cooler bag/cover.Would this wide mouth bottle fit into the cooler bag I still have,it suits a 1.5 l sigg but the smaller mouth.


Best Answer
Hey Bryan,

You should be fine if the bag fits a 1.5L smaller mouth.