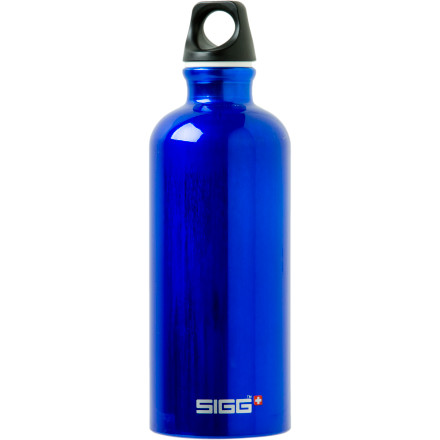 Detail Images

Community Images
Traveling is all relative. If you randomly had a mile-long river full of Class V rapids, alligators, and sharks between your bedroom and the bathroom, then going to the toilet at night would be considered quite a travel. Bring the Sigg Traveller Water Bottle along whether you're going down the hall or across the globe. This aluminum bottle's EcoCare liner keeps your water tasting fresh while the screw top means your travel or gym bag won't be soggy by the end of the day. This Sigg is about 2.8 inches wide and 8.5 inches tall.
Small, thin, little and delicate
Gender:

Male

Familiarity:

I've used it several times
Material is somehow delicate. I can see a small hole, and I just start using it, and color seems different from the picture. But it's ok if you like to bring it to you for a small walk or some other activity when you do not like to carry on much weight. Not recommended for outdoors activities.
simple design, wish the top was bigger
Familiarity:

I've put it through the wringer
You know what you're getting when you buy a Sigg: quality, durability, and good taste, but a little extra weight. My bottle has held up well and looks good covered in stickers. My only issue with the bottle is the opening on the top, I wish it was slightly bigger so that ice cubes would easily fit in, as it is I need to run water over the cubes to get them small enough to fit in...but Sigg now has a larger opening bottle so when I get a new one I know what I will buy, as it stands I still prefer my Nalgene.
Great bottle
Familiarity:

I've put it through the wringer
I have two of these in this size, and they're great. I use one at my desk at work, and the size is a lot more convenient than a larger Nalgene bottle. No weird taste at all, really durable, and looks nice. The only thing that bugs me is the plastic threads on the cap seem a little weak, they seem to get ripped up by the metal threads on the bottle. They need to make them bigger or more durable. Good bottle though.
I love these water bottles, I have these & some nalgenes. I prefer the Sigg water bottles a little more.
Time to drink more water!
Gender:

Male

Familiarity:

I've used it several times
This thing helps me drink more water, instead of a soda at my desk, I have cool water all the time
I've got 2 other Sigg 1L bottles that I use for hiking when I don't have to worry about weight (I'd use Platypus if I do). But it's the 0.6L that I use on a daily basis. It's just the right size to fit in car's cup holder, and small enough to put in my messenger when I go off to conferences, and hold just the right amount of water while I'm in my cube working - give me an excuse to get my butt off the chair to go top it off. I love the iconic design and the Swiss quality. All the other bottles in the market are just imitating the original.
Doesn't leak, small and sweet
Simple and small nice one that i have with me most of the time for throughout the day quenching.